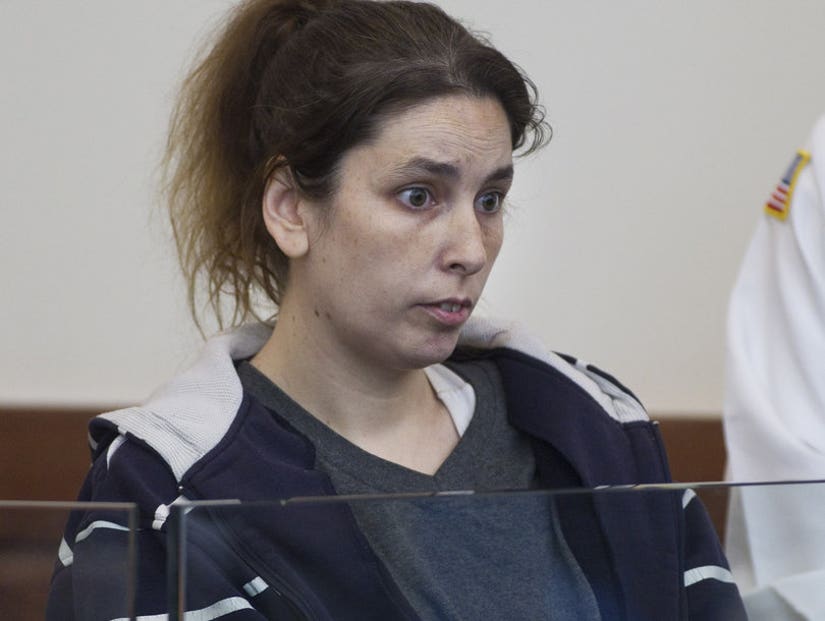 Getty
Judge ruled there was not enough evidence to prove the other children were born alive.
A Judge has dropped a murder charge against "House of Horrors" mom Erika Murray because there wasn't enough evidence the child ever lived.
Murray, 35, was arrested and charged with two counts of second-degree murder in 2014 after police found the remains of three babies in her squalid home in Blackstone, Massachusetts.
Investigators originally determined that one of the children was still-born; but at her murder trial on Tuesday, a judge conceded that it couldn't be proved the second child was born living either.
Judge Janet Kenton-Walker said there was "no evidence here that that baby was alive, and therefore it could not have been a victim of a homicide."
The remains of the infants were found in cardboard boxes left in closets; one was wrapped in a filthy onesie. Another was found in maggot-infested sweatpants.
Four living children, then aged 13, ten, three and six-months, were also removed from the home, some with what appeared to be maggots crawling in their ears.
The vermin-infested house, which was piled high with trash, junk, soiled diapers and filthy clothes, was subsequently torn down.
Murray's attorney Keith Halpert had pushed for all murder charges to be dropped, arguing their was no proof she had caused any of the fatalities.
"What we're left with is a situation where the commonwealth's case is built on odds," he said. "It's built on the notion that really what are the chances she had three pregnancies in a row that resulted in dead babies, unless she did it. That's not evidence. It's rampant speculation, that's all it is."
But Worcester County Assistant District Attorney Christopher Hodgens argued there was evidence the children were alive, pointing out they had been dressed, and that Murray herself had admitted at least one was born living.
"There is ample evidence to find Erika Murray caused the death of her children, with malice," he said. "She intentionally neglected them by secreting their births, secreted them in the home, she never took them outside, deprived them of human contact, never took them to a doctor."
Murray had earlier claimed she panicked when she gave birth to one of the stillborn child. Aside from the oldest two, none of the children had birth records; Murray gave birth at home in the bathtub, cutting the umbilical cords with a scissors and dumping the placenta in the trash.
Her older two surviving children were not even aware the younger two were their siblings, after their mother told them they were just kids she was babysitting.
As well as the remaining murder charge, Murray is also facing two counts each of assault and battery on a child causing substantial injury, child endangerment and animal cruelty.
The father of all seven children and Murray's live-in boyfriend, 39-year-old Ray Rivera, faces separate charges of abuse.