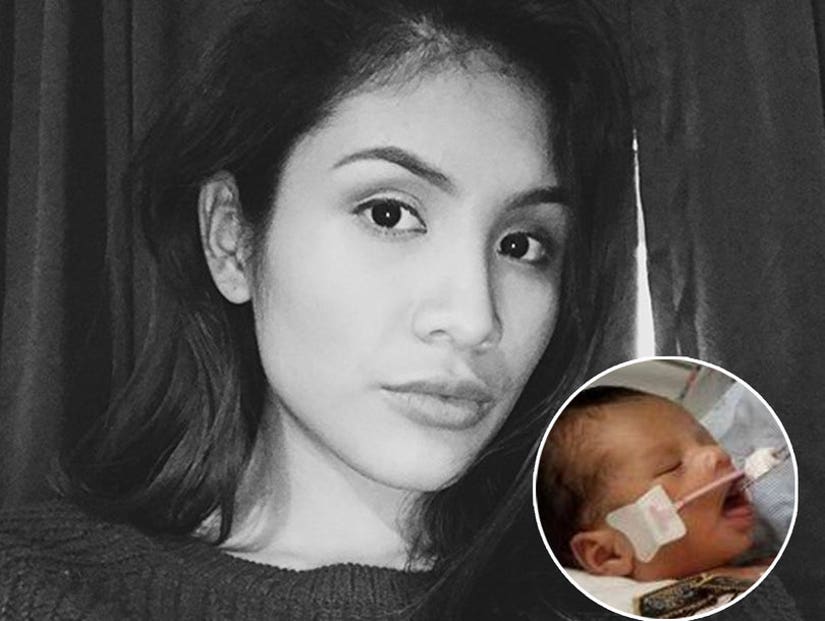 Facebook
Yovanny Jadiel Lopez was the target of an alleged plot to kidnap him before he was even born.
The baby who was cut from his murdered mother's womb has died.
The family of Yovanny Jadiel Lopez, who was left brain damaged in the grisly attack, announced the heartbreaking news on Facebook on Friday.
"It is with great sadness that we inform you of the passing of baby Yovanny Jadiel Lopez," family spokeswoman Julie Contreras said. "He passed away this Friday June 14, 2019 from his severe brain injury. Please keep his family in your thoughts & prayers as they go through this difficult time."
Just two days earlier, Clarisa Figueroa, 46, and her 24-year-old daughter, Desiree Figueroa, were charged with first-degree murder of Yovanny's 19-year-old mother Marlen Ochoa-Lopez.
Her body was discovered in a trash can behind Figueroa's Chicago house in May, the result of a horrific plot by the pair to kidnap the unborn child and pass it off as their own, prosecutors say.
Ochoa-Lopez had been lured to the home with the promise of free baby clothes, which the elder Figueroa had posted in a mommy Facebook group.
Clarisa, whose adult son previously died of natural causes, had also used Facebook to document a fake pregnancy for months, despite having her Fallopian tubes tied.
Police and prosecutors learned of the grim details after the younger Figueroa gave "a full video-recorded confession" to assisting her mother in the killing, according to the Chicago Tribune.
They claimed Marlen had visited the house weeks before and left unharmed, unaware she was being selected as the victim. Tragically, the visit occurred on April 1; when Desiree's boyfriend heard details of the plot and threatened to call the police, the mother managed to convince him it was just an April Fool's joke.
Upon returning for the free clothes on April 23, prosecutors claim the two went into the kitchen and played loud music so they could discuss what they were about to do unheard.
They said Desiree then distracted Marlen with a photograph album, showing her pictures of the deceased brother they were going to name her non-existent baby sibling after; Clarisa then came up behind her and strangled her with a coaxial cable for five minutes.
The heavily pregnant teen managed to get her fingers between the wire and her throat as she fought for her life. Clarisa yelled at her daughter for "not doing your f--king job", after which Desiree pried Marlen's fingers away one by one, prosecutors said.
They claimed that when she finally stopped struggling and wet herself, Clarisa told her daughter she "must be dead". She then told her to get a blanket, a large plastic bag and a butcher knife. She then sliced her abdomen from side-to-side, removed the baby and placed him in a bucket. Marlen's body was "shoved" into the bag, dragged to the trashcan and dumped in, along with the cable that killed her.
Clarisa then dialed 911 and told paramedics she had just given birth and the baby was not breathing, prosecutors said. When they arrived they found her holding the baby with the umbilical cord attached; besides the blood she was covered in, she showed no signs of having given birth.
She would later set up a GoFundMe account seeking help paying for "her" baby's medical costs. Subsequent DNA tests showed the baby was not hers.
Police had been looking for Marlen for three weeks, after she never turned up to pick her three-year-old son from daycare. They later found her car parked near the Figueroa home.
When they finally came to search the house, they said they found Clarisa Figueroa's boyfriend Piotr Bobak, outside cleaning a rug with bleach and a hose. He has been charged with concealing a homicidal death.
Marlen's 20-year-old husband, who shared his name with his now deceased son, had been clinging to hope the boy would survive, but he was severely brain damaged. He died in his dad's arms.