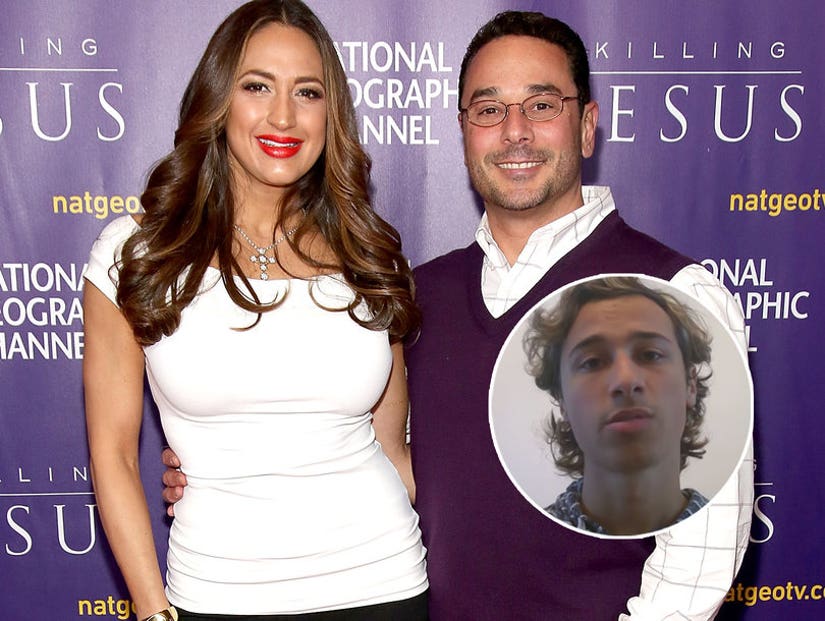 Getty/YouTube
After accusing his father and stepmother of refusing to pay for college because he's gay, the battle intensifies in the media.
The war between former "Real Housewives of New Jersey" star Amber Marchese and husband Jim against his son, James Michael Marchese, continues to play out in the press -- with the 19-year-old now hitting back against some of their more explosive claims.
The teenager, who goes by Michael, first made headlines when he made a GoFundMe page to help raise money for his college tuition. He says his father began "slowly cutting ties" with him when he came out as gay, refusing to help him financially unless he lives "according to his standards."
Both Jim and stepmom Amber have continued to deny the allegations, with Amber releasing a lengthy new statement on Thursday night filled with new allegations about Micheal.
"My step son was never kicked out nor banished from his siblings. He coldly walked away never to return (January 17, 2018). It took many months to help his little brother and sister deal with a tragic loss of siblings," she wrote on Instagram.
As for where the issues between them started, she claimed "Michael got in trouble for lying about his whereabouts with my other, at the time, 14 year old step son. We found out that he was bringing my young son around 18 year predators boys that wanted to sexually abuse him, among other Christian Brother freshman children."
Calling him a "spoiled rotten, privileged young teenager," she said it's simply "not in our budget" to support the school of his choice. "I love you, and you can always come home as you are. Nothing you do will make me love you less. However, the answer is still a resounding NO!! Daddy and I will not condone your lying, cheating, scamming, or public outbursts such as this. I don't care if Andy Cohen himself tells you how awful we are. It is not happening. Again, I love you, please, come to the therapy so we can discuss this as it should be discussed. Behind closed doors with a professional. I love you."
Jim also previously claimed he found out about his son's sexuality when his other son Sebastian "received this rancid nasty gay porn on his phone," pornography Jim said was sent to the then 14-year-old because some of Michael's friends "wanted to gang bang" him.
In a new interview, Michael vehemently denied that version of the story.
"Amber took my brother's phone and saw messages between him and his boyfriend. It wasn't anything pornographic like my dad has been saying, it's appalling to read that he's been saying these disgusting things," he told Celebuzz.
"It was clear that my brother and his boyfriend were dating, so that's really what started it all with her, and giving the phone to my dad and saying, 'Your sons are gay,'" he added.
Among his messages at the time, Jim wrote, "A gay son is a curse that takes away your #family traditions," said having a LGBTQ kid is "a parents nightmare that destroys families" and said being gay was "a lifestyle choice like being vegan."
"He went on that Twitter rant, so to speak…about how no true straight man wants a gay son," said Michael. "I was called down to [the guidance office at school] because of that. They wanted to make sure I was ok because this was blowing up."
"It's been a very tough time, and I really don't understand why he will continue to say that my sexuality isn't the reason that he's not going to help me," he continued. "Up until my coming out he was extremely supportive of me going to Ivy Leagues ... of going to this private high school when I didn't ask to go to the private high school."
"He has made it clear to me that if I spoke to anyone about it, he would do anything in his power to destroy everything that I care about," added the 19-year-old. "This is really bad for his image…I never wanted him to be even involved with [the GoFundMe], I don't want him to feel forced to now pay for my college education."
Michael has his heart set on attending Fairfield University in Connecticut this fall. In a YouTube video added to the GoFundMe page on Wednesday, the teen added that the support he's received so far has been overwhelming.
"It really means the world to me that anyone would care what's going on," he said in the video. "It's given me hope, hope that there's a future, one where I don't need to worry that everyone will judge me based on my sexuality, hope that even though my dad isn't going to accept me or not anytime soon, according to him, it gives me hope that there will always be people there."
At the time this story was published, Marchese has raised over $12,300 of his $35,000 goal.