The reality star turned fashion designer laid into her "Hills" co-stars in a scathing Instagram post earlier in the day.
UPDATE 7/24/19 at 9:20 p.m. PT
In a very terse response to a fan on her scathing Instagram takedown of her "The Hills: New Beginnings" co-stars, Stephanie Pratt says she won't be returning for the just-renewed MTV series' second season.
The fan asked, "OMG are you on Season 2?" Pratt's response was simply the word, "No."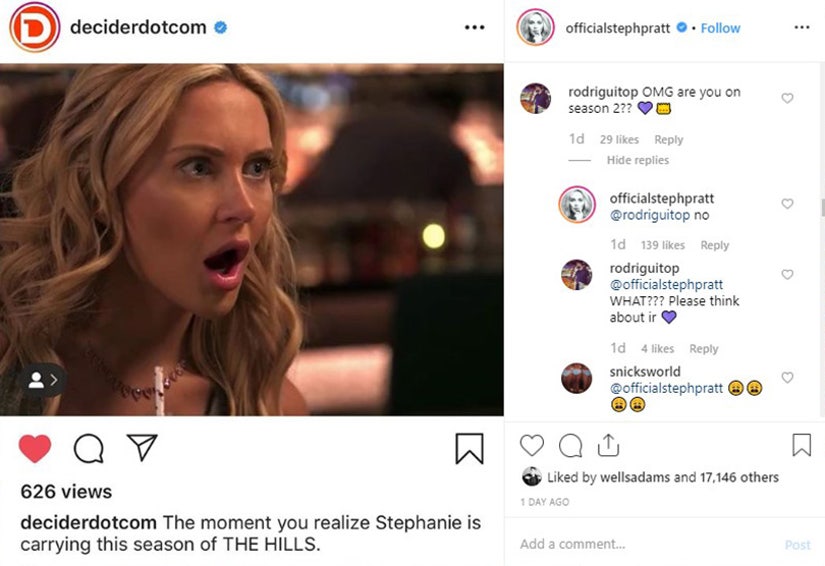 Instagram
The thread led to an outcry of support and shock from her fans, though it should by no means be taken as final casting confirmation. It could just be that this is how Pratt was feeling at the moment, hours after laying into her brother Spencer Pratt, his wife Heidi Montag and her other "Hills" co-stars.
Representation for Stephanie Pratt did not immediately respond to TooFab's request for comment or clarification.
UPDATE 7/24/19 at 2:45 p.m. PT
Although she didn't mention anyone by name, Heidi shared a post on Instagram only a few hours following Stephanie's rant. The reality star captioned a photo of a rainbow with a bible verse.
"'Don't be hateful to people, just because they are hateful to you. Rather, be good to each other and to everyone else.' 1 Thessalonians 5:15,'" Heidi stated in the caption.
"Thank you Jesus, I needed this word and guidance," she added. "Deliver and help us Lord."
Waiting for your permission to load the Instagram Media.
"Drama follows me," Stephanie began in her long post, which consisted of a still of her looking shocked from the show. "I'm drained from this year." The reality star then threw shade at her brother by adding she was "so happy to be back home in London, where evil siblings don't exist."
She went on, "Spencer often screamed that everyone hates me, is fake nice to me and to go back to London because no one wants me here."
Stephanie then directly referenced Heidi's past feud with Lauren about who leaked the rumors of her alleged sex tape with her ex-boyfriend Jason Wahler.
"Omg and Heidi- I have no words for how evil you truly are," Stephanie wrote. "You had no choice to admit all of the lies you've been spewing about me was for a magazine cover and for real WE ALL KNOW WHAT YOU DID 10 years ago. You awful human being- and to your BEST FRIEND? You are truly a hideous person. No wonder you have 1 friend (your nanny doesn't count- you pay her)."
Waiting for your permission to load the Instagram Media.
Lauren once said those same words -- "You know what you did" -- during a fight with Heidi during Season 3 of "The Hills." This drama goes way back to 2007 when Conrad assumed Heidi was the one at fault stating, "You know why I'm mad at you. You know what you did... You started a sick little rumor about me," Lauren had yelled at her ex-best friend.
However, Lauren shut down the false sex tape rumors and told fans that Spencer admitted to leaking the tape to the media stating, "We actually have it on tape. [Spencer] takes responsibility and apologizes for it. Sorry! Spoiler!" Later in a 2015 interview with Complex, Spencer owned up to his actions. Lauren has denied that the sex tape even exists.
Stephanie's lengthy Instagram rant didn't end there. The fashion designer then touched upon the love triangle involving Audrina, Justin Bobby and herself. On the latest episode of "The Hills: New Beginnings," where the three sat down and had a very uncomfortable dinner, where Stephanie denied claims that she had been hooking up with Justin, who at the time was also Audrina's on-again, off-again boyfriend during the original show "The Hills" back in the late 2000s.
Stephanie wrote, "@justinbobbybrescia you were my rock the entire series- I love you and thank you. PS: Spoiler alert...we NEVER hooked up. Audrina is crazy like you dated this guy ten years ago...you married someone else & have a child with him. And-As if you liked Justin!! you were dating someone off camera!! (the guy u went on a blind date with the night after the festival)! No one plays a better victim than you (OMG you actually should go into acting)!!!"
She went on to add, "Truth: I did not watch last nights episode Bc I didn't want to re-live my "friend" attacking my character & making up lies about me when I have ALWAYS been a good friend to you. (You should watch the original Hills for a memory refresher) I am still utterly shocked & hurt you did this to me for camera time."
Season 1 is in full swing, and with Season 2 being announced, it's safe to say the drama won't be ending anytime soon. Although Stephanie's co-stars have yet to comment on the latest claims, she ended her post saying, "Ok time for a nap, literally what an exhausting year. #hibernationmode in full effect. KEEP IT 100."
"The Hills: New Beginnings" airs Monday nights on MTV.