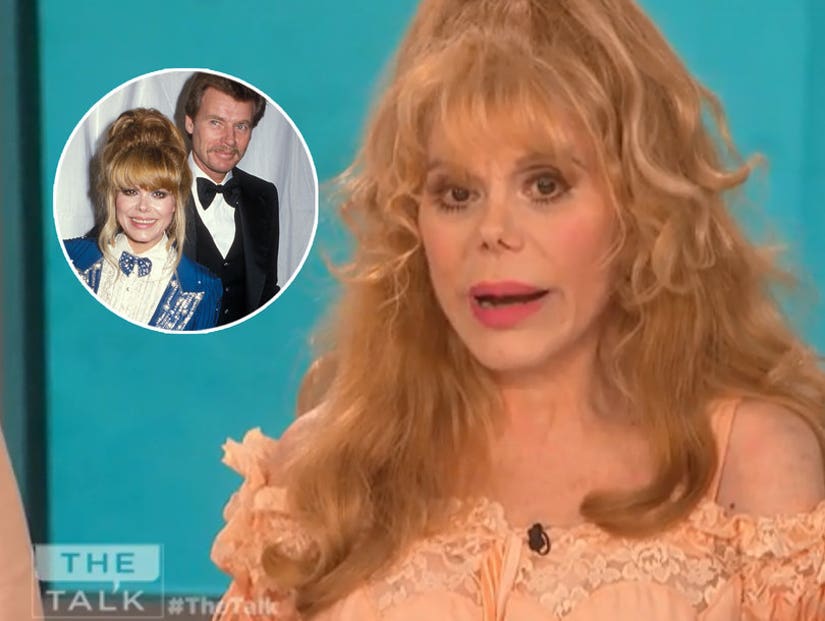 CBS/Getty
"He shot himself," but did not want to be found, says Charo.
In her first television interview since her husband, Kjell Rasten, committed suicide, Charo opened up about finding him during an emotional appearance on "The Talk."
Rasten died of a self-inflicted gunshot wound in February, with Charo saying he took his life after a developing a rare skin disease and depression. Recalling the days leading up to his suicide, the entertainer said they had just come home from Palm Springs, where she had a show. When they returned home, however, something seemed off.
"We had dinner, but he did not talk, during the dinner he talked very little," she said, describing the night before his death. "Then when he went to go to sleep, he looked at me very strange. No clue, no clue at all. The best husband, the best father, the best companion, no clue at all."
"The next day, February 18 at 9:00, he shot himself, but he did not want that I find him," she continued, saying he did it in an alley where their gardener usually puts the trimmings.
"I find him and I thought that he fell down," she explained. "I ran to him, because I thought he fell and I hugged him and I was full of blood. My hair was full of blood, like I had a shower of blood. "
Charo noted that he had a pulse and was still breathing.
"I was screaming to the street, full of blood and a tour bus called the police and called the ambulance," she continued. He died at Cedars-Sinai.
"He [policeman] said, 'Sit down, he did not fall down, he put a bullet in his head,'" she recalled. "And that moment, I had a bullet in my heart. But I want to say to everybody if I can, I thank you with all my heart and watch for depression."
Cohost Sheryl Underwood, whose husband also committed suicide in 1990, told Charo they "have a sisterhood in this way." When the performer asked Underwood what she did to "survive," the cohost replied, "The same way, I had to choose life, and I put God first."
If you or someone you know is in need of support, call 1-800-273-8255 to reach the National Suicide Prevention Lifeline.