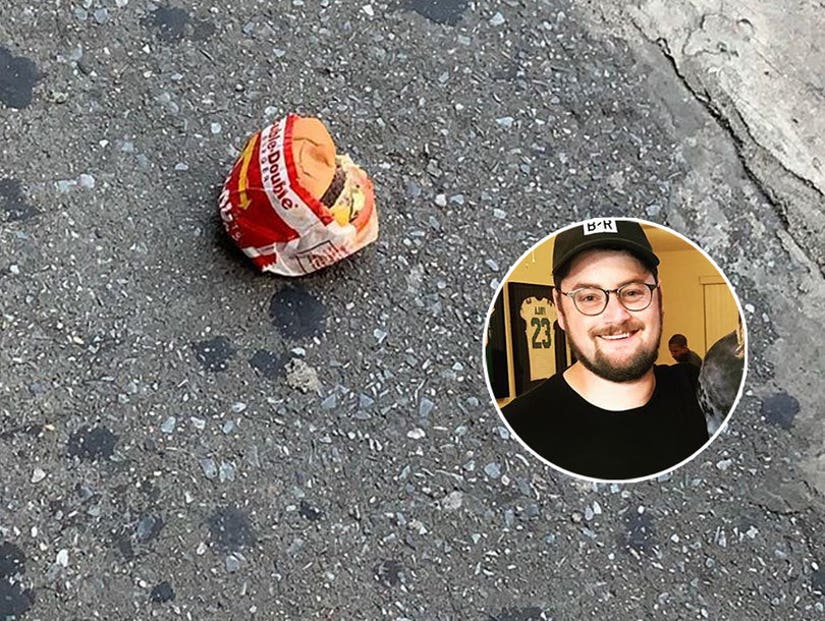 Instagram
Lincoln Boehm — who has previously created ad campaigns for Nike, Duracell and Tide — said the fact he worked in creative advertising was "just a coincidence".
UPDATE 2:04PM 07/25/2019:
Lincoln Boehm has denied the viral story was a publicity stunt.
"Just wanted to let you know I had nothing to do with ANY stunts," he told TooFab. "All I did was find a burger on the ground while walking to get a coffee early in the morning."
"Yes I do work in advertising but that is just a coincidence. I understand why you'd think that was suspicious but I assure you on my life I had nothing to do with planting it there or staging any sort of publicity stunt."
He said Helen Vivas was a "fantastic kid", and insisted she did exist despite her meager Instagram post count.
Original story below 10:16AM 07/25/2019:
The mystery of the New York In-N-Out Burger that went viral has been "solved"... by a guy who works in creative ads.
Last week, the story of a man who found a pristine Double-Double on an east coast street, from a fast food restaurant that only exists on the west coast, captivated the internet, featured on countless news sites and generated the kind of free advertisement execs salivate over.
On Wednesday that same man Lincoln Boehm, who works as an Associate Creative Director at Johannes Leonardo advertising agency, penned a lengthy article for Vice declaring he had figured it all out.
"I never thought I'd have a concrete answer. I assumed this was just a mystery that would consume a part of my brain until the day I die, much like how the JFK assassination consumed my parents' generation," he wrote.
Boehm, who has featured twice on Business Insider's "30 Most Creative People In Advertising Under 30" list, claimed that after two days of "feverish media attention", he received a DM from a 16-year-old girl claiming to be the burger's original owner.
"Naturally, I was suspicious. Over the past four days, I've received a lot of messages from people claiming to be the culprit, but after soft interrogation, their claims completely fell apart," he claimed. "But this one was different. This explanation stayed as intact and solid as the very burger I discovered on the streets of Queens."
According to Boehm, who previously created ad campaigns for Nike, Duracell and Tide — 16-year-old Helen Vivas had an extremely detailed explanation for the whole ordeal.
Waiting for your permission to load the Instagram Media.
The Queens teen claimed, he said, that she had been visiting family friends in San Diego, and had stopped at In-N-Out in Encinitas on the way to the airport to buy some snacks for the flight, and ordered FOUR burgers to "eat in the coming days".
She even had the foresight to ask for suggestions on how to preserve the burgers as much as possible, ordering her two Double-Doubles with "NO SAUCE, which explains how the bun stayed so pristine," Boehm wrote.
Her two cheeseburgers meanwhile she ordered "'packed fresh' (which means they pack all the vegetables in separate baggies to be constructed later)," as teens tend to do.
In the article, Boehm even posted screenshots of all their DM exchanges as she detailed her story, including credit card receipts for the burgers, her flight confirmations, and all her Instagram stories from that day. (She only managed to post two stories on the final day of her two-and-a-half week vacation; conveniently enough one was of the exterior of the In-N-Out restaurant with a plane emoji, the other was of the airport lounge as she was about to board her flight).
Eventually eating the presumably now-stone cold first of the burgers aboard the plane — taking a photo of it for safekeeping — she then held the remaining three in a bag on her lap for the entire five-and-a-half hour flight.
After landing, Vivas claimed she was running for a bus afterwards when the bag burst. She managed to catch the two cheeseburgers — presumably as well as the separately packed vegetables, although she forgot to mention this — before they hit the ground, but alas not the now famous Double-Double (which curiously had vegetables inside the buns).
As for how it ended up in perfect condition after its running fall? Even this had an explanation: Helen is short. At five feet, two and a half inches, her hands are just 22 inches from the ground, Boehm calculates (for someone who sprints with their arms pointed straight at the ground).
Waiting for your permission to load the Instagram Media.
And as if all that evidence wasn't enough, Helen even had a screengrab of the very first text she sent a friend who had welcomed her home, which read: "one of my in and out burgers fell in the streets of Jamaica."
Boehm has since started selling T-shirts about the incident, with all proceeds going to New York City Foodbank.
Anyone hoping to verify Helen's claims will have to request to follow her, as her account is private. The account only has 16 posts.
Despite all the free advertising, including the second wave of articles published on Thursday about the mystery being "solved", In-N-Out's social media has remained oddly silent throughout. VP of Operations Denny Warnick claimed the company had nothing to do with the rogue burger when it was initially discovered; when TooFab asked if the incident was a paid for viral ad campaign, a spokesperson said: 'Our VP is in meetings today, and I doubt if he would have any further comment. We basically feel that the mystery has been solved. But if we have any further comment, we'll be sure to let you know."