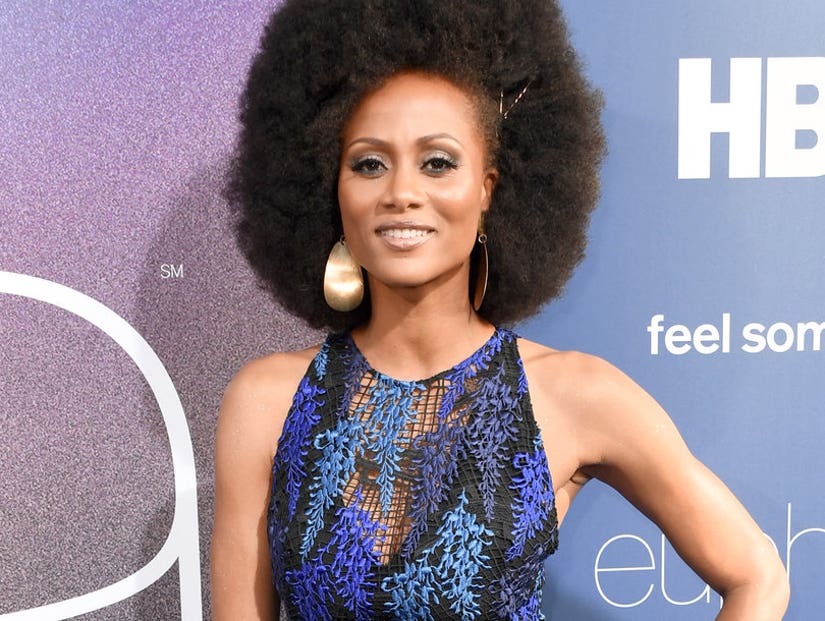 Getty
"One sexual experience can ruin your life as a teenager," the actress said. "And that can wreak havoc on a teenager."
If you've seen Zendaya on "Euphoria" -- you know her mom has her work cut out for her.
Nika King opened up to TooFab to tell us what it's like playing mother to recovering addict teen Rue, and how the depictions of sex and drugs on the hit HBO show are not that far from real life.
"No it doesn't surprise me because I actually taught high school right out of college," she said, "And I was still a young buck myself!"
"Seeing kids really have sexual experiences on campus with other students, with adults. It happens," she said. "And especially when you have kids that maybe don't have the two parent households, or healthy households, they tend to act out, and they tend to feel like, 'Oh I'm an adult. I'm able to take care of myself,' and they move differently."
She added: "And I know I was having sex as a teenager, so I know fast forward 20-30 years you know they getting it in! They got social media, they got porn on their phones.... It's like it's sad and crazy, but it's real."
Even the infamous line from the show — "nudes are the currency of love" — rings true in modern classrooms.
"One sexual experience can ruin your life as a teenager. You know, and now everybody's watching it, they're sharing it, they're uploading it," she said. "And that can wreak havoc on a teenager who may already be dealing with some body issues, or low self-esteem. That can push a kid to the edge."
"So, it's scary, but parents have to have those uncomfortable talks with their kids. They have to! It's not up for debate, you have to. You have to talk to your kids and find out what's going on with them... as much as they'll tell you."
In the show, Nika's Leslie is caught between trying to protect her daughter, who almost died via overdose, but not wanting to push her away by over-parenting.
"Leslie wants her daughter to be healthy, but as a parent you don't want too firm of a grip because then you'll end up losing them," she said of her character. "I don't want her to rebel to the point where she's not coming home, and she's not answering her phone; but the thing is... even though she's being duped, she wants to try to create trust again in their relationship."
"Right after she overdosed you'd be like, 'You're never leaving the house. You're staying here forever.' But I think she wants to try to get back to some normalcy and repair their broken bond as a family and as a parent-daughter."
Despite King's excellent portrayal, it may surprise some to learn she isn't actually a mother in real life; however she has experience parenting her 15 nieces and nephews.
Having grown up in a drug-infested community where almost every adult was addicted to either drink or drugs, the actress said she had plenty to draw from stepping into the role.
"Sometimes they get clean and sometimes they don't," she recalled. "And so I used a lot of my childhood experiences and background for how she's dealing with Rue's addiction. This is my... healing for a lot of stuff I personally had to deal with as a small child."
Another hot topic on the show is penises — much has been made of how many pop up on screen (31 in one episode, reportedly).
"Yeah!" Nika laughed. "Like at the end of the day... hey that's the genitalia. Like women, you know, we show it all. The boobs, the butts, the tops everything is on display."
"The reality is the penis is not attractive. It's not a good-looking thing ya know? Well, it looks good in other ways, but I'm saying is on the camera - on the screen it's like, 'Ewww! Put that thing away!' But like I say equal opportunity all the way!"
"People are questioning if it's for shock value? I don't think so. It's one of those things that if you're uncomfortable seeing the human genitalia then you might have to question your own... sensitivity."
She continued: "But a lot of stuff makes people uncomfortable but we kinda got to get through it and move on to see the bigger picture. This show, it's a bigger picture. When I go on my Instagram and I go onto my DM's, people are literally texting me, DMing me about how this show has helped them battle depression. People are writing songs, and people are remembering when they were on drugs and now they're clean."
"So for me, yeah that's a small part of the show, but bigger picture is giving people hope, and light, and that's through whatever they're going through. That's what I'm hoping people take away instead of saying there was a lot of penises!"
"Euphoria" Season 1 has just two episodes remaining, this Sunday and next; however the show has already been renewed for a second season.