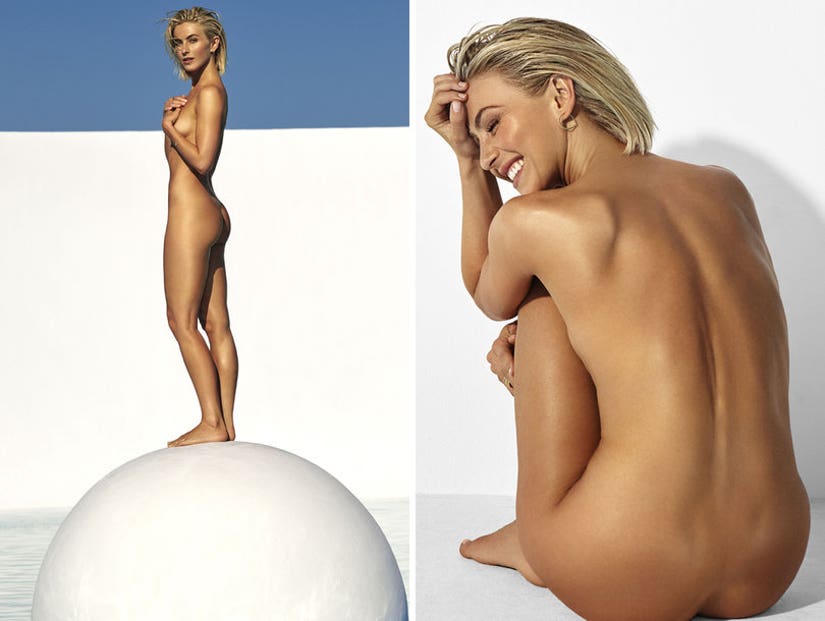 Brian Bowen Smith
"I choose to be with you," the dancer told her husband.
UPDATE: Hough's husband, Brooks Laich, went to Instagram to praise his wife over her honestly in Women's Health.
"So proud of my wife @juleshough for the woman she is, and her courage to share her journey of trials and triumphs," he wrote. "You can learn more about it below, and join the movement she is creating surround personal transformation and growth! Love you so much babe!"
The "America's Got Talent" judge recently opened up to Women's Health magazine for their Naked Strength issue about her journey of self-discovery and coming out to husband Brooks Laich, whom she married in 2017.
Shortly after saying, "I do" the 31-year-old was surprised to find herself feeling unfulfilled, leading her to do an emotional deep dive into how she was evolving as an individual, which included being unabashedly honest with Laich about her sexuality.
"I [told him], 'You know I'm not straight, right?' And he was like, 'I'm sorry, what?' I was like, 'I'm not. But I choose to be with you,'" she said.
While initially unsure about baring all to her husband, Julianne's "massive transformation" has helped her forge an even deeper bond with him, she explained, "I think there's a safety with my husband now that I'm unpacking all of this, and there's no fear of voicing things that I've been afraid to admit or that I've had shame or guilt about because of what I've been told or how I was raised."
"I was connecting to the woman inside that doesn't need anything, versus the little girl that looked to him to protect me," she recalled. "I was like, 'Is he going to love this version of me?' But the more I dropped into my most authentic self, the more attracted he was to me. Now we have a more intimate relationship."
Waiting for your permission to load the Instagram Media.
Now, the pair are working toward expanding their family, which, due to Julianne's 2008 endometriosis diagnosis (a painful condition when tissue lining the uterus (the endometrium) forms outside of it) makes the process more difficult.
While there's no stork flying their way anytime soon, they're currently going through the process of in vitro fertilization (IVF), and Julianne has taken proactive steps to freeze her eggs, a move which has touched Laich in a profound way. He shared his feelings about his "warrior" wife on his iHeartRadio podcast, "How Men Think" saying, "The commitment that she made to us having a family is something I'll never forget."
As for Julianne, she's staying positive, focused, and determined to have a bright future. "I've always put it out there that it's going to be okay," she said.
Brian Bowen Smith