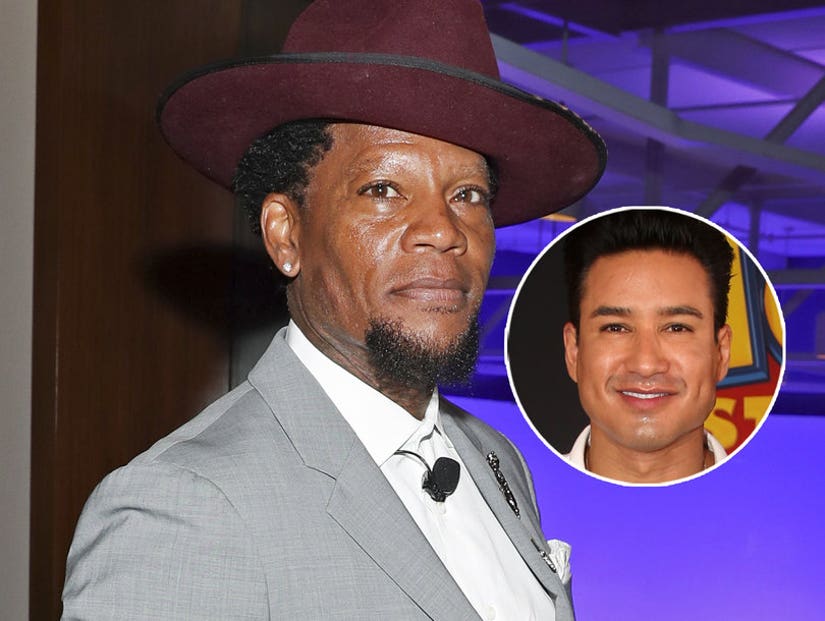 Getty
Lopez already expressed regret for his statements, but that didn't stop Hughley from agreeing with him.
While Mario Lopez drew major backlash on Twitter over controversial comments he made about transgender children, his now retracted statements have at least one celebrity supporter in DL Hughley.
The comedian expressed his support for the incoming "Access Hollywood" host on Thursday night, tweeting out, "I'm w/ @MarioLopezExtra if you're 3-yrs-old your ass ain't making the rules in my house."
"Until your ass is responsible 4 yourself, paying bills, you can't even sign a permission slip for a field trip, then my rules," he continued. "U don't get to choose UR gender at 3. 🤷🏾‍♂️ #TeamDl #DLHughleyShow".
The "Saved By The Bell" alum originally expressed his controversial viewpoint on Candace Owens' podcast in June, which resurfaced this week. During the interview, Owens asked about the new "weird trend" of Hollywood celebrities such as Charlize Theron announcing that their child is self-identifying their own gender.
"I am trying to understand it myself, and please don't lump me into that whole [group]," Lopez responded. "I'm kind of blown away too."
"Look, I'm never one to tell anyone how to parent their kids obviously and I think if you come from a place of love, you really can't go wrong but at the same time, my God, if you're 3 years old and you're saying you're feeling a certain way or you think you're a boy or a girl or whatever the case may be, I just think it's dangerous as a parent to make this determination then, 'well, OK, then you're going to a boy or a girl,' whatever the case may be," he said. "It's sort of alarming and my gosh, I just think about the repercussions later on."
He added: "When you're a kid... you don't know anything about sexuality yet. You're just a kid."
"Parents need to allow their kids to be kids, but at the same time you gotta be the adult in the situation. Pause with that... i think the formative years is when you start having those discussions and really start making these declarations... personally I just think it's way too young."
His comments drew plenty of ire online — including from "Queer Eye"'s Jonathan Van Ness and Karamo Brown — with many pointing out the difference between gender and sexuality. On the flip side, Donald Trump Jr. showed support, tweeting, "I literally can't see anything wrong with what Mario Lopez said here that would cause the Outrage Mob try to destroy him... He was as reasonable and accepting as anyone could be but because he may have had doubts about letting a 3 Year Old make a permanent decision hes killed?"
"Buffy the Vampire Slayer" star Kristy Swanson also expressed support for Lopez, tweeting, "I have to say to @MarioLopezExtra I am sad to hear you apologized for doing nothing wrong. Like a good smart pal of mine says... 'Never bend a knee to the rage mob. Ever.' Xoxo We are here for you."
Lopez later issued a statement acknowledging his comments were "ignorant and insensitive", and "hurtful".
"The comments I made were ignorant and insensitive, and I now have a deeper understanding of how hurtful they were," he said. "I have been and always will be an ardent supporter of the LGBTQ community, and I am going to use this opportunity to better educate myself. Moving forward I will be more informed and thoughtful."