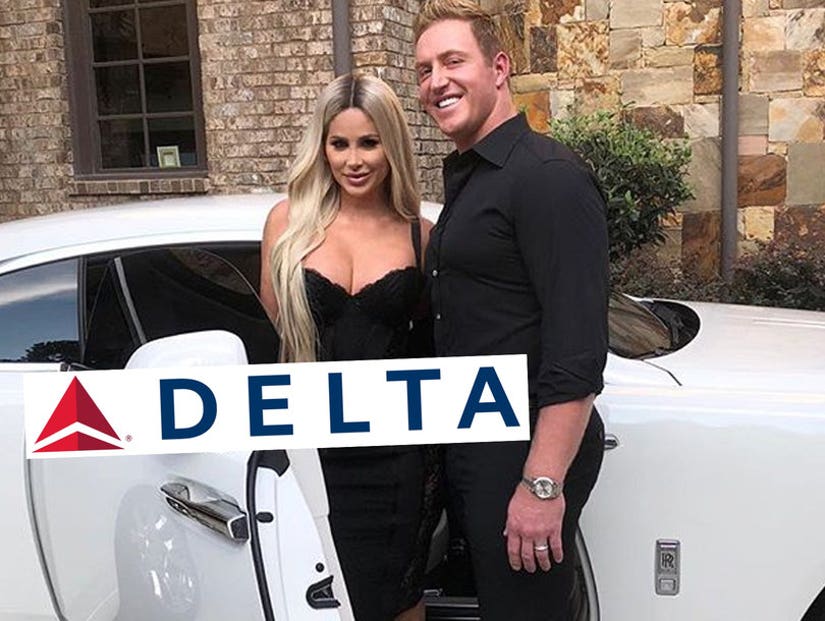 Instagram
"Who the f— removes my kids from a plane without a parent?"
Kim Zolciak-Biermann has put Delta airlines on blast again, detailing the alleged events and trauma her young children experienced on their July 20 flight.
Thursday, the 41-year-old "Don't Be Tardy" star unloaded on her "House Of Kim" podcast about, what she called, a "criminal thing." Kim claimed Delta crew removed 8-year-old son KJ and 6-year-old son Kash from their flight before take off while she was in the bathroom with her 5-year-old daughter Kaia.
The incident first made headlines last month when Kim's daughter, Brielle Biermann, 22, tweeted (and then deleted) that her family had been rousted out of their first class seats and hustled off the plane on an Atlanta bound flight from Los Angeles.
On July 22, Delta released a statement, denying the family's account. "Mrs. Zolciak-Biermann and family elected to deplane their flight after her husband remained behind to provide proper paperwork for an emotional support animal. Mrs. Zolciak Biermann and her children elected to board the flight to Atlanta while her husband stayed behind to clarify paperwork before going through airport security. He arrived at the gate after the aircraft door was shut."
In the 11 days since the incident, Kim has refused to retract her claim. On her podcast she stated husband Kroy Biermann remained in security to process paperwork for their service animal to board, while Kim proceeded to the gate and board the plane with their kids.
According to Kim, their routine travel day took a nosedive when she emerged from the bathroom to discover her belongings and KJ and Kash were no longer on the plane.
Panicked and confused, Kim said she took Kaia and her twin brother Kane off the plane and into the jet way where she confronted a Delta crew member to try and understand what was going on.
"I go bananas," she said. "I am livid. I'm like, 'I need answers!' Kash is hyperventilating, he's so upset. These kids are 8, 6, and 5, and they're taken off a plane by a man they don't know. They're devastated."
Kim said Brielle and her sister Ariana Biermann, 17, also deplaned upon hearing their siblings distress.
"I didn't know what was going on," Kim recalled. "It's a criminal thing when you're taking kids off a plane and people's bag. I definitely gave no indication whatsoever that I wanted off this flight."
Kim said after deplaning, the doors closed just as Kroy arrived at the gate, leaving the entire family stranded and forced to book a new flight for the following day.
Delta did not immediately respond to TooFab's request for comment regarding Kim's latest claims.