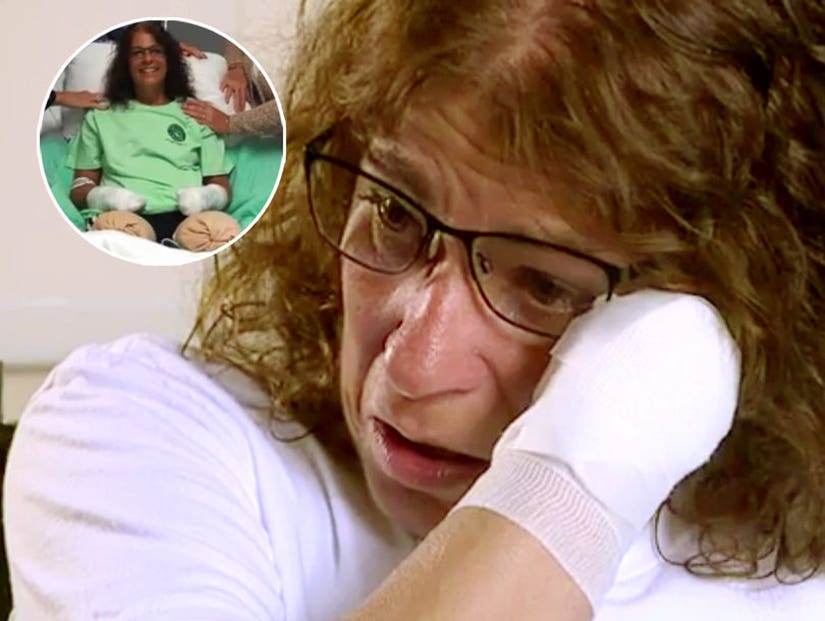 FOX8 Cleveland
Marie Trainer suffered a severe reaction to a bacteria in her dog's saliva.
An Ohio woman was forced to have all four limbs amputated after picking up an infection from a dog lick.
Marie Trainer woke up from a ten day coma to discover both her hands and both her legs had been removed.
Doctors barely managed to save her life after determining she had developed sepsis from capnocytophaga, a bacteria in dog saliva that can be transferred from a bite, or even by licking a small cut or scratch.
Marie told Fox8 on Wednesday that she had no recollection of what happened.
"When I opened my eyes I didn't know where I was," she said. "It was very hard to find out that they had to remove my legs and my arms....very hard to cope with."
Marie and her husband Matthew had just returned from a vacation in the Caribbean in early May, when she began to feel unwell. She initially thought her nausea and backache were just symptoms of flu; but when her temperature spiked and then plummeted, Matthew rushed her to Aultman Hospital on May 11.
Her condition continued to worsen; she was placed in an induced coma after a couple of days, as her limbs began turning necrotic and then gangrene set in.
Blood tests finally confirmed capnocytophaga. "Fairly common in the oral flora or the mouth of a dog and it can be transmitted through a bite or sometimes just contact with saliva," said Dr. Margaret Kobe, Medical Director of Infectious Disease at Aultman.
"That organism is very virulent. It has the ability to induce your immune system to do some pretty horrible things."
Doctors repeatedly removed several large blood clots and managed to save Marie's life -- but it was too late to save her limbs.
"If we did not proceed with the amputations, in was going to lead to her death — and quickly," said Marie's step-daughter Gina Premier, who is also a nurse practitioner at the hospital.
Dr. Kobe said Marie's severe reaction was "one in a million", adding that the unpredictable nature of the bacteria means a person can be exposed to it for years without any previous reaction.
After eight surgeries and 80 days in hospital, Marie said she still loves her two dogs and can't wait to get back to them.
She also praised her husband of 32 years. "He's here every day for me... every day he feeds me, and dresses me here every day. I mean what do you do? I had to learn how to sit up, roll over, it's been just very hard."
A GoFundMe page has been set up to help with her rehabilitation, and has already raised more than $18k.