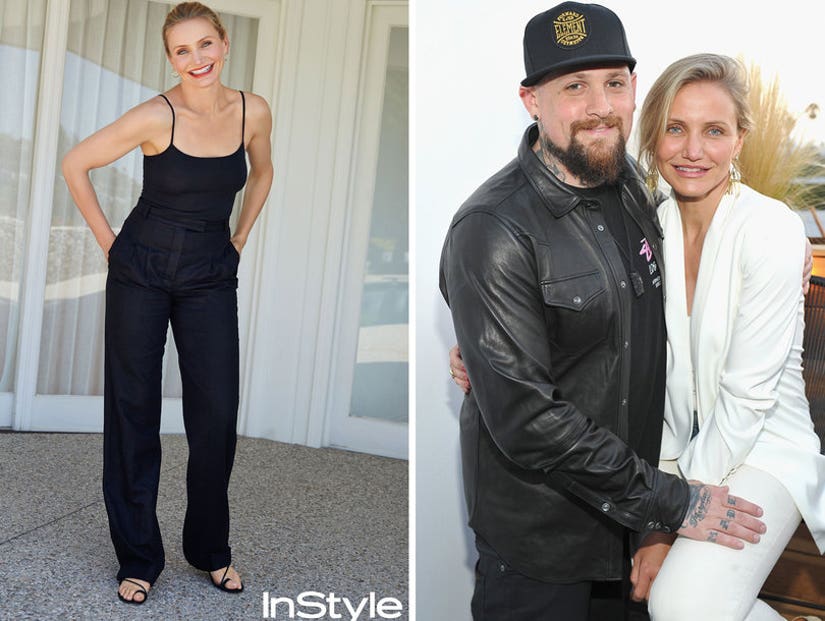 Camilla Armbrust for InStyle/Getty
"I don't miss performing," says the actress.
Cameron Diaz just made a brief return to the spotlight ... to explain why she's more than okay being out of it.
It's been five years since the actress' last film role in 2014's "Annie" and Diaz has all but retired from acting in the five years since, something she says she's extremely content with in a new, rare interview with InStyle.
Now 46, Diaz explained she's already had plenty of time in the public eye and is happy to put those days behind her. "I started [experiencing fame] when I was 22, so 25 years ago — that's a long time," she explained. "The way I look at it is that I've given more than half of my life to the public. I feel it's OK for me to take time for myself now to reorganize and choose how I want to come [back] into the world."
And that's an "if" at this point, not a "when."
"I don't miss performing. Right now I'm looking at the landscape of wellness and all that," added the now-health book author. "But whatever I do, it has to be something I'm passionate about — something that just feels effortless."
Diaz also said she isn't really a fan of the social media interactions that dominate the celebrity space these days, saying it's a "different" world out there now.
"The mid-1990s are an era that will never exist again. I'm just so grateful that I got to witness and partake in it," she told the publication. "I look at technology now, and it's unbelievable. Sure, you can post anything at any time on Instagram and you're able to control your own narrative, and that's incredible. But you're tied to your phone, and you're so dependent on it."
She added that the reliance on cell phones has led to many losing touch "with our humanity and our humanness."
While she sees technology as an isolating experience, she said her goal is to "build better, strong friendships" with those in her life -- including husband of four years, Good Charlotte musician Benji Madden.
"Getting married to him was the best thing that ever happened to me. My husband's the best," she said. "He's the greatest human being, and he's my great partner. Marriage is certainly hard, and it's a lot of work. You need somebody who's willing to do the work with you, because there's no 60-40 in marriage. It's 50-50, period. All the time."
Though she admitted she wasn't sure if she was ready when she said "I do" in 2015, Diaz told InStyle she just "knew Benji was special" and there's "no bullshit" in their relationship.
The September issue of InStyle is on sale August 16th.