The actor also reveals a big movie role he turned down -- and which musician was responsible for ending his pot sobriety streak.
In a new interview with Esquire, the actor opened up about what he called a "brutal" evening with the now-president, his then-girlfriend Melania and wrestler-turned-politician Jesse Ventura. According to Woody, Ventura invited him as his "date" to a meal back in 2002 with Donald, who Jesse believed was trying to woo him to be his running mate for the Democratic ticket in 2004.
"So we all met at Trump Tower, sat down. Melania was there, only she wasn't his wife yet. And it was, let me tell you, a brutal dinner," explained Harrelson. "Two and a half hours."
Though he got a kick out of seeing Ventura squirm away from Trump's proposal, he was not keen on how much attention Donald demanded throughout the night. "Now, at a fair table with four people, each person is entitled to 25 percent of the conversation, right? I'd say Melania got about 0.1 percent, maybe. I got about 1 percent," he claimed. "And the governor, Jesse, he got about 3 percent. Trump took the rest."
"It got so bad I had to go outside and burn one before returning to the monologue monopoly," Woody added. "Listen, I came up through Hollywood, so I've seen narcissists. This guy was beyond."
The one "true" and "pretty cool" statement Trump said all night, according to Woody: "I'm worth however-many billion dollars. But when I die, no matter how much it is, I know my kids are going to fight over it."
Speaking with Esquire, Harrelson also revealed he turned down a major movie, one that went on to rack up multiple Academy Award nominations.
"I was offered—what's the 'Show me the money' movie? Jerry Maguire? I was offered Jerry Maguire," he said. "I said to [James L. Brooks, who produced the movie], 'Nobody is going to give a shit about an agent.'"
Tom Cruise, of course, took the part and was nominated for Best Actor at the Oscars -- against Woody, who thankfully didn't also pass on playing Larry Flint in "The People vs. Larry Flynt." They both lost to Geoffrey Rush in "Shine."
Harrelson, who was known for his love of marijuana before giving it up cold turkey, also told the magazine who talked him into picking up pot once again: Willie Nelson.
"Yep, I did quit," he said, while smoking. "For almost two years. No smoking, no vaping. And then I ran into this guy [pointing to a photo of Nelson] and that was that."
He broke his sobriety streak after the two played poker together, with Nelson offering up his own Willie Nelson Reserve vape pen to celebrate Woody's winning hand. "I snatched the pen from him and took a long draw," explained Woody, "and Willie smiled at me and said, 'Welcome home, son.'"
The September issue of Esquire hits newsstands August 13.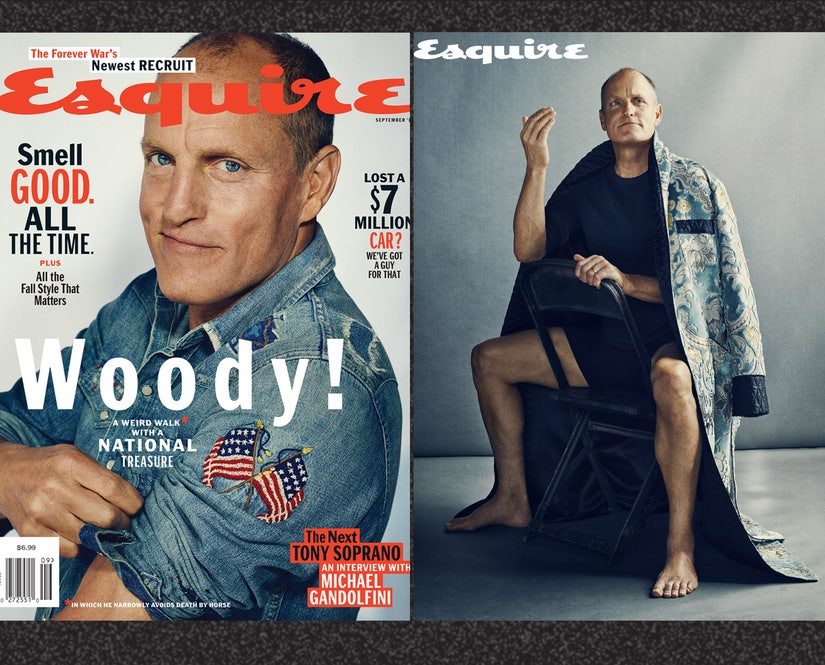 Marc Hom