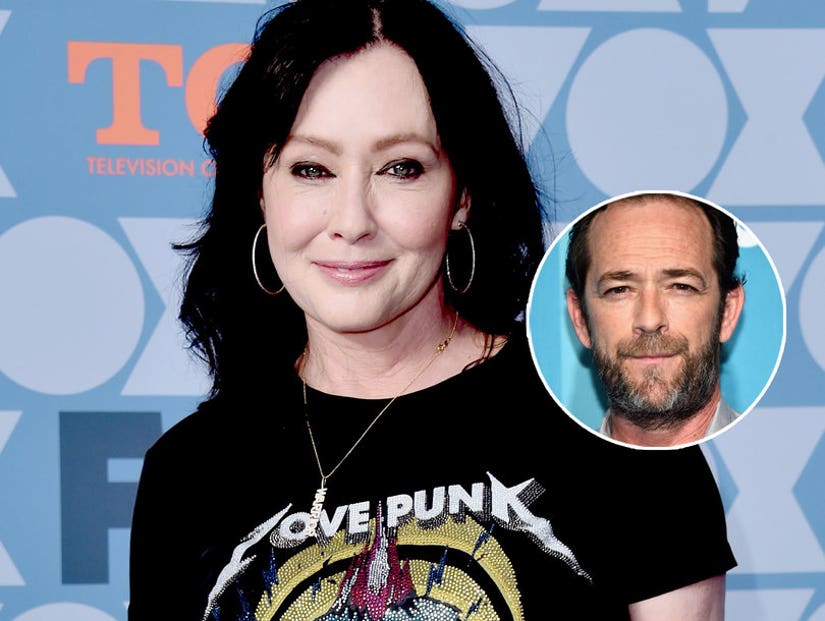 Getty
"I definitely wasn't going to do it."
"I definitely wasn't going to do it," she said Wednesday at a TCA panel, according to People. "Nothing against the show, I knew it would get sold and do well without me. They didn't need me. At that moment it wasn't what I wanted to be doing."
"When Luke passed away, things drastically changed for me," Doherty continued. "And I felt like it was a great opportunity to sort of honor him. And then I really liked to be in that position because now I get to sit up here with a lot of people that you know, I respect and I love."
Doherty added that coming together for the reboot helped the entire cast cope with their devastating loss: "We went on this amazing journey together where we also got to really, sort of, heal through losing somebody who means the world to all of us."
Perry, who unexpectedly passed on March 4, five days after suffering a massive stroke, and never regaining consciousness, starred alongside Doherty on the original '90s show, "Beverly Hills 90210," as brooding bad boy Dylan Mckay.
After Doherty's breast cancer diagnosis in 2015, Perry reached out to his former on-screen love interest, lending emotional support while she went through treatment.
"Luke was a smart, quiet, humble and complex man with a heart of gold and never-ending well of integrity and love," she remembered. "Luke reached out to me during my cancer journey and we picked right back up, albeit older and wiser, but that connection remained intact."
During the Wednesday night premiere of "BH90201," the show included multiple tributes to Perry, including a toast to his memory on the cast's plane ride back from Vegas.
The final scene was a throwback to a season 2 episode of "Beverly Hills 90210," where Perry tells Jason Priestley's character Brandon Walsh at the beach, "Welcome to Paradise man, welcome to your dream come true," framing Perry's face with text reading, "For Our Friend, Luke Perry 1966-2019."