Oddly enough, this isn't the first time the model's gotten work done to her underarms.
On Tuesday, the 33-year-old model and mother of two revealed she got botox in her armpits to prevent sweating. And because she's the queen of candid, she shared videos of the experience to prove it.
"BOTOXED MY ARMPITS. TRULY BEST MOVE I HAVE EVER MADE," John Legend's wife wrote over one of two Instagram Stories taken as Dr. Jason Diamond injected her underarm area. "I can wear silk again without soaking woohoo!"
The "Bring the Funny" host was apparently terrified of the procedure, but by the second video, she appeared more calm. "That really isn't anything," she said as she breathed a sigh of relief. "It looked very frightening," she added, calling the celebrity plastic surgeon her "favorite human."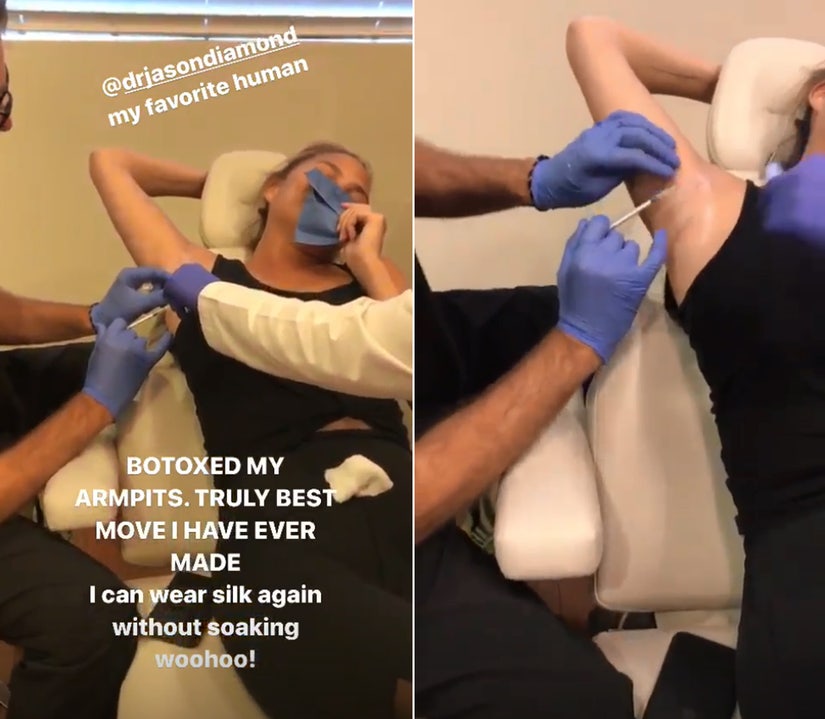 Instagram
But oddly enough, this isn't the first time Teigen's gotten work done to her underarms. It isn't the first time she's talked about it, either.
In 2017, the model revealed she "had an armpit sucked out, which was one of the best things."
"It's a big secret, but I don't care. It was nine years ago or so," she told Refinery29. "And I had two inches to my armpit. Now it's back though, so now I've gotta pay for [liposuction] again."
Chrissy said the procedure was "so easy" and made her "feel better in dresses."
"I felt more confident. It was the dumbest, stupidest thing I've ever done," she said. "The dumbest, but I like it, whatever. I have no regrets, honestly."
Waiting for your permission to load the Instagram Media.
As fans of the star know, she's an open book when it comes to topics most people try to avoid.
Earlier this month, the model told her 25.3 million Instagram followers she hadn't been herself lately and that she thought it was due to an ulcer.
"I haven't been feeling like my best self lately. Like pretty super below it," Teigen explained. "I think I have an ulcer. Also I'm super cranky. And tired. Don't tell me to go to the doctor. I will. But I still need help with the cranky part. Is there a cranky dr?"
"I just realized I ordered a golden milk latte from sunlife organic 3 days ago and I gave my name and just left," she commented on her own post, adding in a third comment, "I think I need to eat really bland things for a month. I eat so spicy and garlicky and acidic. My stomach is so mad at me. I think my organs are 1/1000th of a millimeter thick and about to go."