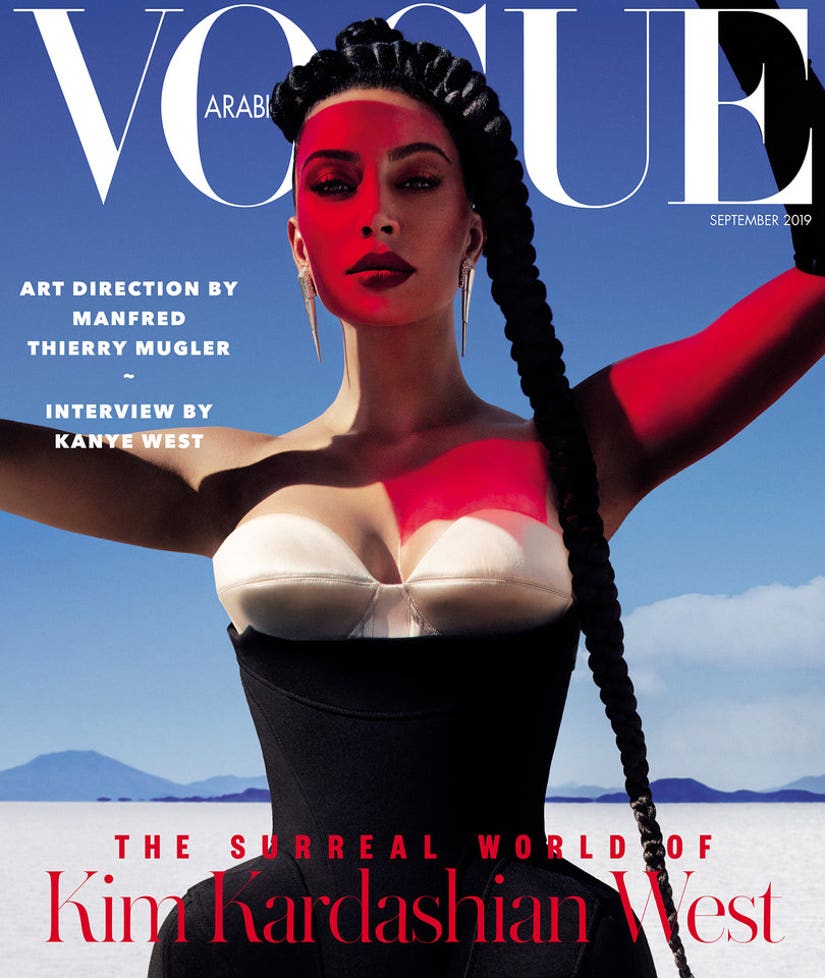 Txema Yeste for Vogue Arabia
"Being underestimated and over-delivering is my vibe," Kim tells her husband.
Kim Kardashian regrets wasting "so much time" dating other men before finally settling down with the father of her children, at least that's what she said when grilled by Kanye West in an interview for Vogue Arabia.
The rapper-turned-fashion designer took on a new role as journalist for his wife's first ever cover shoot for the magazine. Topics for the interview ranged from their first date, to her obsession with fame, to her favorite sibling and even how she handles being underestimated.
The world's most watched couple began dating before Kim's divorce from NBA star Kris Humphries became finalized, but she wishes it would've happened even sooner.
"I was like, 'Damn, why did I waste so much time and energy? Why didn't I do this sooner?'" Kim told her husband of five years and father of all four of her children when he asked her about their first proper date.
The 38-year-old beauty mogul has 146 million Instagram followers, the most of anyone in her family, and while she wishes she "could have more privacy at times," she enjoys living her life in the spotlight.
"Even in my darkest of times I don't regret putting myself out there for the world to see," she explained. "People have shared with me over the years how much it has helped them to feel less alone when dealing with their own adversity. I love having a voice and I appreciate the platform that I have been given, even though I do wish I could have more privacy at times."
Kim also admitted she hadn't felt pressure to be someone worth looking up to until recent years. "I never felt the responsibility of being a role model until I had kids," she said.
When Kanye put his wife -- whose estimated net worth is $370 million -- on the spot about money and fame, she said, "Money was always the goal but I was obsessed with fame, like, embarrassingly obsessed... I do agree that fame can be addictive."
When Kanye asked Kim who her favorite sister was, she was surprisingly honest.
"It changes, just like friends or relationships go in and out," she said. "I think this year has been a really strong Kim and Khloe year. I'm obviously so close with Kendall and Kylie too but I've spent so much more time on this earth with Kourtney and Khloe -- 16 and 17 years longer with them. We have more history, have been through so much together, and we have more friends in common. Kourtney and I will always be really close, but this year, Khloe and I really bonded."
On combating the naysayers who believe she won't make it as a lawyer -- even though she's successfully worked with the U.S. government on several criminal justice issues -- Kim told her hubby, "There is a misconception that I don't actually have to study and that I've bought my way into getting a law degree -- that's absolutely not true... Being underestimated and over-delivering is my vibe."
Regarding the lessons she wants to share with her audience, Kim explained, "I try to be a good person and to take my mistakes and make them into a better experience -- to learn and grow from them and move on."
To see Kim's full cover story for Vogue Arabia, click here.