The pop star says there was a "reason" she didn't attend the MTV show -- but it probably wasn't because of Swifty.
Demi Lovato's Instagram posts from Monday night had some believing there was more "Bad Blood" brewing between her and Taylor Swift, but she just oh-so-subtly shut down the allegations.
The talk started last night, as Lovato began sharing a series of Stories as the MTV Video Music Awards were airing live. As Taylor performed and continued to pick up trophies throughout the evening, Lovato addressed her own absence from the show.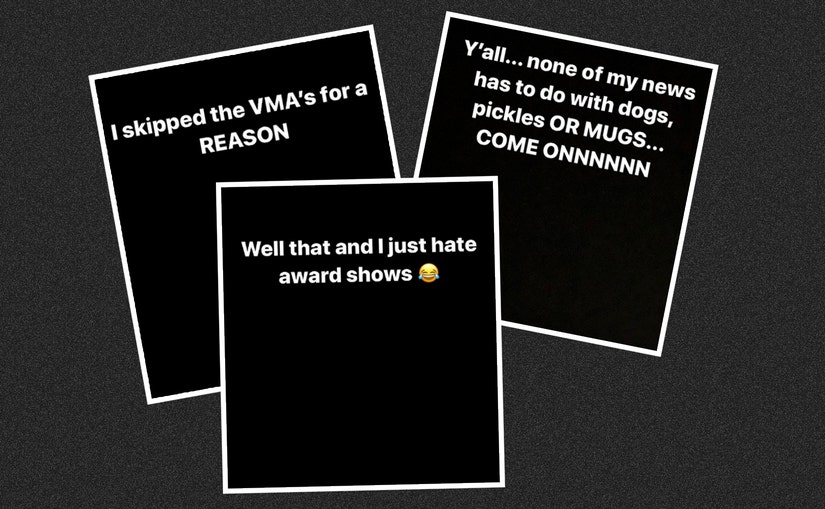 Instagram Stories
"I skipped the VMA's for a REASON," she wrote, "Well that and I just hate award shows."
The chatter led to a few publications writing about the alleged beef, before Twitter account The Pop Hub came to Demi's defense.
"Demi Lovato has been working on a new project for days," the account wrote in response to one "shade" report. "We understand that you are not fans of Demi, as shown by your biased posts against her before, but tweeting stuff like this for attention is very low. This post has absolutely nothing to do with Taylor Swift at all."
Another Demi fan site then posted a screen grab of that exchange to Instagram, where Demi liked it from her official account.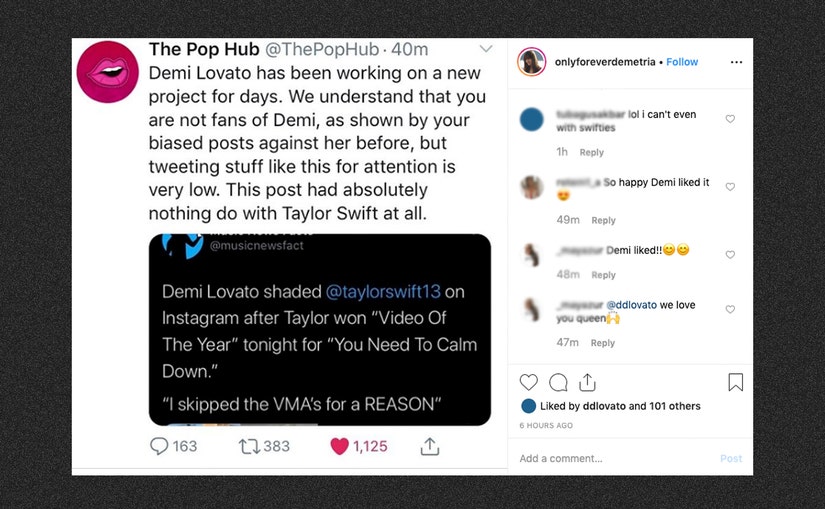 Instagram
Lovato had been teasing another project earlier in the day, something her haters must have missed.
"Okay I can't tell you guys what I'm doing today (you'll find out super soon tho) but it's making me SO HAPPY, I'm having SO MUCH FUN and I can't stop laughing," she wrote. "Now go come up with your crazy a— theories as to what it might be."
She didn't make everyone theorize for too long, revealing this morning that she was actually filming for the upcoming final season of NBC's "Will & Grace" revival. The singer will reportedly appear in three episodes.
Waiting for your permission to load the Instagram Media.