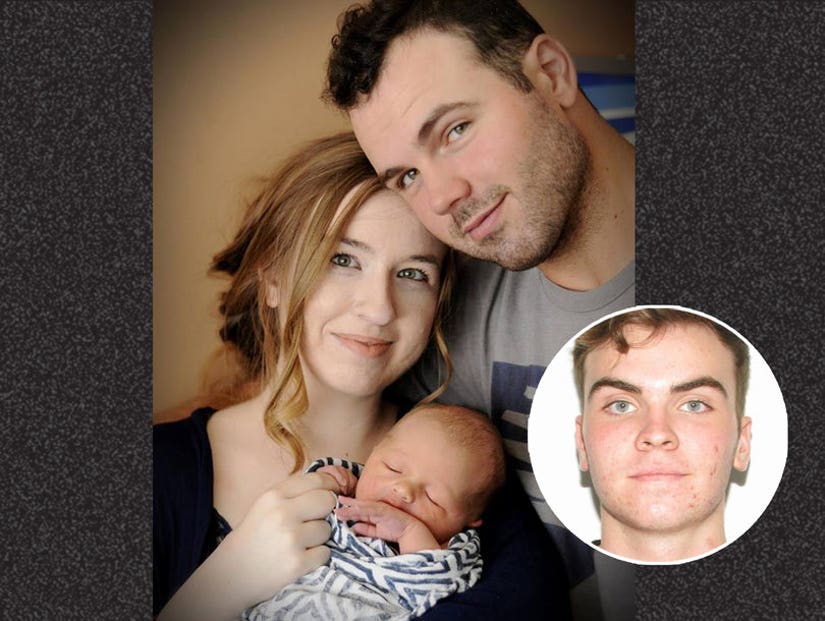 Pittsylvania County Police Department / Facebook
Tampa Bay Rays prospect Blake Bivens lost his wife, son, mother-in-law and even his dog — a chilling video shows the moment of the arrest.
A Virginia baseball player's family was murdered on Tuesday — and his teenage brother-in-law has been charged for the triple killing.
Blake Bivens, a 24-year-old MLB pitching prospect, learned that his wife Emily, their infant son Cullen, his mother-in-law Joan Bernard and even his pet dog had been slain, and that Emily's 19-year-old brother Matthew Bernard was the suspected killer.
Chilling video, captured by ABC13 News, showed the moment of the arrest, as a crazed and naked Bernard ran at police, and even attacked and choked a bystander.
The footage shows armed police pepper-spraying, before a K9 unit eventually brings him down.
Bivens is a pitcher for the Montgomery Biscuits, a Double-A affiliate of the Tampa Bay Rays.
Responding to a 911 call around 8AM on Tuesday morning, police arrived to find one person dead in the driveway; they found two more bodies inside the house, including the one-year-old child.
Officers immediately began a manhunt, issuing a warning to the public and advising to be on the lookout for Bernard, who they said was armed with a rifle and dangerous.
But as media began to arrive after noon, Bernard suddenly emerged from a nearby wooded area, completely naked, running at reporters, and throttling a church worker who was getting into his car.
After his arrest, Matthew's uncle Bryant Bernard told WSLS of his shock, claiming his nephew was an "all-round perfect kid" who regularly attended church.
"In my wildest dreams, I never could have imagined it. Not him. Of all the people in this world. I never could have imagined it," he said.
"This boy's a Christian. Went to church every Sunday, every Wednesday, every Sunday night. Taught youth groups. Just an all-around perfect kid, in my opinion."
He added the only explanation he could think of was that Matthew had expressed to his mother last week that he was having bad dreams.
Bivens was due to play a double header with the Biscuits on Tuesday, which has since been cancelled.
"Earlier today we learned that Blake Bivens, a pitcher with our Double-A affiliate, the Montgomery Biscuits, suffered a terrible family tragedy in southern Virginia," the Rays said in a statement.
"Our hearts are broken for Blake. We are grieving with him and will support him any way we can. We ask that everyone respect the privacy of the Bivens family and the Biscuits family during this extremely difficult time."