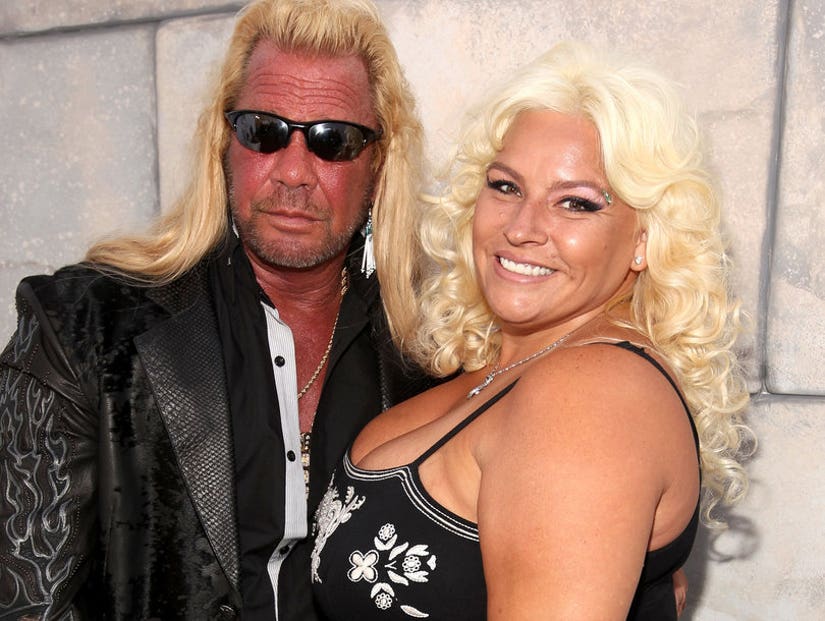 Getty
Dog says he would have made the same deal had he been the one to go first.
Before her death to cancer, Beth Chapman and husband Duane "Dog" Chapman came to an understanding about how he could move on with his love life when she passed.
Though he's not in any place for a girlfriend now, they agreed he could date again -- with certain restrictions.
"I probably will do that, and I told her that," Duane told PEOPLE, regarding dating in the future. "What deal we said is I will never take 'Beth' off my chest, I have her name here. And I will never get married."
FYI: Chapman, quite literally, has his wife's name tattooed on his chest.
"And she said to me, 'You know, we're human, okay?'" he explained. "And probably the same thing I'd say to her: 'I know you're gonna have a boyfriend, I hope you have 10, but don't go fricking marry one, and say those words. Don't you dare do that.' I would say that, and she did say that to me."
When the reporter noted that at least he can "move forward with a clear conscience, knowing what she expected," Chapman joked, "Unless she haunts me!"
In the same interview, Chapman also also opened up about how the couple's kids are faring after her death. She had two children from previous relationships, Dominic and Cecily, as well as two children with Duane; Bonnie and Garry.
"Each one copes differently, there is a few that really barely making it," said Duane. "We don't know what to do. I lost my mother first, and when my mom passed away, I'm like, 'I wish dad would have died first, you know, 'cause I love my mommy.' So I went to them and said, 'I'm so sorry that I didn't die first and mom did.'"
"And they were like, 'Yeah dad, why?'" he continued. "So I was like, 'Oh my god, I know what that feels like, I should've been the one. The guy goes first.'"
Beth passed away on June 26, 2019, after a battle with throat cancer. Chapman was first diagnosed with throat cancer in 2017 and chronicled her journey on A&E's "Dog and Beth: Fight of Their Lives." At the time, she underwent surgery to have a Stage II tumor removed. The cancer returned in November 2018 and earlier this year, she was hospitalized with respiratory issues.
Her story will be documented on the upcoming WGN America series, "Dog's Most Wanted," which premieres September 4.