"It's Kyle's show," she says.
On Thursday afternoon, Bravo announced Garcelle Beauvais and Sutton Stracke would be joining the cast for Season 10 of the series. In response to the news, Camille tweeted, "Garcelle is lovely. I think she will make a wonderful addition to the cast. She is classy and sweet."
Although there was no mention in Bravo's announcement of what other castmembers would be joining the two newcomers, one fan replied to Camille's comment, "Waiiiiit where are you?!"
In a since-deleted tweet, Grammer replied, "I wasn't asked back. It's fine. I did my time on the show. And it's Kyle's show."
TooFab has contacted Camille's rep seeking comment. For their part, Bravo said they "do not comment on casting" when asked about Grammer's future on the show.
However, an insider tells us that talent, including Kyle, are not the "decision-makers in the casting process, so [Camille's] claim is inaccurate."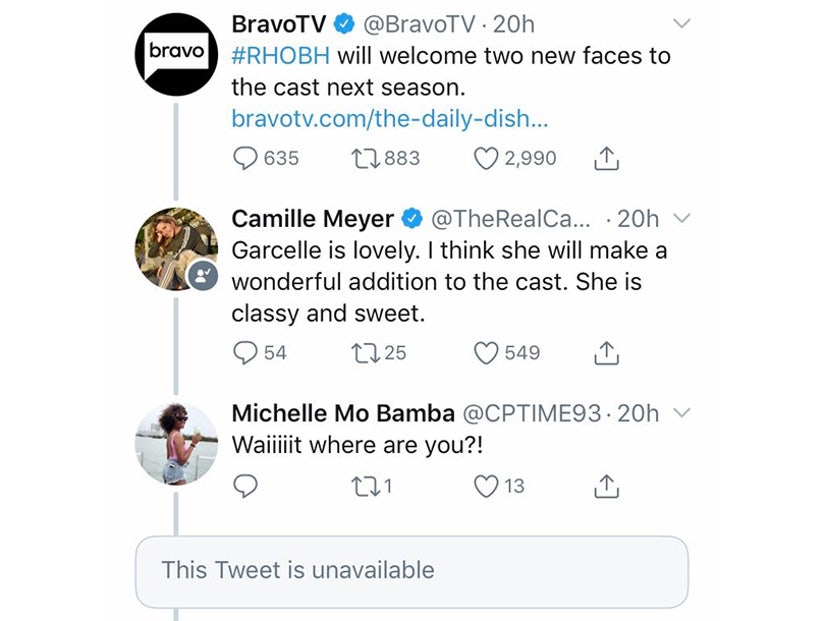 Twitter
Waiting for your permission to load the Instagram Media.
Camille's had issues with nearly everyone on the cast, namely OG Kyle, Kyle's BFF Teddi, newcomer Denise, Rinna and Dorit, whose financial matters Grammer brought up on camera toward the end of the season.
After going against who she labeled the "PuppyGate girl gang" to defend Vanderpump against claims she leaked stories to the press, Grammer was then accused by just about everyone else of being two-faced because she would talk smack behind LVP's back but then praise her to her face and in interviews.
During the very heated Season 9 reunion, Camille told her castmembers she regretted inviting them to her wedding.
Then after the season wrapped, Denise took to Twitter to accuse Camille of saying racially "offensive" comments that she claims didn't end up airing.