"Life's too short for women to not support other women," writes Demi.
When Demi Lovato failed to show up to the MTV Video Music Awards last month, Swifties immediately chocked it up to "shade" against Taylor, thanks in part to Demi's cryptic social media posts during the show. Now, she's trying to shut down any rumors of a feud for good.
You may recall, the issues between the two began earlier this year when Taylor accused Demi's manager, Scooter Braun, of "manipulative bullying" after he purchased her masters. Demi stood by her manager and said, "I have dealt with bad people in this industry and Scooter is not one of them."
The perceived battle between the two intensified in August, when Demi posted about missing out on the MTV award show.
"I skipped the VMA's for a REASON," she wrote, "Well that and I just hate award shows."
That was enough to set off the online conspiracy theorists, who assumed it had something to do with Taylor. The chatter led to a few publications writing about the alleged beef, before Twitter account The Pop Hub came to Demi's defense.
"Demi Lovato has been working on a new project for days," the account wrote in response to one "shade" report. "We understand that you are not fans of Demi, as shown by your biased posts against her before, but tweeting stuff like this for attention is very low. This post has absolutely nothing to do with Taylor Swift at all."
Another Demi fan site then posted a screen grab of that exchange to Instagram, where Demi liked it from her official account. It was later revealed Lovato's actual reason for missing the show was filming "Will & Grace," on which she'll appear next season.
If there is one person who is tired of all the non-drama drama, it's Demi herself, who took to Instagram on Monday morning to set the record straight once and for all.
"Life's too short for women not to support other women," she wrote. "Especially when women release great music. Great job Taylor Swift."
She accompanied that peace treaty with a screenshot of her phone, showing her playing Taylor's song "Cruel Summer" from her new album, "Lover," calling it "a jam."
Swift later took to Instagram herself re-sharing Lovato's message to her Instagram story and saying, "This is so awesome & put the biggest smile on my face."
"Thank you Demi Lovato," she added.
So, are we all on the same page now? There is no "Bad Blood" between the two pop stars!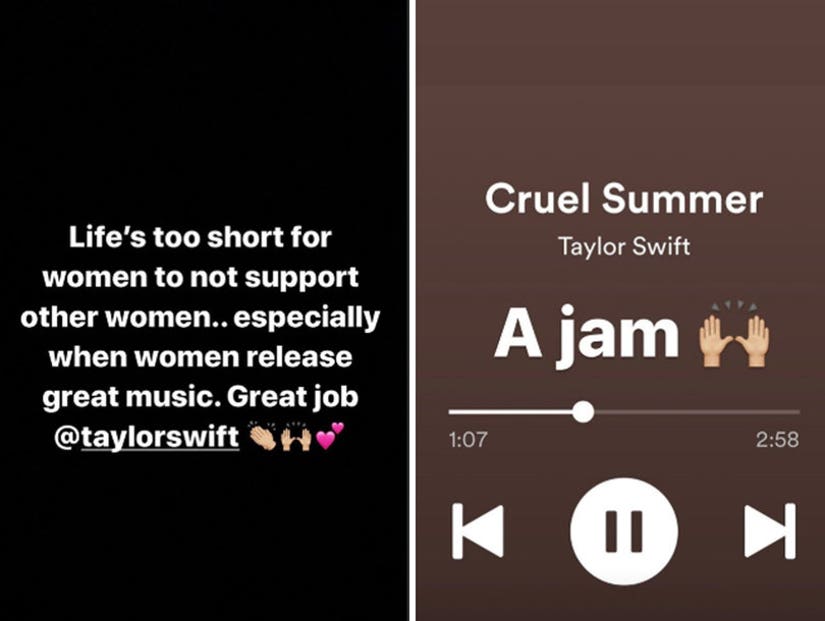 Instagram