Warning: This post contains mild spoilers about "It: Chapter 2," in theaters now.
While Stephen King and Hollywood icon Peter Bogdanovich have the more high-profile cameos in "It: Chapter 2," there's one face that should look somewhat familiar to anyone who's a fan of the 1990 miniseries: Brandon Crane.
Crane played cherubic Loser's Club member Ben Hanscom in the original adaptation of King's work. Though just a teenager when the two-parter aired, the former actor is now a year older than John Ritter was when he played Adult Ben in the same series.
In the new film, Crane's cameo happens during the movie's introduction to its own grown-up Ben, played by Jay Ryan. Crane is one of his employees, leading a presentation for which Ben appears via video conference. It's a quick moment, but one that allowed the ex-child star to re-enter the world of Pennywise -- like the Losers themselves -- nearly thirty years later.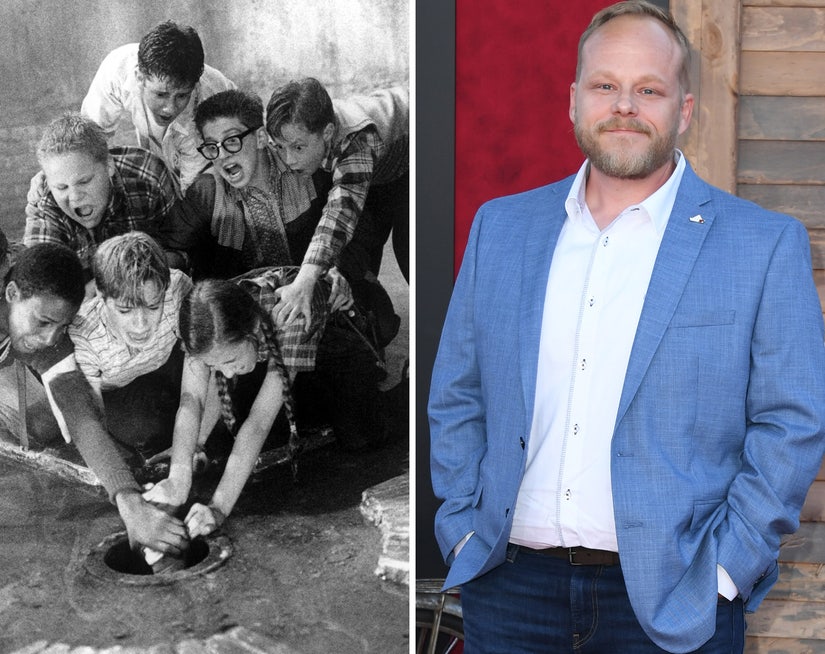 Everett Collection/Getty
TooFab caught up with Crane over the phone, where the now 43-year-old revealed how his cameo came about, spilled how he feels the reboot compares to the original and reflected on making the still-beloved miniseries.
Congrats on the cameo, what's the story behind it?
We live in a pretty interesting time, man. When they dropped the trailer for the first feature, I sent a blind IM to [director] Andy Muschietti, just saying, 'Dude, I can't wait to see what you've come up with.' Not that I've been like a torchbearer for the miniseries, but there have been so many threats of having it made, a remake happening, people disappearing from the project citing the usual creative differences. And when that trailer dropped, man, it became real. So I was really excited to see what happened and then he answered back, which was great. And we would just continue to kind of chat online. He was giving me like progress reports, things like that. We developed the friendship out of it.
And then I hit him up again after I saw that feature in the theater. I just said, 'Dude, this is everything and more than I could have expected.' And out of nowhere he said, 'I think you should get a cameo.' And I was like, what?! And then it then it occurred to me, wait a minute, this is the internet after all and this account is not verified. So I got on my Instagram where he was verified and I said, 'Hey Andy, this is potentially really embarrassing. Am I getting trolled over here?' I heard nothing, it said that he read it, and then he came back and said, 'I'm the troll I think you should do a cameo.'
I was just shocked. I was like, wow, the universe really works this way. I haven't worked in ten years!
Was it nice to kind of be part of Ben's story again too, even in a small way?
It was. It was totally poetic. They hadn't written a script yet for the sequel by then. So we were kicking around an idea about being one of Bev's employees that had a crush on her or something like that. I'd asked him if they were going with the Ricky Lee roadhouse introduction with Ben like they do in the book, where Ben's confiding in Ricky Lee the bartender. And he said, 'Actually, no, we wanted to originally but we couldn't do that. So we devised this other method.'
And he said [casting director] Rich Delia's office is going to call you, if you can submit a self tape audition, which I was fine with. It was kind of a great exercise to see after ten years you know can I even still do the work.
I sent it off to him and he was like that was pitch perfect. You know initially the scene was a little bit longer, where I'm giving this presentation about this development that's happening. And the other guy, who is I guess my immediate boss, was completely tearing me to shreds. It was making me stammer and fumble, much the way Jeremy Ray Taylor's Ben did when he was put on the spot. But from what I understand, the first cut of the movie was four hours and everybody's intro is cut really short.
I'm glad I still got my face in there. It was really great, to be invited that way into Andy and [Producer Barbara Muschietti's] 'It' universe was a high honor for me. They didn't have to do that. It was amazing.
How was it attending the Hollywood premiere for the sequel and how did it compare to the release of the miniseries?
Oh, hell it was amazing. I mean it was a different animal then. It was just television for us. We had our premiere at the DGA. It was fairly private and it was just television. I think I can say 'just television' because there were other features coming out. 'Stand By Me' had crushed it a few years before. 'Pet Sematery' had happened, I believe, and ours wasn't a feature adaptation. So we just assumed it would go the way of most movies of the week and that was it. I had no idea that pop culture would take hold of it.
And I know people who we've run into at different Comic Cons that have tattoos, they'll have us sign their legs so they'll have them tattooed when they leave. But to experience that machine at the premiere was something completely foreign to me. It was surreal. I mean I met Jay [Ryan], which was nice. But [my wife and I are] like old suburbanites and we were tired. We've got 2 girls, we don't party. I saw Andy and Barb again and when I was in Toronto shooting I was there for a while and I had the occasion to have dinner with Andy and a couple of the visual effects people and that was great. I had this one-on-one session with Andy where we could really just talk about 'It,' talked about where the hell he'd found these kids and how awesome I thought they were. To get to know Andy, I consider him a friend, it's great, we still chat. He's a great guy and so talented.
Having now seen Chapter 2, how do you think the two adaptations compare overall? Especially in regards to the ending, which I think we're safe to call divisive.
It's very divisive. People were pissed. So was [director] Tommy Lee Wallace. Tommy Lee Wallace was on record saying, 'We had champagne dreams but a beer budget.' And I can't wait for this 'Pennywise: The Story of IT' documentary. We shot it a couple of years ago but there's so much footage that they're still trying to put an edit together. But yeah, Tommy Lee Wallace is like, 'You got gotta be kidding me. Really? A spider man, that's the best you can come up with?'
Having seen Chapter 2 I think. I think they handled it in a much better way. I knew it was going to be an epic finish to this beautiful coming of age story, as ours was, but I knew that the stakes were going to be bigger, you have stronger players in the game. It was going to be maybe transcendent a bit right? But I had no idea that it was going to become this epic, it became a 'Lord Of The Rings'-type experience for me. The scale of the thing was so massive. I couldn't believe it.
It's crazy to see horror in general getting that much money thrown at it right now. It's impressive.
It was always a fringe kind of genre, it was never really mainstream. I mean, you had incredible actors like Vincent Price, Christopher Lee, carrying the torch through the 60s and 70s and even into the 80s and it never really got the attention that it deserved. People want to see that genre. And I think the lack of money is responsible for the sort of camp results that we've been given. And now that they can throw 60-70 million dollars at a movie, it's beautiful.
I know you have a red balloon tattoo in honor of the miniseries, do you wear that as a badge of honor now?
It is a total badge of honor. We were in Birmingham UK for our first overseas Con last year. And it was Marlon Taylor [Mike Hanlon], Ben Heller [Stanley Uris], Adam Faraizl [Eddie Kaspbrak] and Jarred Blancard [Henry Bowers], who lived in Leicester. The guy who did the key art for convention was also a tattoo artist who had a booth and just kind of on a whim when we were there -- and it was our first time really back together as most of a group -- we thought, 'Let's commemorate this.'
It's funny, as an actor you never want to be pigeonholed. You never want to be synonymous with one particular role, unless that role won you an Oscar. It's just kind of one of those things. And I was completely oblivious to how much people really enjoyed our miniseries and have really kept it alive after all these years.
It's been nice. And for us losers, it's like the call home. We shared a really important, albeit long, summer together. And we are -- at least the way I see it -- we are family. They're like my oldest friends. And then the fact that we were able to reconnect and get on like we did then, like the 27 years in between never happened is really frickin' magical.
You worked closely with Jonathan Brandis, who sadly is no longer with us. What was it like filming alongside him?
I think he would enjoy all this. I really do. I mean, he did some great work in that. And I looked up to him. I'd read the book before and I just felt like this is my shot, this is my chance. And I looked up to Jonathan because he was Hollywood. He'd done movies. I'd done mostly guest spots on TV and nothing of any great substance. I never carried a film like he had and I looked up to him.
I think the most terrifying thing about the whole experience for me -- I was never afraid of the clown, I was afraid of sucking. The very first shot that we did was going down the ladder where I pick up the pom pom in the sewer. And you know someone had commented, 'Well, you just seemed genuinely terrified, you really helped set the mood.' First of all, we were in an evacuation chamber underneath an insane asylum, which they used to transport the bodies so the other patients were unaware, so that was a spooky vibe. And number two, it was the first thing I was shooting on this film and I didn't want to suck. So yeah I was terrified but for many, many different reasons.
And then you throw Tim Curry into the mix ...
I had been watching ['Wise Guy'] actively, and 'Hunt for Red October' had just come out. Of course, I knew him from 'Rocky Horror,' but even then it was a culty thing, it wasn't what it is today. I think that was one of a handful of moments in my life where I was starstruck.
Do you think Warner Bros. could mine Pennywise for more movies, perhaps a prequel?
I think there is something to that. I know there's a lot of buzz right now and I think it's mostly fan driven. I think I think there's enough material and I think there's enough in the sequel that kind of could deliver a logical foreshadowing of the mythological material that they could explore if they wanted to. There are some moments where there is an albeit brief telling of his origin -- at least his origin on Earth -- and I think I think that in of itself would be a great basis for a film. Hopefully done in such a way that it spans then to now in one shot rather than beating the shit out of a dead horse over a series of volumes where we completely lose the plot.
I had such a great experience working with Andy, that I'm kind of inspired to go after the work again. I'm in a position now where I think I can, without worrying about having to choose. So I'm looking forward to sort of exploring those possibilities. As it stands right now, I'm a day jobber, I live in the middle of California, far away from Hollywood. I'm a suburban dad raising a family, thinking about the logistics behind maybe acting a little bit again.
Have your kids seen the original miniseries?
They have. The kids have seen it. They're 7 and and 13. My 7 year old has seen the miniseries, my 13 year old has seen the first film and I'm supposed to go take her Friday or Saturday to go see the sequel in IMAX. It's three hours, I'm going to make sure that we we visit the restroom before we sit down! But man, that was such a great experience and I think the perfect ending to a film adaptation.
"IT: Chapter 2" is in theaters now. The documentary "Pennywise: The Story of It" is coming soon.