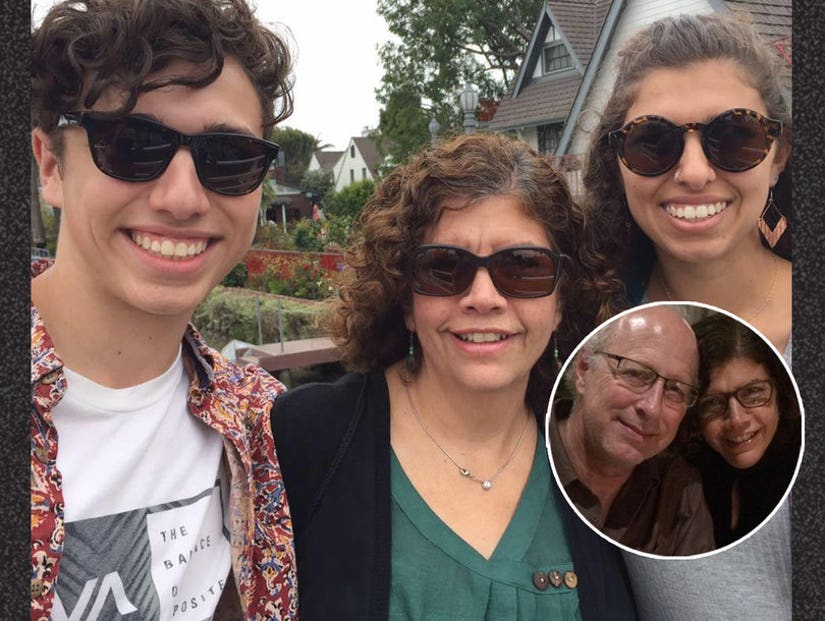 Pictured: Lertzman family (Credit: Facebook)
Attorney Eric Lertzman shot his wife and son dead -- and tried to kill his daughter -- before turning the gun on himself, police said.
An LA woman barely escaped with her life as her own father apparently gunned down the rest of their family on Wednesday, police say.
Rachel Lertzman locked herself in the bathroom and leapt through the window as her dad, Los Angeles Deputy City Attorney Eric Lertzman, reportedly fired a shot at her, but missed.
Her 19-year-old brother Michael and 60-year-old mother Sandra were not so lucky, after the lawyer shot them both dead before fatally turning the gun on himself, according to law enforcement.
"The daughter came running to my door saying her father took a shot at her," neighbor Greg told ABC7.
"I went with her to the door and I knocked on the door, yelled. Nothing. We went to the back. She had locked the doors and left. She said my mom and my brother are still inside. We pummeled on the door, yelled for her dad, yelled her mother's name and brother's name. No answer. And that's when we called the police."
Investigators said Lertzman first shot his wife in their master bedroom, and then came for his daughter, firing at least one shot at her, but she escaped by locking herself in the hallway bathroom.
As she clambered out the window in her pajamas and fled to safety, police claim he found her younger brother and shot him dead. He then returned to the master bedroom and shot himself. Two handguns were found at the property.
LAPD said the incident appeared to be a domestic disturbance that escalated into a murder-suicide.
They assured there was no further danger to the public, and no other suspects were being sought.
"The motive behind this tragic murder-suicide is still under investigation, but investigators believe the recent loss of a loved one and ongoing health issues played a significant role," they said in a statement.
According to colleagues, Lertzman was a deputy city attorney who worked for the office since 2005.
"It is with shock and profound sadness that we announce that today Deputy City Attorney Eric Lertzman was involved in a tragic incident which we understand resulted in the death of his wife, his adult son and himself," LA City Attorney Mike Feuer wrote on Twitter.
"As we search for answers to how this could happen, we mourn the victims and envelop those left behind with our love at this time of unbearable loss. Of course we will provide members of our City Attorney Family with needed counseling and support."