In a pair of new profiles, Moore gets naked and reflects on some of her biggest headline-making moments.
The actress, 56, strips down to nothing for the cover of Harper's Bazaar this month, while opening up like never before in her upcoming memoir, "Inside Out," which touches on her rise to fame, high-profile marriages and struggles with substance abuse.
The nude cover comes 18 years after a very pregnant Moore infamously showed all on the cover of Vanity Fair, accompanied by an article that focused heavily on her marriage to Bruce Willis. "Thank goodness people remember the photo, they don't remember the article," she told Lena Dunham, who penned the Harper's profile.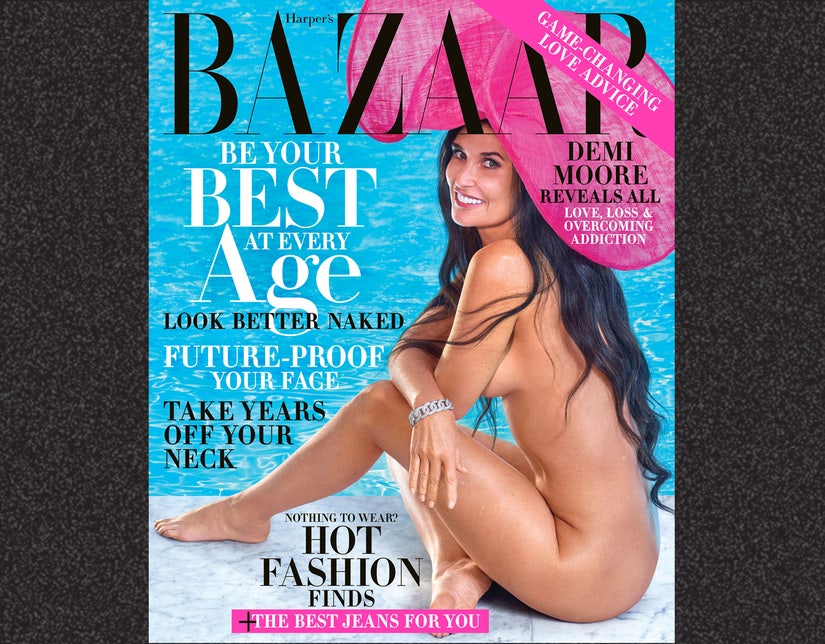 Mariano Vivanco
Moore's memoir stems from a desire to shake up the public perception of her.
"Everything that occurs in our individual lives informs us. Shifting, molding, presenting the opportunities for the exact purpose to get us where we are in the present time. Whatever that may be," she told Dunham. "All the projecting of who they think I am [were] the very things that were pushing me out of two elements: my comfort zone, and my control. [They were] trying to get me to let go and really be who I am. And I don't think that I knew how to do that."
In another interview out today with the New York Times, she said the decision had nothing to do with money. "Uh, definitely not," she said, with a laugh. "Because there's a lot of easier ways to do that."
Included in the book is a firsthand account of Moore saving her mother, Virginia King, from an overdose when she was just a child. "The next thing I remember is using my fingers, the small fingers of a child, to dig the pills my mother had tried to swallow out of her mouth while my father held it open and told me what to do," she wrote. "Something very deep inside me shifted then, and it never shifted. My childhood was over."
The memoir will also touch on her relationship with Ashton Kutcher, who was 15 years her junior when they got together. In another excerpt, Moore called their pairing "a do-over, like I could just go back in time and experience what it was like to be young, with him — much more so than I'd ever been able to experience it when I was actually in my twenties."
When they split following a secret miscarriage and rumors of infidelity, Moore's sobriety took a hit. The actress had a cocaine addiction in her youth, a period of sobriety, followed by alcohol and Vicodin abuse after the Kutcher breakup and a seizure from inhaling nitrous oxide in 2012.
"In retrospect, what I realized is that when I opened the door [again], it was just giving my power away," she said in Harper's. "I guess I would think of it like this: It was really important to me to have natural childbirth because I didn't want to miss a moment. And with that I experienced pain. So part of being sober is, I don't want to miss a moment of life, of that texture, even if that means being in ... some pain."
She also noted that in the time around her seizure, "Part of my life was clearly unraveling," and she had "no career" and "no relationship." Moore eventually went to rehab, patched up her relationship with her daughters and has since maintained her sobriety.
With the book out later this month, Moore said she hopes everyone she talks about in it feels "good, not bad" when it finally drops.
"Inside Out" will be released September 24, the same date her issue of Harper's Bazaar hits newsstands.