"Shut up bitch, you started with the wrong person," Fifty wrote.
The "Vanderpump Rules" star took to her Instagram Stories Sunday to address the topic after 50 Cent reignited the "Fofty Feud" over the weekend and accused her of using cocaine.
Lala slammed Fifty's claims and said she's "never" used the illegal drug.
"I feel it's important for me to say this, and I'm only going to address this once..." Lala wrote on her Story.
"My sobriety is something I'm proud of and work on [every day]," she continued in another post. "I've never done cocaine nor were any other substances, other than alcohol, involved in my decision to get sober. I pride myself on being open and honest about everything in my life, hopefully inspiring others and letting them know they are not alone."
"The past couple of days I've been slammed to say the very least," Lala added. "People have asked me how I'm maintaining keeping my head up... To me it's simple -- I know Real Life from the illusion of social media. I know what it feels like to have your world crumble. Getting a phone call from your brother saying your dad has passed away...that is earth-shattering."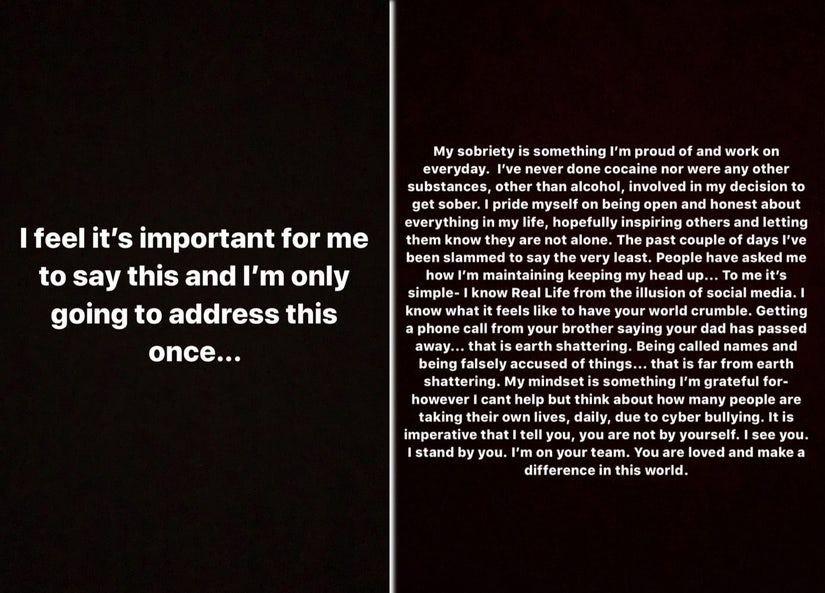 Instagram
"Getting called names and being falsely accused of things...that is far from earth-shattering," she wrote.
"My mindset is something I'm grateful for," Lala concluded. "However, I can't help but think about how many people are taking their own lives, daily, due to cyberbullying. It is imperative that I tell you, you are not by yourself. I see you. I stand by you. I'm on your team. You are loved and make a difference in this world."
Fifty shared one of Lala's posts and wrote, "shut up bitch, you started with the wrong person good night."
On Monday morning, Fifty started off the week by taking a jab at Lala and her fiancé, Randall Emmett.
"Rise in shine puffy face," he captioned a photo of Lala and Emmett. "it's gym time but I'm sure your [sic] having a hangover. welp here's to life buck O. LOL"
The image also included the words, "Good morning drunk face" with a cocktail emoji.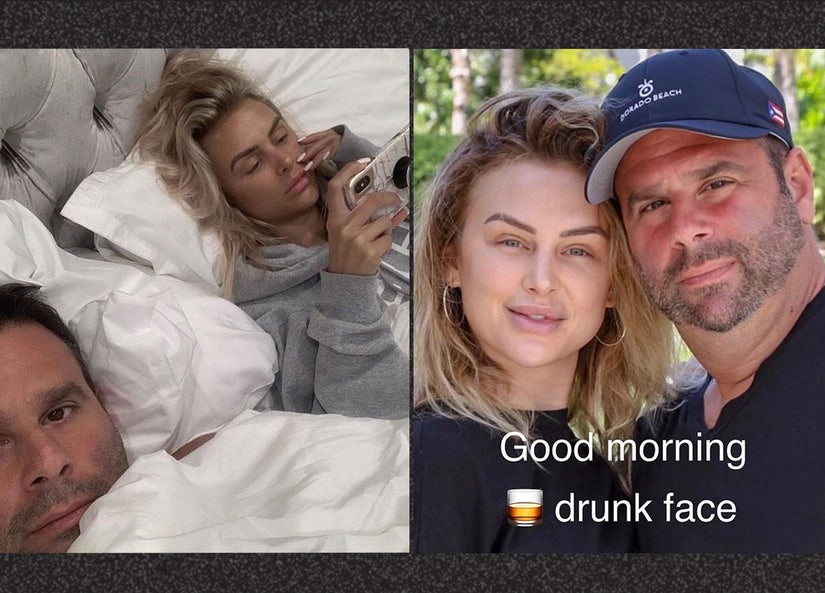 Instagram
Lala's posts Sunday night came just two days after Fifty went off on the Bravo star on Instagram Friday. The rapper was reacting to the reality star claiming on "WWHL" she had proof she "dinged" Fifty's ego following their public social media beef.
Sharing multiple posts to his profile, the "Power" producer slammed Lala and her relationship with Emmett -- hitting everything from the reality star's sobriety to how the couple got together. Fifty even insulted both Lala and her man's appearance.
The "In Da Club" rapper took a shot at Lala's battle with alcoholism. (Back in May, Lala confessed to Andy Cohen during last season's "Vanderpump Rules" reunion that she was drunk for "four days straight" while on a trip to Disney World with Emmett and his two daughters.)
"oh this bitch be drunk 4 days straight," he captioned a pic of an old report. "She must just be on some drunk hoe, I don't remember type shit."
He then added a drug allegation, "Have a drink, hit da powda, have a drink, hit da powda have a drink hit da powda 4 days straight."
Fifty continued to criticize Lala's sobriety by writing a fake conversation between him and Emmett.
Captioning a photo of Lala and Emmett in bed, Fifty wrote, "Randell: I'm sorry Fofty this bitch is drunk and high. I told her put that damn phone down she don't listen. 50:Shut the fuck up Randell."
These posts presumably prompted Lala to hit back on Instagram.
To read more from Fifty's slam fest click here.