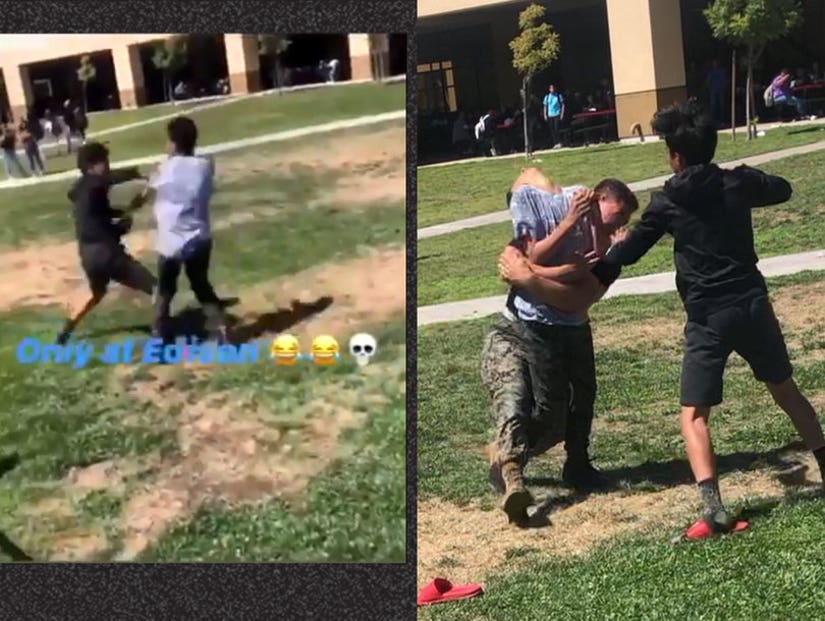 Twitter
The USMC said they were "proud" of him for "responding to what appeared to be a dangerous situation."
The US Marine Corps has defended a recruit who violently intervened in a schoolyard fight in Stockton last week.
Josue Valdez Sarmiento was taking part in a recruitment drive at Edison High School when he spotted two boys scrapping -- and brought it to a very abrupt end.
A video clip of the incident (via thuggabetzy) shows the two schoolchildren trading blows when out of nowhere the 18-year-old Marine sprints at full speed and rugby tackles one of them from behind.
The boy's head sickeningly snaps back before the force of the blow slams it into the second boy's face; the pair then crumble to the ground under the weight of the soldier.
Sarmiento -- himself a former student there -- then pins the incapacitated pair to the ground. He then picks up one of the limp students and tosses him aside before walking off, leaving the other rolling in agony on the ground.
The USMC defended the Marine's actions, saying they were "proud" of him for "responding to what appeared to be a dangerous situation", but added his actions "could have been improved."
"He took action to break up the fight," a Marine spokesperson told Fox40. "He wanted to do what was right for the school, and stand up against violence."
However the spokesperson said he's been re-assigned to office duties and will no longer be around students. "He's been mentored and he has learned from this situation of how to intervene in the future," they added.
In a statement, the school said the matter is "being actively investigated", but would not give an update on either student's conditions.
Other parents at the school were divided on what happened.
"I was upset. It was upsetting to see that someone would do that. I just think it was unnecessary force," one told the site. "This is a grown man that's extremely well-built, obviously. And from the impact that you see, he took down these two kids with no second thought. He just took them down and hurt them and that's not OK. He put himself in a position he shouldn't have and he hurt these two kids. Someone like that shouldn't be allowed on campus."
A second agreed: "An adult should never put their hands on... they're trained to deal with situations in a different way."
But a third insisted without hesitation the Marine handled the situation correctly.
"Yep. why? Because he stopped the problem," the dad said. "Could have been a little less of a tackle but I believe in discipline. These kids were not behaving. Someone's got to stop it."