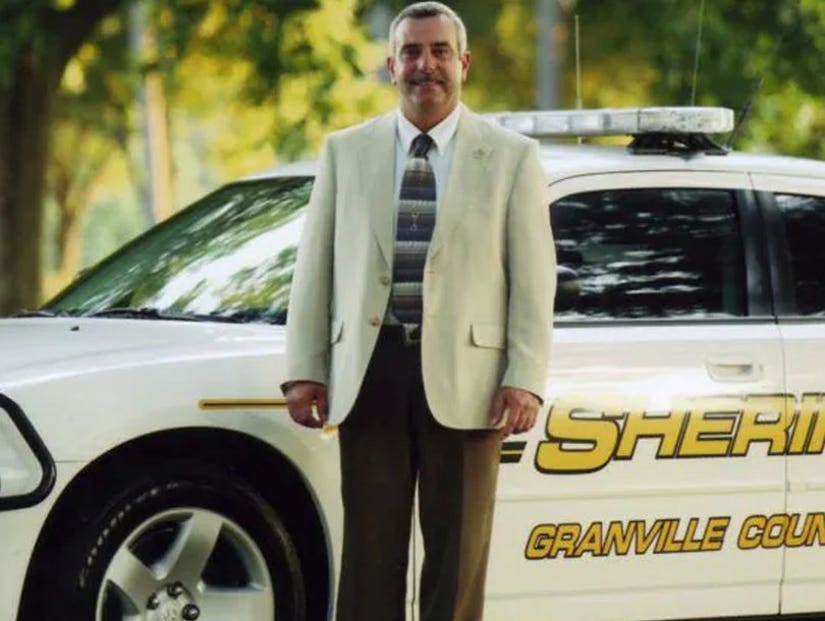 Granville County PD
Brindell Wilkins is not charged with any conspiracy to murder; he is only charged with failing to perform his duty as a policeman and try to prevent the murder he allegedly plotted in the first place.
A North Carolina Sheriff whom prosecutors say plotted to kill his own deputy would only face a maximum sentence of 16 months in jail, TooFab has learned.
Granville County Sheriff Brindell Wilkins was allegedly caught on tape instructing a man how to get away with the murder of former deputy Joshua Freeman, who had threatened to release a recording he had of his boss using "racially offensive" language.
But prosecutors told TooFab on Tuesday that Wilkins has only been indicted on two charges of obstruction of justice — both class H felonies — which with no prior convictions, carry a maximum sentence of eight months apiece.
According to the indictment, the Sheriff was heard on the recording telling the would-be hitman "if you need to take care of somethin', just take care of something,", and that "The only way you gonna stop him is kill him."
The indictment also claims that Wilkins "counseled the individual how to commit the murder in a manner as to avoid identification," advising him to get rid of the murder weapon once the deed was done, and to not say a word to cops.
"You ain't got the weapon, you ain't got nothing to go on," he was allegedly recorded saying. "The only way we find out these murder things is people talk. You can't tell nobody nothin', not a thing."
He also supposedly provided assurances that he, as Sheriff, would not help in any investigation.
But as the indictment shows, Wilkins is not charged with any conspiracy to murder; he is only charged with failing to perform his duty as a policeman and try to prevent the murder he allegedly plotted in the first place.
"The defendant failed to make reasonable and professional efforts to help prevent harm to the victim Joshua Freeman, including failing to warn Joshua Freeman of the credible threat, failing to offer law enforcement assistance to Joshua Freeman to help protect his life, failing to seize a readily available firearm threatened to be used to conduct the killing and displayed to the defendant at the time, failing to lawfully detain the individual for further investigation or failing to effectuate an arrest of this individual," the indictment reads.
No attempts were ultimately made on Freeman's life, and he has since left the Force.
Explaining the weight of the charges, Wake County District Attorney Lorrin Freeman (no relation to Joshua Freeman) told TooFab that there are legal requirements for how far one has to go to prove someone planned to murder, and that they didn't want to bring a case that could potentially collapse.
"There were no attempts on the individual's life, so certainly that weighed heavily on our decision," she said, adding that for a conspiracy to murder charge, "there would have to be a meeting of the minds to commit homicide."
"We try in all of our cases to not overcharge, to be fair, and to assess the evidence by the law, and these are the charges we were comfortable with."
The identity of the would-be "hitman" has not been disclosed to protect his identity. He is a co-operating witness who informed both law enforcement and the potential victim "pretty quickly" after what transpired, Lorrin said.
She revealed that the witness secretly began recording the Sheriff — as they spoke face-to-face — "based on the direction the conversation was headed"; the evidence is admissible in court because North Carolina is — like around half of the US — a "one-party consent" state, which means a wire-tap is only considered illegal if none of the conversation's participants are aware they are being recorded.
As for the tape with Wilkins' alleged racist comments, it is lost. While Lorrin wouldn't comment on its exact nature, she did say it allegedly contains sentiments "entirely inappropriate" for an elected sheriff responsible for enforcing the law.
Another mystery surrounding the case is why it took so long for anything to happen.
Joshua Freeman's former lawyer Mike Waters passed the tape onto the FBI back in 2014, but they did not pursue, and it was eventually passed to the State Bureau of Investigation instead.
"The State Bureau of Investigation, quite frankly, did not listen to the recording and did not initiate an investigation," Lorrin said.
It wasn't until October 2018 when Waters, now Granville County District Attorney, wrote to Lorrin to point out out the potential conflict of interest (since he was potentially a witness as Joshua Freeman's former lawyer) did she agree to take it on.
As for Wilkins, he appeared before a Granville County magistrate on Monday and was released on a $20,000 bond.
He remains free to serve as the Granville County Sheriff — and still is.
Lorrin confirmed there are provisions under state law to allow his removal; either by filed the District Attorney, the County Attorney, or any five registered voters from the county can bring a petition to a superior court judge.
Sheriff Wilkins is next due in court on October 9.