The former Beatle also revealed how "Yesterday" came to him in a dream.
"I mean... the thing is... when you have a relationship like that for so long, such a deep relationship... I love when people revisit you in dreams. So I often have... a lot of dreams about John," the singer/songwriter confessed.
McCartney admitted the dreams were frequently "non-sense" situations, as dreams tend to be. "I'm often with John just talking about doing something and I come to get my bass flute and it's covered in sticky tape, cause, ya know... dreams... so I'm picking all this stuff off," he said while pretending to remove tape from an instrument.
McCartney and Lennon, along with George Harrison and Ringo Starr, found enormous fame as members of the British pop band The Beatles in the 1960s. They remain the best-selling band in history and hold the record for most number-one hits on the Hot 100 chart with twenty.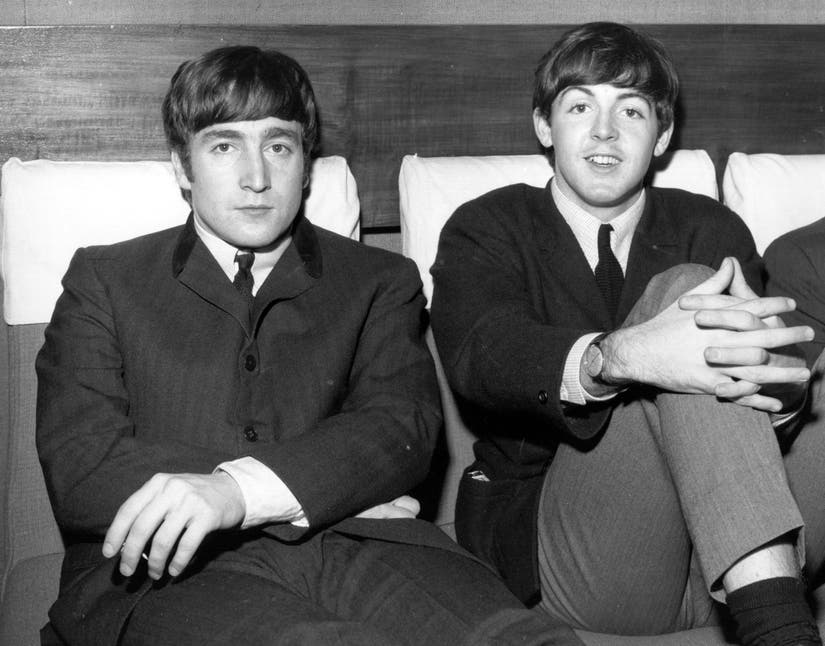 Lennon and McCartney 1963 (Getty)
And Colbert, keeping on the subject of dreams, asked if any of those hits were penned while sleeping.
""Yesterday" was written in a dream," McCartney answered referencing the 1965 ballad. "I woke up one morning and there was this tune in my head... and I happened to have a piano by the bed, and I thought 'What is this?' So I thought it was just some old tune my dad used to play, so I went round to all my friends, John first, 'What's this tune?' 'I dunno.' So I went to George Martin, a producer, 'I dunno.' So after a few weeks, I decided its mine," laughed McCartney.
And when Colbert brought out a black and white throwback photograph of McCartney and Lennon, the Grammy-winner recalled the confusion he felt about their relationship after The Beatles called it quits in 1970.
"That's a very special picture. When the Beatles broke up there was a lot of talk that I was the villain, that John and I didn't really get on well. There was a lot of down talk about it 'cause, ya know, everyone was sad The Beatles broke up. And I kind of bought into it," McCartney began.
"So I had to do a lot of, sort of wrangling. Was I a villain? Wasn't I? Did I really know John? Were we friends? And knowing really we were... but there were so many rumors about it," he continued before pointing to the picture Colbert was holding. "And that photo... when I saw that.. I was like, yes, we were friends. And it's a beautiful photo to me... 'cause it reminds me of us working together. And how cool it was."
Colbert ended the interview by asking McCartney what he thought about the recent movie "Yesterday", which tells the story of a struggling songwriter who wakes up from an accident to discover he is the only person on earth who remembers the Beatles, then achieving fame by pretending he wrote their songs.
"Well... it's a pretty good plug for me," quipped McCartney.