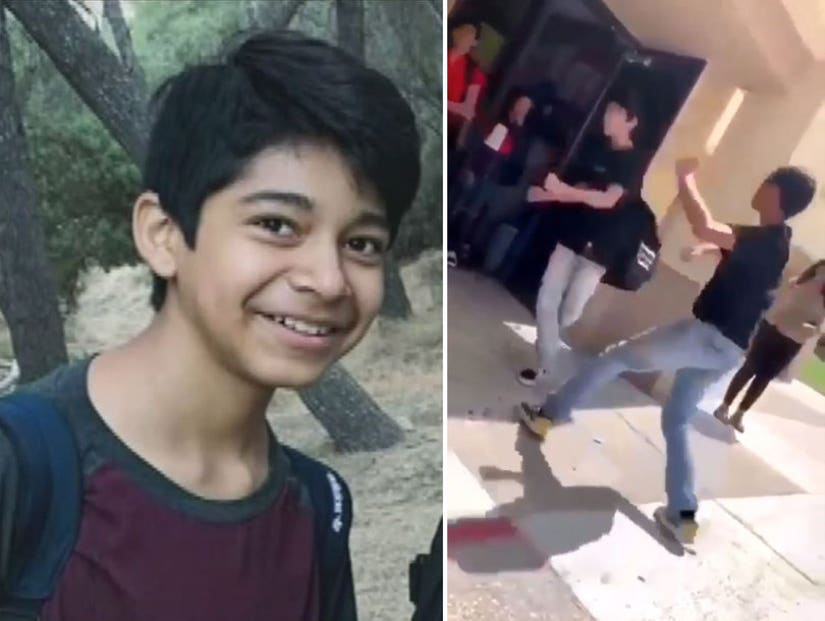 Diego Family Photo / Facebook
A pair of assailants sent the teen crashing headfirst into a concrete pillar.
A 13-year-old boy has died one week after being sucker punched at school.
A sickening video posted on social media last week showed the California middleschooler being struck by another pupil, before another assailant blindsides him with a second strike from behind.
The incident happened at Landmark Middle School in Moreno Valley on September 16, and left the victim in hospital in critical condition for nine days.
But on Wednesday, Riverside County Sheriff's Department shared the sad news the teen, named Diego, was pronounced clinically dead.
"Rigorous medical intervention and treatment efforts at an area hospital were unsuccessful," police said. "Preparations by Diego's family are underway for organ donation to transform this tragedy into the gift of life for other children."
The two suspects who were arrested after the attack remain in custody. Because of their age, their identities have not been released to the public.
In the cellphone video, shot outside the school's main building, one boy aggressively squares up to Diego, who appears to try talk him down, never raising his hands. After momentarily turning away, the boy suddenly swings a right hook at Diego, catching him across the jaw and causing him to stumble back.
But it is a sucker second punch behind the ear from an unseen assailant that causes Diego to crumple sideways to the floor, smashing his head off a concrete pillar.
As he keels backward, the first assailant runs in and punches him yet again in the head before fleeing the scene.
Students who witnessed the attack told CBS Los Angeles Diego was left foaming at the mouth and appeared to have a seizure.
He was administered CPR and rushed to a hospital, but was pronounced brain dead on Tuesday night.
Parents told reporters afterward that the school has a history of violence; and that there was a "riot" there last year. In March of this year, 19 students were treated for pepper spray exposure after security guards were forced to break-up a melee sparked by one girl attacking another.