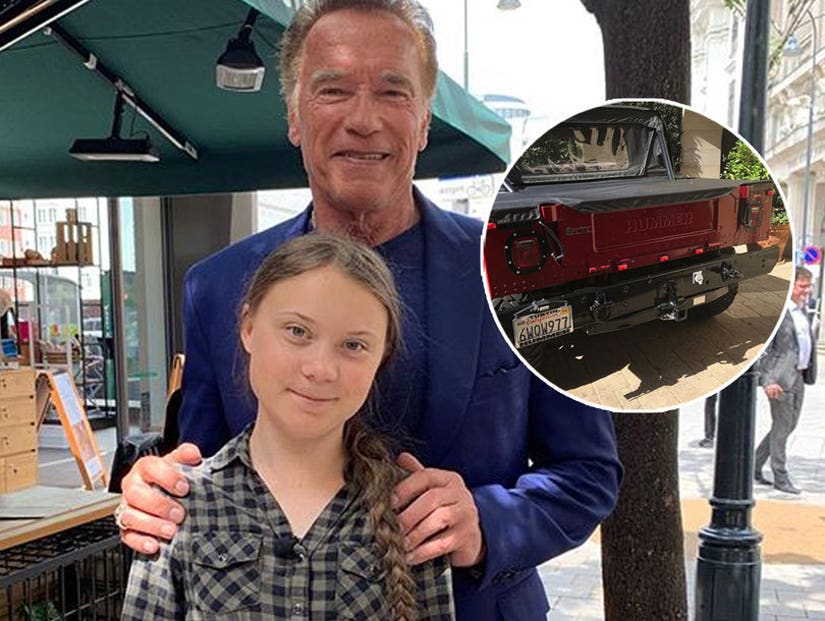 Instagram
The action hero wants to help Thunberg terminate climate change.
Viral climate change activist Greta Thunberg, who is in need of clean energy transportation while traveling across the US and Canada, revealed this week, "One of the funniest offers I've received is that Arnold Schwarzenegger has offered me to lend his electric car."
Thunberg dropped the former California Governor's name while on Scandinavian talk show "Skavlan," speaking in her native Swedish to host Fredrik Skavlan. The show has since confirmed that the activist will in fact be traveling through Canada in Schwarzenegger's modified electric Hummer.
The trip comes after Thunberg's impassioned speech on climate change at the U.N. Climate Change Summit this past Saturday, which shook the Internet and took over our collective Instagram feeds for many, many days.
"You have stolen my dreams and my childhood with your empty words. And yet I'm one of the lucky ones. People are suffering. People are dying. Entire ecosystems are collapsing," she said to an audience of world leaders over the weekend.
And while some haven't been very receptive to her pleas for change, the rest of the world has come forward with an outpouring of support for the youth activist.
Greta, as much as she is deservedly an inspiration—is also an invitation.

Her life is the irrefutable answer to the question, "What can one person do?"—and she is a mirror now, asking that question of you and of me.

What matters enough to move us?https://t.co/Wf6Phh3LJS

@johnpavlovitz
Thunberg's commitment to decrease her carbon footprint has led her to eschew all forms of carbon-heavy travel, like taking airplanes. She reached New York's shores for her U.N. address after sailing across the Atlantic from Sweden, where she lives.