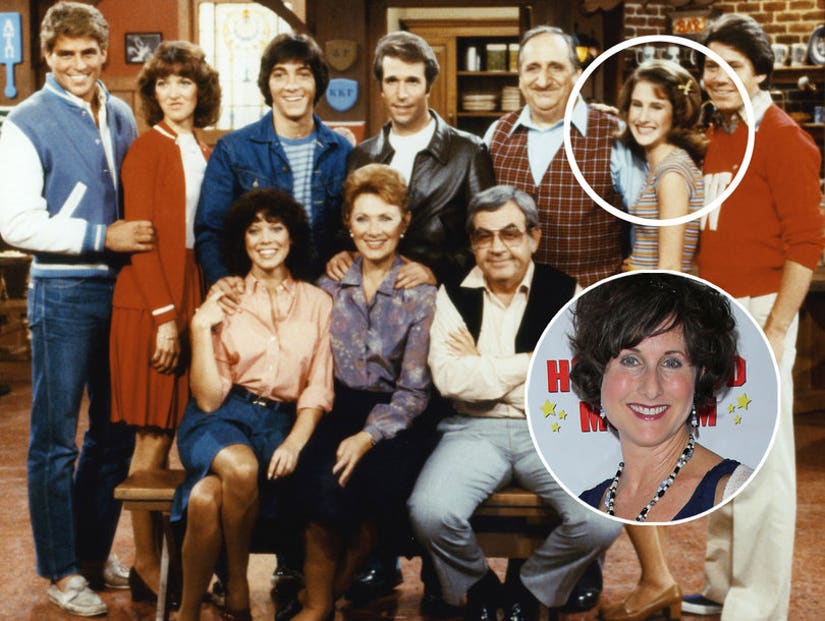 Everett / Getty
She envisions Arthur "The Fonz" Fonzarelli (Henry Winkler) and Richie Cunningham (Ron Howard) back on set as well.
The recent success of television reboots has prompted speculation on which beloved show will be next.
And according to Cathy Silvers, "Happy Days" will soon be in production again if she has anything to do with it. "I am the 'Happy Days' reboot! What else would Jenny Piccolo say," she told TooFab with a laugh. The actress, 58, starred on the popular sitcom as boy-crazy teenager Jenny Piccolo from 1980 to 1984.
"It's time for a comeback. I'm working with writers now on it. Cause it makes sense now. We're waiting for the green light, but I'm on board,' she revealed. So far no one else involved in the original show has expressed interest in a reboot.
Silvers gave details on her re-imagining of the show, which originally focused on the Cunningham family and their life in 1950s Wisconsin. The new version would find Piccolo taking over Arnold's restaurant and serving healthy fare, all while raising five children. She envisions Arthur "The Fonz" Fonzarelli (Henry Winkler), Richie Cunningham (Ron Howard) and Marion Cunningham (Marion Ross) part of the reboot as well, although she would not say if she floated the idea by them yet as she doesn't want to "spook the production." And she even has a new title.
"We're gonna stick me behind Arnold's bar. If Henry will do it, he'll live upstairs. If Ronnie wants to come back, we'll put him and Marion in the Cunningham living room. That's pretty much what "Happy Days Again" is gonna be... we need it, it's time."
The idea was influenced by Silvers' own life. "I've raised five children, I wrote a book on healthy living. I want to get back on set and make them laugh again," she explained. In 2007, Silvers penned "Happy Days Healthy Living" and maintains the website of the same name.
"'Happy Days' addressed major issues in their episodes and healed many people. I want to do that now. And I can. This is my take on it. I'm super excited for it," Silvers added.
Created by Garry Marshall, the original "Happy Days" ran from 1974 to 1984 on ABC and became one of the most successful sitcoms in history. It spawned a number of spin-offs, including "Laverne & Shirley" and "Mork & Mindy".
And the show made Winkler a household name. He was nominated three times for an Emmy as "The Fonz" and finally won one last year for his work on "Barry". Silvers "couldn't stop crying" when she saw him take home the trophy. "Talk about overdue. Talk about long overdue. We're friends. I'm really, really proud of Henry. And I want him back on set. I want him back in his apartment."
Another reboot she would love to see also has a personal connection -- her father was famous comedic actor Phil Silvers, who she says owned "Gilligan's Island".
"My dad solely owned 'Gilligan's Island' and through the years, I now own a percentage of it. And would I like to see a reboot on that, you bet. That's the truth, you can look me up on IMDB. I executive produced the last attempt at 'Gilligan's Island' with Warner Bros."
But Silvers is really pushing for the world to fall in love again with the "Happy Days" family as she recalled the first time she knew Jenny Piccolo had struck a cord with the public.
"I walked out onto Santa Monica Boulevard and I walked to my first bar across the street and fans were there to meet us and they were crying saying 'thank you'. And I went 'wow'... I guess I'm doing all right."
TooFab.com has reached out to Henry Winkler's team and Ron Howard's team for comment.