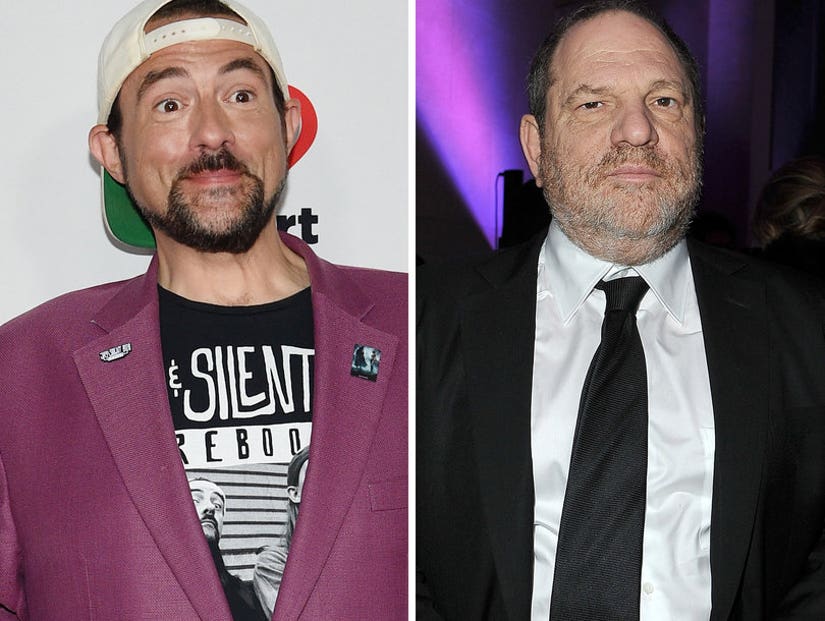 Getty
Smith believed Weinstein was attempting to "circle the wagons."
Kevin Smith claims Harvey Weinstein attempted to gain his favor for damage control a week before the movie mogul was exposed for alleged sexual conduct.
In an interview with Business Insider, the writer/director revealed Weinstein called him, after not speaking for nearly a decade, and dangled the prospect of making a follow up to 1999's "Dogma".
"'You know, that movie had a big cast, we might even be able to do a sequel,'" Smith recalled Weinstein saying. "And I was like, 'Yeah man, right on. I might think about that.' And he was like, 'We'll talk.'"
A week later, on October 17, 2017, The New York Times reported that Weinstein had allegedly paid off sexual harrassment accusers for years.
"I felt sick to my stomach," Smith said upon hearing the news. And after speaking with another film industry insider who received a similar call, Smith believed Weinstein was attempting to "circle the wagons."
"It was him looking to see who was a friend still because his life was about to shift completely," Smith told the publication.
A rep for Weinstein told Business Insider: "I don't know if that call even happened, and if it did, that there was any expectation other than making a creative business decision; it's what Weinstein was well know for."
However, Smith said he would not have taken the bait. "There are people who are the real victims here, but I have to be honest with you, I felt like it was someone using something you love to provoke a reaction," he said. He even took to Twitter days following the bombshell report and wrote, "He financed the first 14 years of my career and now I know while I was profiting, others were in terrible pain. It makes me feel ashamed."
And this was after Smith had once rushed to the defense of Weinstein in 2004 after Peter Biskind's book "Down and Dirty Pictures" accused Weinstein of "bullying and intimidation".
"I'd like to defend a man I respect, love, and would take a bullet for: the last great movie mogul," Smith wrote in an editorial for Variety.
Since the Weinstein fallout, Smith has pledged to donate all future revenue from his movies that were backed by the producer.
"I just wanted to make some f--king movies, that's it. And no f--king movie is worth all this. Like, my entire career, f--k it, take it. It's wrapped up in something really f--king horrible," he said on his "Hollywood Babble-On" podcast in 2017.
Weinstein is now awaiting trial for predatory sexual assault and a criminal sexual act. He has plead not guilty to all charges and has denied all allegations of wrongdoing.