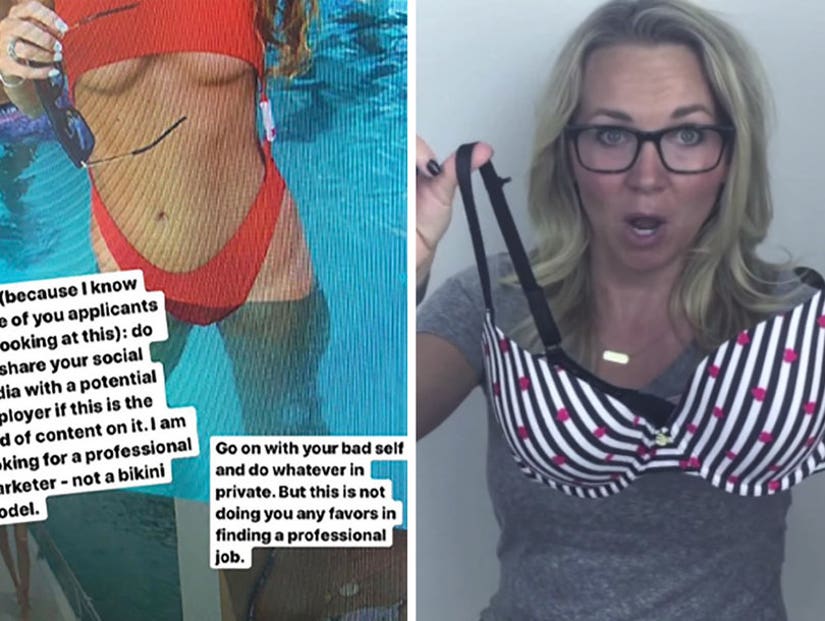 Instagram / YouTube
Sara Christensen's videos lecture people on how to get your body back, or how to keep a man.
The company founder who slut-shamed a job applicant's social media history... has a social media history of her own.
Sara Christensen's company Kickass Masterminds hit headlines this week when they shared a bikini pic of Emily Clow — without her knowledge or permission — and used it to warn other applicants against posting "unprofessional" photos on Instagram.
"PSA (because I know some of you applicants are looking at this): do not share your social media with a potential employer if this is the kind of content on it," Kickass lectured, with a cropped photo of Emily's bikini bod, Which Emily had posted months ago.
"I am looking for a professional marketer — not a bikini model," the company lectured. "Go on with your bad self and do whatever in private. But this is not doing you any favors in finding a professional job."
When Clow realized and called the company out in a tweet, the backlash against it was immediate.
"i was objectified earlier today by a company because of a picture of me in a bikini," she tweeted. "they claimed it made me an 'unprofessional.' they screenshot the photo, posted it on their insta story and called me out. i am still baffled that the company handled it in such a manner."
In her videos, which mostly have between 14 and 379 views, Christensen advises people on such topics as getting your body back, hanging on to your man, and her favorite bras.
"Use your words to Affirm, Encourage, Acknowledge, and Appreciate," one video advises. "Girlfriends, stop the damn nagging and bitching."
In another, she advises viewers to figure out the reason they want to lose weight, such as: "I want to wear a bathing suit to the beach without being embarrassed."
Clow asked for the picture to be taken down from Kickass's social media, and it was immediately.
Christensen told media outlets afterward that the bikini pic had not disqualified Clow from the position.
"There was no communication to her saying she was disqualified," the CEO said. "I have an email communication from her yesterday still expressing interest in the position after the post."