Ricardo Chavira, who played Eva Longoria's husband Carlos Solis, said he experienced the same discrimination on set for eight years.
One of Felicity Huffman's former co-stars is not happy about her "slap on the wrist."
Ricardo Chavira, who played Eva Longoria's husband Carlos Solis for eight seasons on "Desperate Housewives", slammed the 14 day sentence the actress was handed down for her part in the College Admissions Scam.
"White Privilege. And I saw Eight years worth of it, so I know what I'm talking about," the 48-year-old spat on Twitter. "Accountability and Responsibility don't mean shit to these people."
In a further tweet, the actor claimed he experienced the same kind of discrimination during his eight year tenure on the show.
"I saw Eight years worth of it working on Housewives. I've seen a lifetime of it being a halfbreed, and I've struggled w the intricacies of it on a daily basis w all the cultural bias I've received on both ends. But whatever. Slap on the wrist. Sorry, but this shit.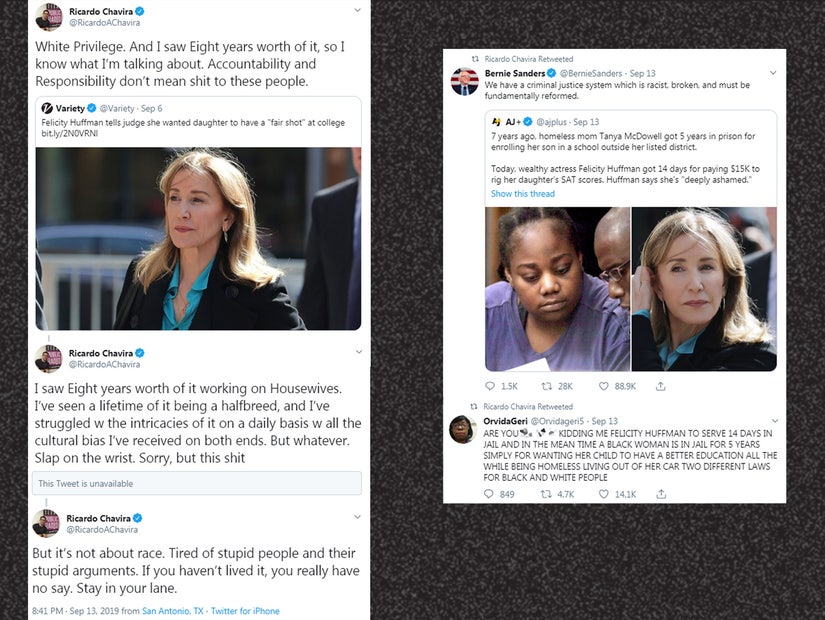 Twitter
When one follower questioned him about bringing race into the argument in a since-deleted tweet, he shot back: "But it's not about race. Tired of stupid people and their stupid arguments. If you haven't lived it, you really have no say. Stay in your lane."
He also retweeted a number of posts — including one by Bernie Sanders — pointing out the discrepancy in sentences between Huffman and Tanya McDowell, the black mother who was given five years for enrolling her son in a school outside her district.
TooFab reached out to Ricardo's publicist for more information regarding the alleged racism the star endured on set, but they declined to answer.
However, dissonance behind the scenes of the hit ABC comedy-drama had long been rumored.
Indeed ahead of her sentencing, letters of support from some of Huffman's former colleagues confirmed some of the off-script drama. Series creator Marc Cherry claimed they had a "problematic cast member" who refused to talk to any of her co-stars, while Longoria confirmed she was bullied by an unnamed co-star on set.
Meanwhile Nicollette Sheridan unsuccessfully tried to sue the production, claiming her character was killed off after complaining about an altercation with Cherry in which she said she was hit in the head.
Last month, Huffman was sentenced to 14 days in prison and ordered to pay $30,000 in fines after pleading guilty to paying Rick Singer $15,000 to correct her daughter's SAT scores.
She is one of 50 people charged in Operation Varsity Blues, which uncovered a ring of wealthy and affluent parents paying to sneak their children into elite colleges via a "side door."