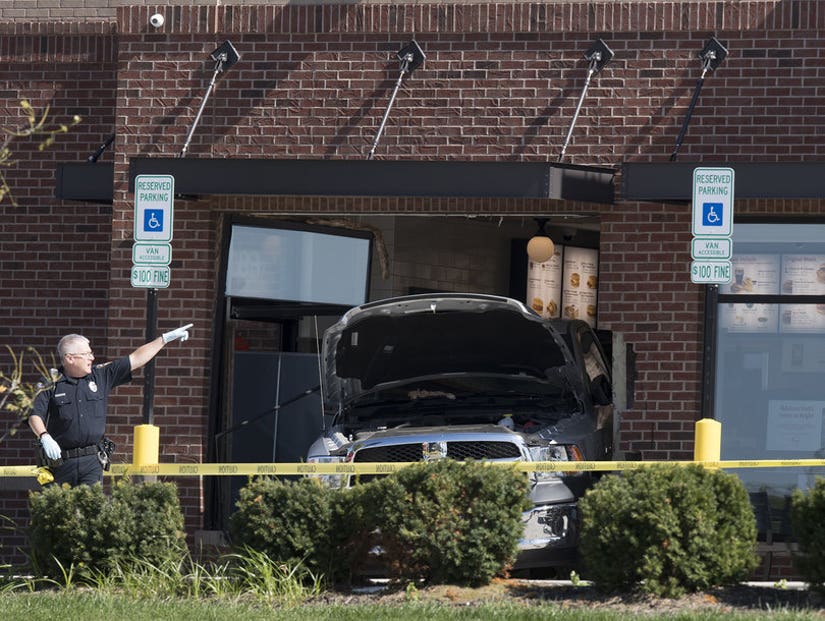 KOLN
Witnesses heard him screaming 'It's just a f--king sandwich!'
A Chick-fil-A customer who rammed the restaurant in his truck has been shot dead.
Cellphone video showed the furious man jumping out and continuing to smash up the Nebraska eatery, moments before a railroad officer gunned him down.
Witnesses claim the customer was in the restaurant shortly after 1PM on Tuesday when he began to flip out, throwing food and upturning tables.
A 15-year-old employee named Thomas Arias told the Lincoln Journal Star that "He was yelling 'It's just a f--king sandwich!'"
According to the paper, a local company CEO tackled the man from behind when he saw him screaming at and attacking customers, and managed to force him outside.
Waiting for your permission to load the Facebook Video.
But the man then jumped into his Dodge pickup truck and reversed through front of the restaurant, smashing the glass walls and ramming the counter.
The footage shows him punching a lemonade machine amid the rubble and smoke, as terrified customers flee from the restaurant.
Witnesses claim he pursued some of them outside, carrying a "stun gun".
Waiting in the drive-thru lane outside was a uniformed and armed BNSF railway agent.
"The cop was like, 'Calm down and back off,' but the guy kept approaching," Arias told the publication. "So the cop pulled his gun and shot him."
Witnesses reported hearing two shots, before the officer attempted CPR. Emergency services quickly arrived, but they were unable to save the man's life.
Lincoln Police Chief Jeff Bliemeister told the publication there had been no information "espousing any type of extremist beliefs."
He added that nothing tied the man to the restaurant, besides him being a customer.