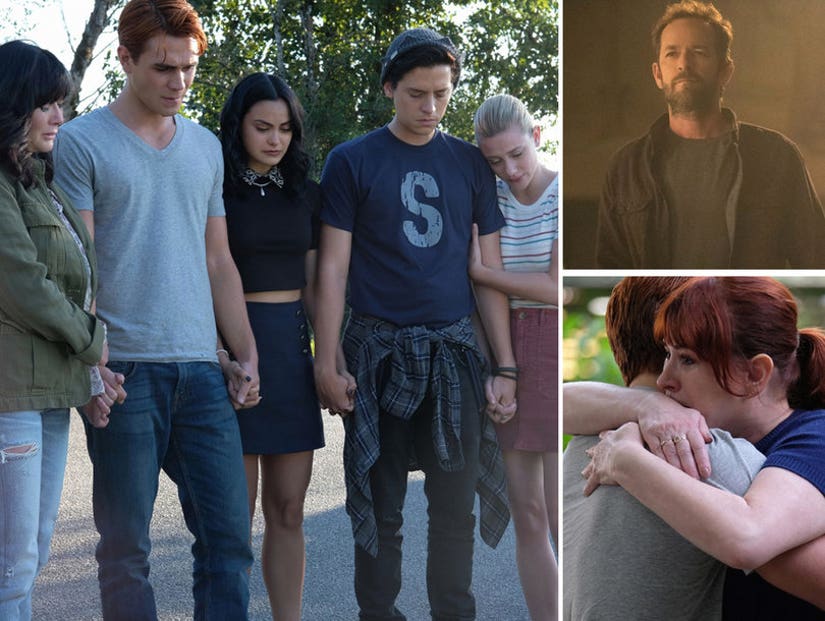 The CW
Perry's '90210' costar Shannen Doherty was also part of the sweet sendoff.
"Riverdale" said goodbye to Fred Andrews on Wednesday's Season 4 premiere and, in the process, star Luke Perry. Though the actor died while the show was still filming its third season, the cast and crew took the time to craft a true sendoff to Perry with an episode almost entirely devoted to his loss.
A few times throughout the hour, the actors' true sense of grief seemed to come through as the characters processed theirs as well. Perry passed away in March at the age of 52, after suffering a stroke.
The premiere began with a voiceover from Jughead (Cole Sprouse), who let viewers know that "some semblance of normal life" returned to town after the craziness Griffins & Gargoyles and The Farm brought to "Riverdale" last season. "Things have been pretty quiet lately."
Shaking up the tranquility, however, was the sudden death of Fred Andrews (Perry).
As the core four -- Archie (KJ Apa), Betty (Lili Reinhart), Veronica (Camila Mendes) and Jughead -- sat at Pop's, Archie got a phone call that brought him to his knees. His father had died.
What happened? After a trip out of town, Fred was driving home when he pulled over to help someone whose tire had blown out. As he was being the Good Samaritan, he was stuck by another vehicle speeding by and killed. The car then fled the scene.
After a dream in which he was visited by the ghost of his grandfather, Archie recruited his three best friends to drive up to Cherry Creek and collect Fred's body, opting against the initial plan of waiting until after the 4th of July holiday to hold a service for him.
As the core four visited the spot where Fred was killed to retrieve his truck, a woman played by Perry's "Beverly Hills, 90210" costar Shannen Doherty showed up on the scene. She was the person Fred pulled over to help, revealing he pushed her out of the way of the oncoming car and died a hero.
"He talked about you the entire time. His son, how he couldn't believe a man like him was blessed with such a thoughtful kind boy," she told Archie. "He saved my life."
After learning the identity of the person behind the hit and run, Archie confronted him at his home -- nearly beating him to a pulp. Stopping him was the man's teenage son, who admitted his father was simply covering for him and he had, in fact, stolen the car. The kid didn't even have a license yet and was clearly a wreck over what happened.
Realizing this dad was just covering for the boy like his own late father would have whenever he did something he shouldn't have, Archie left them, collected his dad's body and drove back home.
Meeting them at the edge of town was FP Jones (Skeet Ulrich), who gave them a police escort down Main Street. As they drove through Riverdale, the streets were lined with townspeople holding signs paying tribute to Fred. Archie cried, we cried, it was a moment.
At the funeral, Josie (Ashleigh Murray) returned to sing "Amazing Grace," as everyone left roses on his casket. It was then time for the eulogy, which was delivered beautifully by Apa.
Earlier I was thinking on the drive over here how much of Riverdale my dad built or just fixed up. Houses, office buildings, a bit of everything. He helped build this town and one day, if I'm lucky enough to have a son or daughter of my own, I'll be able to point to a building or even a brick in a building and say, 'Your grandpa made that with his hands.'
It's the 4th of July. I remember this one 4th, it was raining, the fireworks show was canceled and I was so bummed. I remember sitting in the backyard just bawling, until my dad came home with all these fireworks, enough to burn a house down. We lit them in the backyard, it was the best night.
My dad was there for every high and every low. He's the greatest man I've ever known. It hurts me that I never got to say goodbye, that I won't get to see him again or talk to him. But his spirit and his memory lives on in this town and in everyone he met. Fred Andrews will always be a part of Riverdale. I love you so much, dad.
As viewers learned an imprisoned Hiram Lodge (Mark Consuelos) footed the bill for the funeral, Betty visited her own dad's headstone -- which was scrawled with the words, "THE BLACK HOOD BURNS IN HELL." Clearly, the fathers of Betty and Archie will be remembered very differently in this town.
Jughead wrote Fred's obituary for the local paper, calling the late Mr. Andrews "our Good Samaritan, our George Bailey, our knight in flannel armor." He added, "Fred left Riveradle better than where he found it. That's his legacy."
As the cast gathered at the Andrews house for a backyard firework show honoring Fred, Archie promised to "honor" his father everyday. The hour ended with him walking around the garage, as the show cut to old footage of Perry's Fred with Archie in the same location. The final shot was Archie crying over the car they fixed up together, as the camera panned to a photo of the two in happier times.
The episode closed with a slate reading, "In Loving Memory Luke Perry 1966-2019."