The reveal comes after it was announced that Jennifer Lopez and Shakira would perform the Super Bowl LIV halftime show in Miami.
Rihanna would consider herself a "sell out" if she performed at the Super Bowl halftime show.
In a new Vogue interview by Abby Aguirre, the iconic pop star revealed she turned down the gig in solidarity with Colin Kaepernick, the NFL quarterback who knelt during the National Anthem in protest of police brutality and racism.
"I couldn't dare do that. For what? Who gains from that? Not my people. I just couldn't be a sellout. I couldn't be an enabler. There's things within that organization that I do not agree with at all, and I was not about to go and be of service to them in any way," the 31-year-old explained.
The admission comes after it was announced that Jennifer Lopez and Shakira, both Latina entertainers, would perform the Super Bowl LIV halftime show at the Hard Rock Stadium in Miami, Florida on February 2.
The star's unwavering support of minorities also plays a part in her stance against gun violence as she is "devastated" by the mass shootings in the U.S., according to the interview. To date, there have been at least 334 mass shootings since the beginning of 2019, in which a total of 385 people were killed.
"People are being murdered by war weapons that they legally purchase. This is just not normal. That should never, ever be normal. And the fact that it's classified as something different because of the color of their skin? It's a slap in the face. It's completely racist," she explained.
And she didn't mince words for President Donald Trump's response to the deadly epidemic.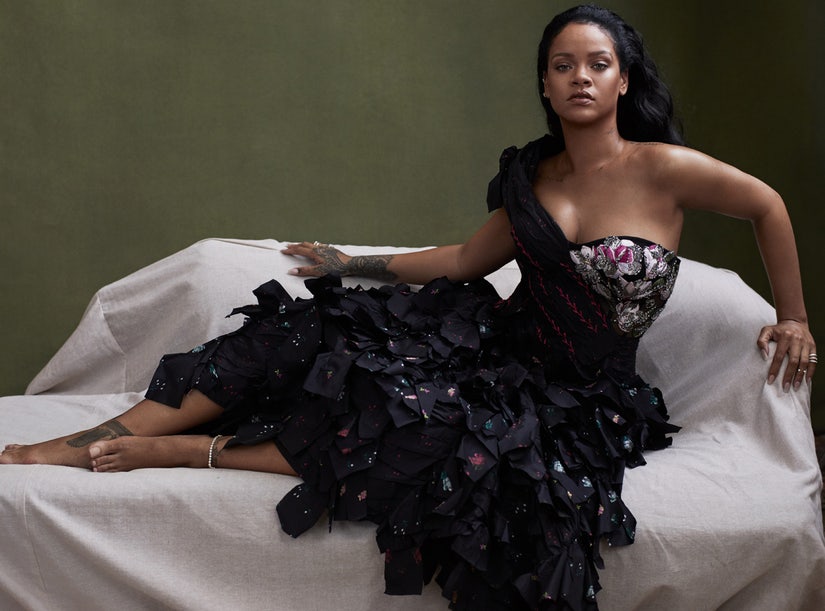 Ethan James Green//Vogue
"Put an Arab man with that same weapon in that same Walmart and there is no way that Trump would sit there and address it publicly as a mental health problem. The most mentally ill human being in America right now seems to be the president," Rihanna stated.
But the Barbadian business mogul maintains hope adding, "I feel like the darkness has actually forced people to find this light within them where they want to do better."
And hope was given to her fans eagerly awaiting the arrival of new music -- Rihanna's last studio effort was "Anti" released in 2016 -- as she dished on her upcoming ninth album, one that will bring her back to her roots.
"I like to look at it as a reggae-inspired or reggae-infused album," Rihanna mused. "Reggae always feels right to me. It's in my blood. It doesn't matter how far or long removed I am from that culture, or my environment that I grew up in; it never leaves. It's always the same high. Even though I've explored other genres of music, it was time to go back to something that I haven't really homed in on completely for a body of work."
As to whether the collection will be her last musical endeavor -- she is quite busy being the first woman of color to launch a luxury fashion house, Fenty -- Rihanna said, "Oh, nooo, music is, like, speaking in code to the world, where they get it. It's the weird language that connects me to them. Me the designer, me the woman who creates makeup and lingerie, it all started with music. It was my first pen pal–ship to the world. To cut that off is to cut my communication off. All of these other things flourish on top of that foundation."
Juggling so many endeavors, it's a wonder the Good Girl Gone Bad has time for a personal life. "Yeah, I'm dating," she told Vogue. "I'm actually in an exclusive relationship for quite some time, and it's going really well, so I'm happy." She did not name the lucky paramour, but she has been dating billionaire Hassan Jameel for some time.
Rihanna did, however, reveal she sees kids in her future. "Without a doubt," she exclaimed.
Vogue's November 2019 issue is available on newsstands in NY/LA October 15th, and nationwide October 22nd.