"Devastated. Please hold your loved ones tight," the pop star wrote.
Demi Lovato is spreading awareness about drug addiction following the devastating death of her friend Thomas.
The singer, who has battled with addiction herself, paid tribute to her fallen friend on her Instagram Stories Wednesday.
"Devastated. Please hold your loved ones tight. Tell them they are special and that you love them," Demi wrote alongside a black-and-white photo of Thomas. "Make sure they know it. RIP to my boo @sirtruss 🖤🖤🖤."
"Addiction is NO joke," she captioned a second pic. "Heaven gained this beautiful angel last night because of that terrible disease. I'm crushed and will always miss you @sirtruss."
She added, "If you or someone you know is struggling please know it's okay to ask for help."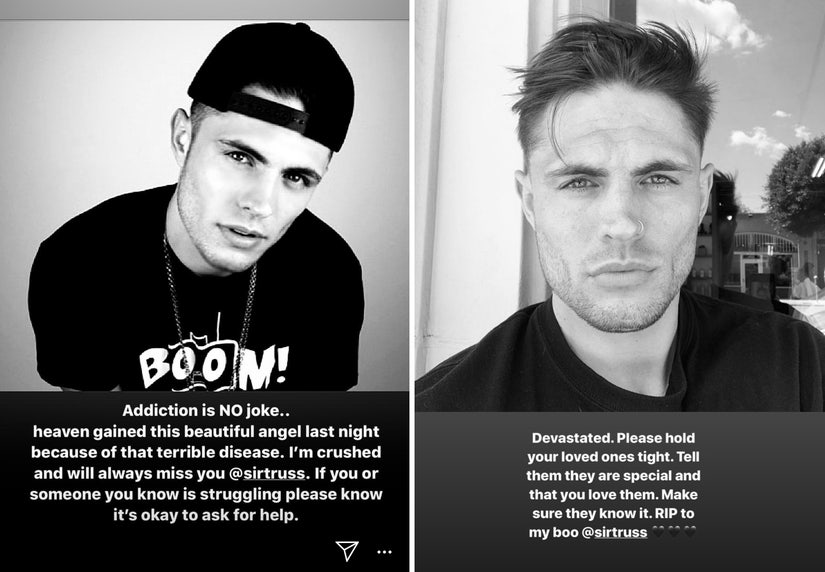 Instagram
The news of her friend's overdose seemingly hit home for the former Disney star, who has struggled with addiction as well as mental illness and eating disorders. Back in July 2018, Demi suffered a near-fatal overdose that left her hospitalized for weeks.
The "Stone Cold" singer's overdose came just one month after she released her song "Sober," where she seemingly revealed she had relapsed after six years of sobriety.
After being released from the hospital, Demi broke her silence about her near-death experience in an emotional Instagram post in August 2018.
"I have always been transparent about my journey with addiction," she wrote. "What I've learned is that this illness is not something that disappears or fades with time. It is something I must continue to overcome and have not done yet."
"I want to thank God for keeping me alive and well," she added, before also thanking her family, friends and fans for their support. "I now need time to heal and focus on my sobriety and road to recovery. The love you have all shown me will never be forgotten and I look forward to the day where I can say I came out on the other side. I will keep fighting."
Following her overdose, Demi agreed to check into rehab right after being released from the hospital, TMZ reported at the time. The Grammy nominee remained at the treatment facility until November 2018.