Miley Cyrus was hospitalized suffering a bout of tonsillitis, where she and Cody have gone even more public with their burgeoning romance -- he wrote and sang her a song, y'all!
From one former child star who knows a thing or two about courting controversy and having their dating life scrutinized, Justin Bieber has reached out about a double date with Miley Cyrus and her new boyfriend Cody Simpson.
As Miley is currently somewhat indisposed -- being hospitalized and all -- the Biebs chose to do so through Cody, and first by very publicly complimenting him. After Cody posted a pic of himself at a swimming event, Justin commented, telling him, "Ur body is a wonderland [sic]."
He then quickly followed it up, asking the singer, "Double date?"
Cody responded, telling Justin simply to text him ... which sounds like there's a double date coming between Justin and his wife Hailey Baldwin and Miley and her new beau Cody.
Miley has slowly been taking her relationship with Cody more public and facing the public scrutiny and backlash head on. That's also something Justin is familiar with. In fact, the two have remarkably similar career stories -- though Justin went a little wilder in his heyday than Miley did. And yet, despite rumors to the contrary, they never got romantically involved themselves.
Of course any double date would have to wait until Miley recovers. The singer has been in the hospital battling a case of tonsillitis since Tuesday. Miley shared to her Instagram Story that Cody had come to visit her in the hospital and even serenaded her with a song he'd written for her.
"Suddenly I am feeling much better," she captioned a video of Simpson playing the guitar and serenading her, adding in the next, "This sweeeeeet guy came to visit at the hospital and sang the sweeeeeetest song he just wrote for me."
Miley was impressed enough with the tune, she added, "It's too special to be only heard in full by my ears so I am currently pressuring him to DROP IT next week," Miley wrote over one of the videos. "And it's working #GoldenThing."
The two have been all over each other's social media accounts since being spotted making out at a Beverly Hills restaurant last week -- right after her split from Kaitlynn Carter and weeks after announcing her divorce from Liam Hemsowrth.
In a lengthy message posted to her Twitter Friday, Miley hit back at critics who feel she's moving on too quickly after her previous breakups.
She even threw up a pic of Simpson, checking off his age (22) and abs, while also noting that he was "Australian (my type)." Hemsworth's Australian, too. Ouch?
Bieber, meanwhile, wed Hailey on Monday in a beautiful ceremony that capped a weekend of festivities and celebrations that included a carnival theme and watergun fight.
The couple tied the knot in a religious ceremony in South Carolina's Somerset Chapel, before celebrating their reception at the Montage Palmetto Bluff, a private 20,000 acre estate that sits beside the May River. The sunset ceremony came a little over a year after the pair first said "I do" in a New York City courthouse.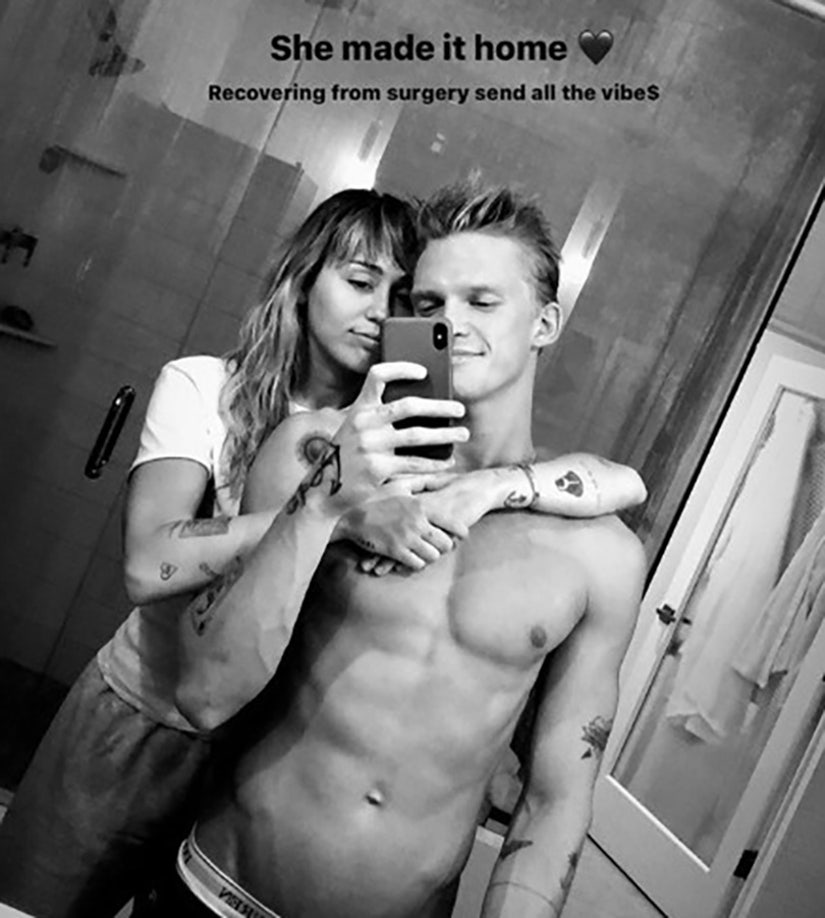 Instagram
So really, both couples already have something to celebrate ... and as Miley was released from the hospital late Wednesday night, they've something else to be excited about.
Cody posted to his Instagram stories a couple of shots of him and Miley together, captioning one of them, "My sick girl finally free." And on her own stories, Miley posted another pic from Cody's point of view, where he confirmed that she'd made it home and is recovering from surgery.
Looks like it's time to finalize those date plans ... and share everything to social media so the convergence of Miley and Justin stans can lose their collective minds. And we'll say it ... we stan this friendship!