The reality star also revealed the other name she was considering for baby Stormi.
Kylie Jenner may have welcomed daughter Stormi only over a year and a half ago, but she's already thinking about baby no. 2.
On Friday, the newly single "Keeping Up with the Kardashians" star participated in a Q&A on her Instagram Stories and opened up about her first pregnancy as well as her thoughts on adding to the family.
When asked by a fan if she wants more kids, Kylie said, "I can't wait to have more babies but not ready just yet."
While she might not be ready for another child at the moment, the Kylie cosmetics founder, who shares Stormi with ex Travis Scott, might already have a name in mind.
"Rose. I still love that name," answered Kylie, adding a flower emoji, when asked if she was considering any other names for Stormi.
Kylie also revealed her favorite part of her pregnancy, in addition to her weirdest cravings.
"Nothing more special than feeling your baby move and grow," she said. When it comes to her cravings, Kylie recalled eating "a lot" of Eggos and In-N-Out.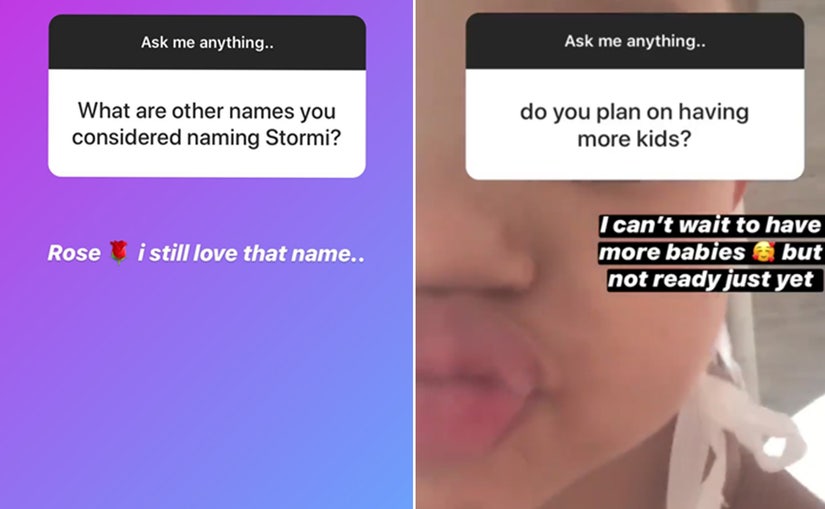 Instagram
As we all know, Kylie often shares adorable videos of Stormi chattering away. According to Kylie, educating her daughter was important to her right from the beginning.
"How do u get Stormi to talk so darn well?" a fan asked and Kylie replied, "i talk to her like an adult & explain everything to her!! Even when she was too young to talk. They are little sponges. Also flash cards!!"
The E! star, who gave birth to Stormi back in February 2018, also opened up about her post-baby body.
When a follower asked if it was "hard" getting back in shape after her pregnancy, Kylie said, "i snapped back pretty fast but it was never the same and still isn't! once I accepted the change my confidence came back. It just takes time."
She also admitted she has a lot of stretch marks on her breasts, butt and thighs and hasn't figured out how to get rid of them. However, Kylie doesn't seem to mind.
"Just accepted them as a little gift from Stormi lol," she wrote.
Kylie's "Ask Me Anything" came just a couple weeks following her split from her baby daddy, Travis. To read more about breakup, click here.