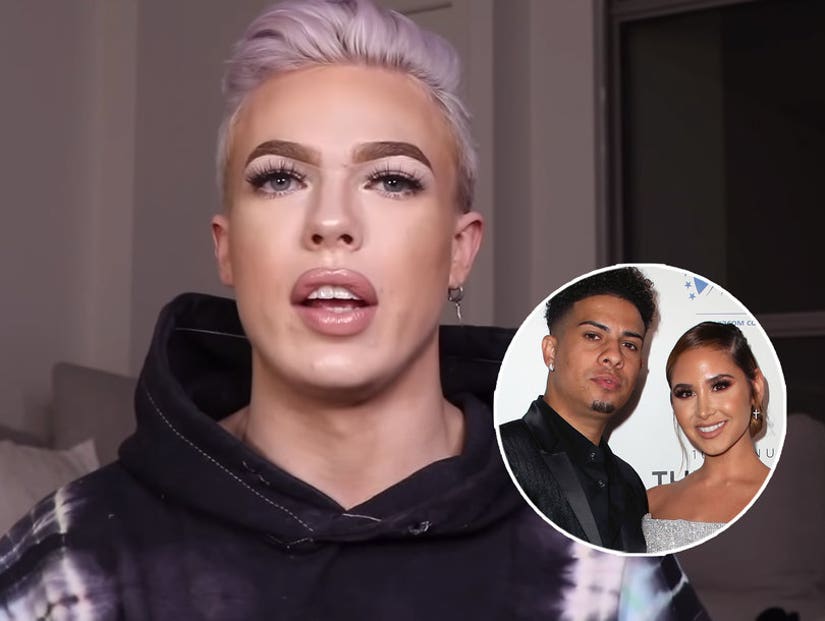 Getty / YouTube
Accusations were flying across YouTube amid the messy drama.
Austin McBroom was accused of rape on Monday — but the Ace Family star claims it is an extortion plot.
The vlogger, who along with wife Catherine Paiz boast 17.7million YouTube subscribers, found himself in the middle of some very messy drama when fellow social media star Cole Carrigan claimed he raped one of his friends.
McBroom denied the allegations, sharing a text he claimed was from the so-called victim which not only vindicated him, but showed Carrigan was attempting to extort $100k as well.
On Monday make-up artist Carrigan posted a lengthy video claiming his friend had been raped on a yacht in front of Austin's father, security guard and two other men, even sharing pictures of a bloodied bedspread.
Among the so-called "receipts" was a screenshot of what he said was a text from someone from McBroom's team, telling the alleged victim to tell Cole to back off, otherwise "you are both looking at some serious consequences."
He also posted several more screenshots from people claiming McBroom had previously tried to hook up with them, had sexually assaulted them, and even impregnated one.
During the video Carrigan even called who he claimed was the victim, using a voice changer to hide her identity, where she described the ordeal.
"Me and my friend were pretty drunk, but not to the point that we couldn't remember anything," she said over the phone.
"The next thing I remember is unfortunately being on the bed and his NBA player friend was having sex with me. I don't remember ever giving him consent to."
She claimed Austin's father unbuckled his trousers and took out his penis expecting oral sex.
She said the men all fled the room when her friend began hysterically crying. She said they stayed in bed in the dark crying all night, and didn't realize the bed was covered in blood until they turned on the lights hours later.
At the start of the video, Carrigan said the alleged victim was contacted by another well known social media personality — Keemstar, who runs the news vlog Drama Alert — who was seeking information on McBroom, as he was researching a story regarding cheating allegations against him.
Carrigan claimed Keemstar ended up not running the story, and when he asked how much he had been paid to stay quiet, Keemstar replied $500k.
But in another bizarre twist to the drama, Keemstar ran a different story instead — in which he claimed Carrigan was trying to extort McBroom for $100k.
He claimed to have tracked down the alleged victim, who insisted she was not raped and didn't blame McBroom for the situation; she also slammed Carrigan for telling the story "that was not his to tell" and for making the video "for the wrong reasons".
Alleged screengrabs also appear to show Carrigan claiming he could blackmail McBroom for $100k and split it with her.
"Austin McBroom is not to blame in the situation, and did not rape me or anyone," the so-called victim's alleged text read. "I'm currently handling this situation in my own way. I brought this to social media to address the false accusations. This isn't what I wanted, there's several sides to every story, and this isn't how I wanted to tell mine."
Keemstar also shared what he said was a text from Carrigan to the victim which read: "the point of this is not to upload a video the point of this is to scare them into paying us off because they paid drama alert 500K so I'm sure they would pay me 100k or more not to say shit and then I would split that with you guys if you help me and send me all the receipts that I need."
In his Drama Alert video, Keemstar insisted he told Carrigan about the $500k payoff as a joke, even texting him afterwards to clarify he was being sarcastic, which he said Carrigan purposely omitted from his video.
On Twitter, McBroom denied the accusations, and also shared the same text Keemstar had from the alleged victim vindicating him, as well as the blackmail text.
"If you have not heard, I have recently been a victim of extortion, defamation and slander," he wrote. "I knew this was a cold world but never did I foresee something this disturbing upon me. Thank you to all of my ACE Family members for all of your concerns and thank you to those who know my character and my heart."
"I don't wish this upon anyone and I can only hope that those responsible for this learn from their mistakes and become better people. My family and I dealing with this matter privately and taking legal action. Bullying, extortion, slander and defamation of character is something I will not stand for and I can promise that justice will be served."
Nevertheless, #acefamilyisoverparty was trending high on Twitter soon after, while in the comments section of his own YouTube channel, Keemstar faced much criticism for focusing on outing Carrigan rather than investigating the rape or even cheating allegations against the former NCAA basketball player.