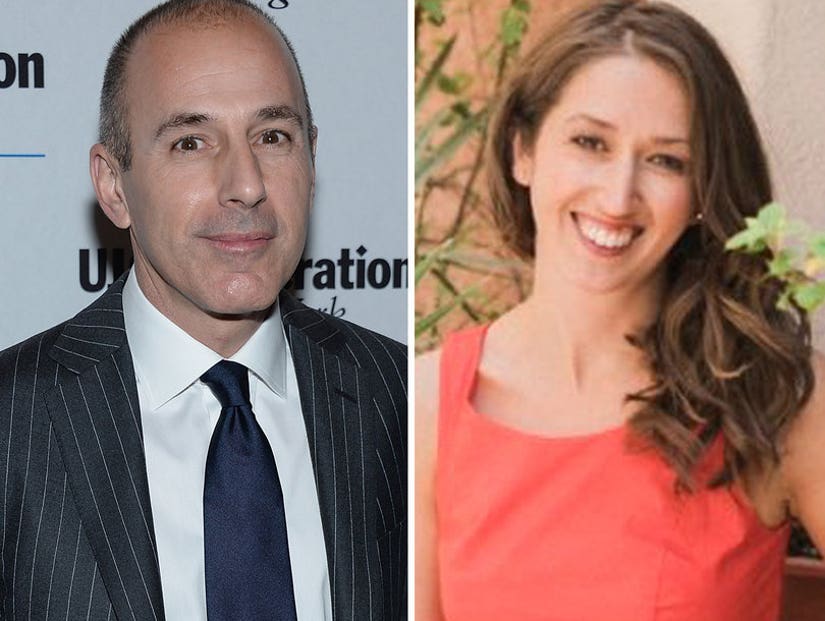 Getty / Twitter
"I've lost everything I cared about. My job. My goals," Nevils told Ronan Farrow for his new book "Catch and Kill: Lies, Spies, and a Conspiracy to Protect Predators."
Matt Lauer's rape accuser Brooke Nevils has claimed she tried to kill herself following her allegations in 2017 that led to the anchor's dismissal from "Today".
According to Ronan Farrow's new book, "Catch and Kill: Lies, Spies, and a Conspiracy to Protect Predators" (out now), the former NBC producer, 35, said she suffered post-traumatic stress disorder after Lauer allegedly anally raped her in his hotel room during the 2014 Winter Olympics in Sochi, Russia.
"Over the past two years, Nevils had attempted suicide," wrote Farrow. "She's been hospitalized for post-traumatic stress disorder, descended into heavy drinking, pulled herself back."
He added, "She'd lost fourteen pounds. And gone to doctors twenty-one times in a single-month period."
Nevils doesn't regret her decision to come forward with the allegations, but her life has completely changed as she told Farrow, "I've lost everything I cared about. My job. My goals."
In the book, she details the night in Sochi. "It was nonconsensual in the sense that I was too drunk to consent. It was nonconsensual in that I said, multiple times, that I didn't want to have anal sex."
Nevils told Farrow that she continued to have sexual interactions with the then-married anchor back in New York, however "It was completely transactional. It was not a relationship." She also told the journalist of two other "non-consensual" encounters.
While she was looking for something in his office, Nevils claimed Lauer "grabbed her hips and fingered her." The other time, Lauer allegedly asked for oral sex in exchange for filming a goodbye message for her then-boyfriend who was leaving NBC for a new job, according to the book.
"When she asked Lauer for his (video), he told her to come to his office to record it herself. When she arrived, she said, he told her to go down on him," Farrow wrote.
"I was really upset. I felt terrible," Nevils claimed in the book. "I was trying to do this nice thing, and I had to give Matt a blow job to get him to film a goodbye video. I just felt sick."
Lauer gave a lengthy response to the media, where he categorically denied claims of nonconsensual sex. "I have never assaulted anyone or forced anyone to have sex. Period," he wrote.
However, he did claim he had an affair with his accuser, which he insists was consensual: "I had an extramarital affair with Brooke Nevils in 2014. It began when she came to my hotel room very late one night in Sochi, Russia. We engaged in a variety of sexual acts. We performed oral sex on each other, we had vaginal sex, and we had anal sex. Each act was mutual and completely consensual."
Nevils responded to Lauer's letter on Wednesday last week. "There's the Matt Lauer that millions of Americans watched on TV every morning for two decades, and there is the Matt Lauer who this morning attempted to bully a former colleague into silence," she said in a statement.
NBC has denied many of allegations made in Farrow's book. "Farrow's effort to defame NBC News is clearly motivated not by a pursuit of truth, but an axe to grind. It is built on a series of distortions, confused timelines, and outright inaccuracies," wrote President of NBC News Noah Oppenheim on Monday.