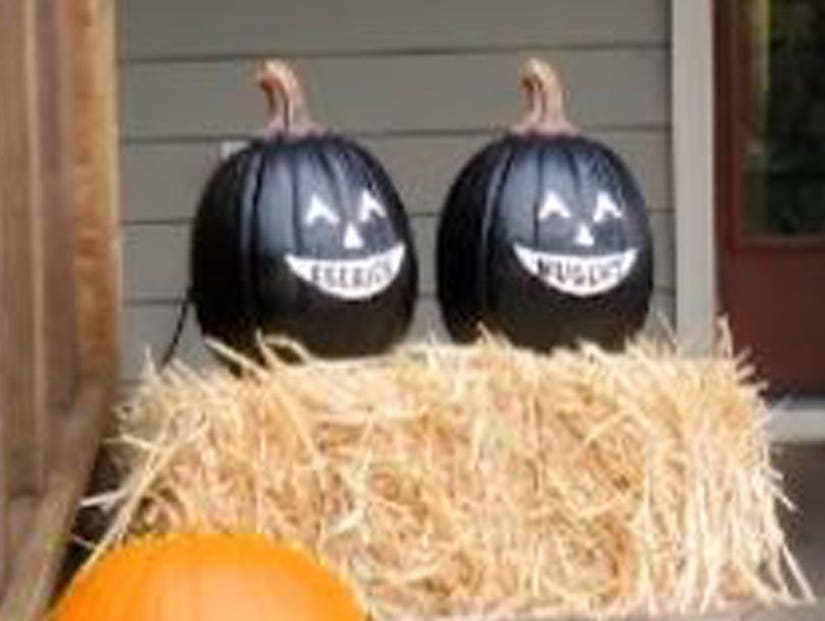 News12 Westchester
"It wasn't about the pumpkin itself, but what was done to the pumpkin."
Bed Bath & Beyond has stopped selling black jack-o-lanterns amid complaints the decorations are a form of blackface.
The backlash first arose after a local law firm in Nyack, New York placed the pumpkins -- painted black with white eyes, nose and mouth -- on their front porch as part of a Halloween display. Some residents found the pumpkins harmless, but NAACP regional director, Wilber Aldridgewhich, said the decorations showed "an extreme lack of sensitivity."
"By now I would believe everyone [would] know that anything in Black face is offensive -- Equally as offensive is that a retail store would have such an item in [their] inventory for general purchase," read a statement from Aldridge.
"It wasn't about the pumpkin itself, but what was done to the pumpkin. When you proceed to put the white eyes and the white mouth, now you have crossed the line because it then goes into having blackface," Aldridge told News 12.
The criticism prompted Feerick, Nugent, MacCartney Law to remove the display within 48 hours.
"We understand that someone complained about them and so once we got word of that we immediately took them down," Mary Marzolla, a partner at the law firm, told the news outlet.
She said the pumpkins -- personalized with the names of the partners of the law firm -- were not meant to be offensive.
"We represent people of all colors and faiths, and we would never do anything to exclude anyone from any community," Marzolla explained.
Her associate, Alak Shah, backed her claims. "It's just nothing I take offense to personally, but since it did offend someone we took proactive steps to take it down," he said.
After News 12 contacted Bed Bath & Beyond about the controversy, the item was removed from its website.
"This is a sensitive area and, though unintentional, we apologize for any offense caused. We immediately removed the item from sale," the company said in a statement.
Social media blew up in response to the news, as users noted the decorations were tossed, yet politicians -- such as Canadian Prime Minister Justin Trudeau -- known to wear blackface in the past remained in office.
Pumpkins pulled from stores for looking like blackface, but politicians who wear it some how not only survive but get reelected 🤡🌎https://t.co/ihe7pnIg2h

@34_91_16