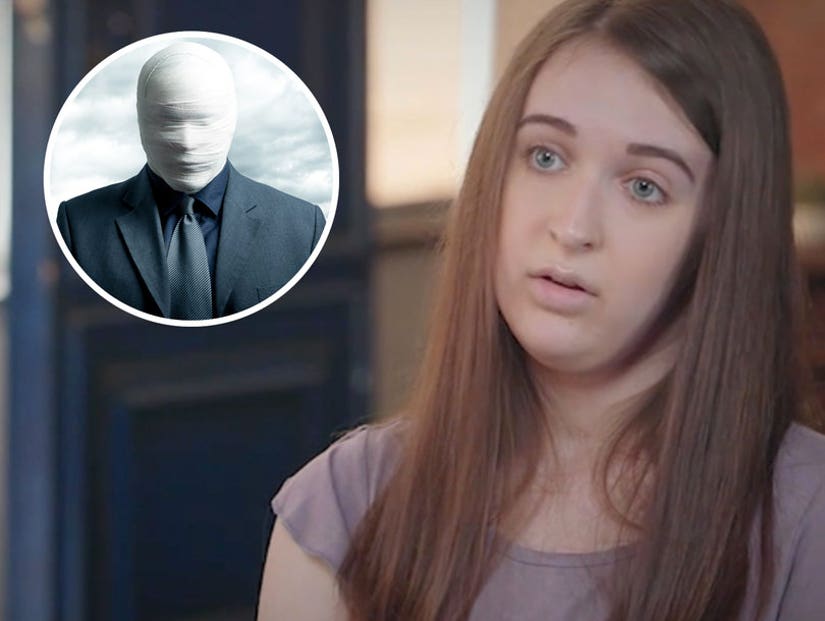 ABC/Getty
To this day, she sleeps with a pair of broken scissors under her pillow "just in case."
The Wisconsin girl stabbed 19 times by two of her sixth-grade classmates in order to appease the online boogeyman Slender Man has opened up about the horrifying 2014 event for the first time publicly.
In a sneak peek of a "20/20" interview airing on Friday, Payton Leutner, 17, said she has "come to accept" all of her scars.
"It's just a part of me. I don't think much of them. They will probably go away and fade eventually," she said.
Morgan Geyser and Anissa Weier are said to have lured Leutner into the woods the morning after a birthday sleepover; Geyser then viciously attacked Leutner with a kitchen knife while Weier egged her on, according to investigators. Geyser and Weier later confessed they committed the crime in order to please the fictional character said to attack children with long tendrils sprouting from his back. All three girls were 12-years-old at the time.
Geyser and Weier -- who both plotted the attack for more than five months -- were sentenced to a combined 65 years in a mental institution.
"I feel like it's time for people to see my side rather than everyone else's," Leutner told the outlet as she revealed how she came to know her assailants.
Leutner befriended Geyser after she noticed the girl was struggling to make friends in school.
"She was sitting all by herself and I didn't think anyone should have to sit by themselves," Leutner said in the interview. The pair became inseparable until "everything went down hill."
In the sixth grade, Geyser became friends with Weier and the fascination with Slender Man evolved among the trio.
"I thought it was odd. It kind of frightened me a little bit," Leutner said. "But I went along with it. I was supportive because I thought that's what [Geyser] liked."
But eventually, the stories Geyser told about the tall, faceless creature in a suit frightened Leutner to the point where she asked her mother whether Slender Man was real. She was relieved when she was told he was not. But Leutner still considered ending her friendship with the girls.
"I didn't like [Weier] at all," Leutner confessed in the interview. "I just hung out with her because I knew that Morgan really loved her as a friend. But she was always cruel to me. I feel like she was jealous that Morgan was friends with me and her."
When the time came for the sleepover, Leutner said she had no idea the girls were plotting to harm her, but she felt something was off.
"Once I look back on it, I was like, that is really weird. Why didn't I see something? Why didn't I notice something was weird? But I'm not blaming myself at all. Because who could ever see something like this coming? Nobody could ever see something like this coming."
The next morning, the girls went to a park where Geyser told Leutner to lay down in the nearby woods, which Leutner thought was for a game of hide-and-seek.
"Anissa told me to lie on the ground and cover myself in sticks and leaves and stuff to hide, in a sense," Leutner said. "But it was really just a trick to get me down there."
After Geyser stabbed Leutner repeatedly, she and Weier left Leutner alone in the woods, bleeding. But Leutner found the strength to seek help.
"I got up, grabbed a couple trees for support, I think, and then just walked until I hit a patch of grass where I could lay down," she said adding that she had no idea a bicyclist later found her and called 911. Doctors were able to successfully treat all of her injuries with emergency surgery.
After she awoke from surgery, Leutner wasn't surprised to find out why Geyser had attacked her.
"After I heard why she did it, I was like, 'Well, this doesn't surprise me at all because she believed so hard in this thing that she would do anything for it,'" she explained.
The teenager said she "doesn't ever want to see or talk to" Geyser or Weier again, and isn't afraid of their eventual release.
But, to this day, she sleeps with a pair of broken scissors under her pillow "just in case."
Leutner plans to attend college in 2020 and pursue a career in the medical field, a move "inspired" by her horrific ordeal.