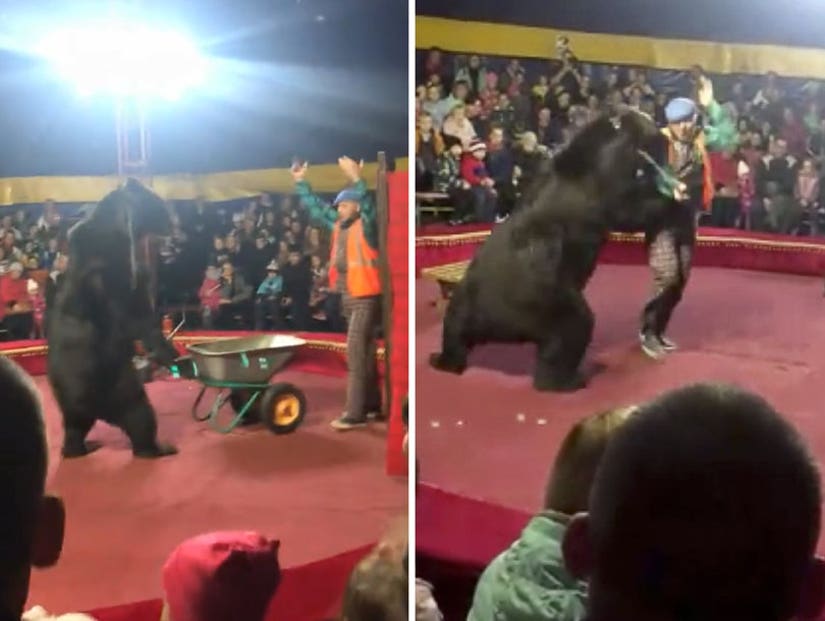 AP
There were no barriers between the attacking animal and terrified families.
A circus bear turned on its handler during a show on Wednesday right in front of horrified children.
The attack, which was caught on camera, occurred in the Russian town of Olonets.
Footage shot from the crowd, who are just feet away and not protected by any barriers, shows the fully grown adult bear walking on its hind legs and pushing a wheelbarrow, as it follows its trainer across the floor.
Taking his short leash, the trainer walks behind the bear and begins addressing the crowd, when the animal suddenly pounces.
Grabbing the man with its forearms, the bear — which can weigh more than 500lbs — drives him to the floor and begins mauling him.
A second trainer runs in and begins kicking the bear in an effort to distract him, but it continues to attack his helpless co-worker curled up beneath.
WARNING: Graphic Content.
Terrified parents can be seen scooping up their children and hastily retreating.
The footage then cuts out. But according to state-run news agency TASS, the bear was eventually subdued; it reported that neither the trainer nor the bear were seriously injured.
It reported the bear was muzzled; which very likely saved the trainer's life.
A spokesperson for the circus confirmed the trainer was the bear's owner; it fired them both after the incident.
"After (the incident), we decided to part with the artist, and the act will be removed from the program," the spokesperson said, according to TASS. "There is nothing serious, the artist is alright, the bear is alright, nobody killed the bear because the animal is not to blame."
She claimed flash photography may have startled the bear and triggered the attack, although this is not evident in the video.
While live circus animal acts are banned in many parts of the United States, the shows are still popular and legal in Russia.