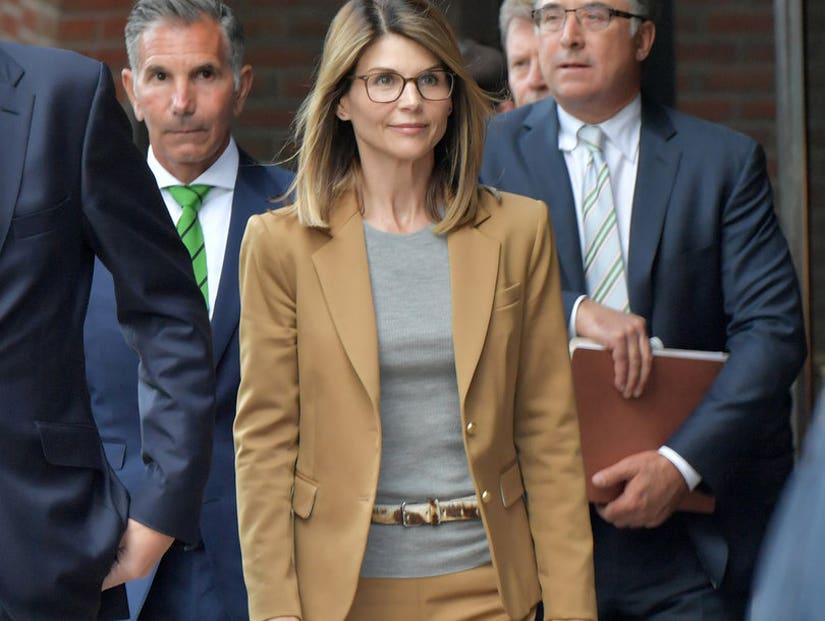 Getty
"They have no qualms about openly coercing guilty pleas even in this high-profile case."
A decorated legal expert has slammed Lori Loughlin's prosecutors as "monsters" who are attempting to coerce guilty pleas out of people who are supposedly innocent until proven guilty.
Professor Albert Alschuler, an emeritus professor at the University of Chicago Law School, accused the college admissions prosecutors of applying "unconscionable leverage" with the addition of new charges against those who refuse to cop plea deals, just because they want to exercise their constitutional right to a fair trial.
"It's distressing that the Operation Varsity Blues defendants have been subjected to such unconscionable leverage, but in a sense it's good that the Boston prosecutors are so shameless," he told TooFab.
"Those monsters have no idea they are monsters, and they have no qualms about openly coercing guilty pleas even in this high-profile case."
"How much more time will Lori Loughlin get than Felicity Huffman if she sticks to her guns and is convicted?" The answer, he says, "could be educational."
Lori and her husband Mossimo Giannulli were among the 33 affluent parents indicted in Operation Varsity Blues, accused of paying off Rick Singer to use his "side door" into elite colleges.
Some, like Huffman, pled guilty and received their punishment. She is currently serving her 14-day sentence, on top of the $30,000 fine and the 250 hours community service she will have to complete.
Some, like Loughlin and Giannulli, pled not guilty to conspiracy to commit mail fraud and honest services mail fraud; soon after prosecutors added conspiracy to money launder to the list of charges, doubling their potential maximum prison sentences to 40 years.
Then this week, four more parents switched their pleas to guilty -- but not Loughlin and Giannulli; the next day, the couple had even more charges heaped on, this time conspiracy to commit federal program bribery. Their potential maximum sentence now stands at 50 years.
No new crimes, committed by Loughlin or Giannulli, came to light.
Professor Alschuler pointed to the 1978 Supreme Court case of Paul Lewis Hayes, a repeat offender charged with forging an $88 check.
The prosecutor in that case offered to recommend a five-year sentence if he would plead guilty; however Hayes proclaimed he was innocent and asked for a jury trial. The prosecutor warned that if he insisted on standing trial, he would add a habitual offender charge, which carried a mandatory life sentence.
Nevertheless, Hayes stood trial as was his sixth amendment right... and the prosecutor carried out his threat. Hayes was convicted, and the court imposed the life sentence.
"The Court said in essence, 'Plea bargaining consists of sentencing defendants convicted at trial more severely than defendants who plead guilty, and we've decided we like plea bargaining. What's the problem?'" Alschuler said.
"Behold how obscene the American criminal justice system has become. It's a system in which the crime of forging an $88 check is 'worth' five years imprisonment and the crime of standing trial is 'worth' imprisonment for life."
"The Constitution told Paul Hayes he had a right to jury trial, but American prosecutors, judges, and legislators told him that exercising this right was a crime," he added. "'Yes, you have a right to trial, and we have the right to give you 50 years if you exercise it.'"
According to Professor Alschuler, federal criminal trials have almost vanished, and 97 percent of all federal convictions are now by guilty plea.
In 1962, when there were 302 authorized federal district judgeships, 5,097 criminal trials occurred in federal district courts.
In 2017, when there were 667 authorized federal district judgeships — more than double the number in 1962 — there were 2,123 criminal trials... nearly 60 percent less than in 1962.
The professor points out that one shouldn't assume that plea bargaining means a break for defendants who plead guilty rather than additional punishment for those convicted at trial.
"The United States now imprisons a larger share of its population than any other nation in the world, and it didn't achieve that record by giving 97 percent of all offenders less than they deserve," he said.
Professor Alschuler is a Harvard Law School magna cum laude graduate and former Case Editor of the Harvard Law Review; he served as law professor at the universities of Chicago, Texas, Colorado, and Pennsylvania; a visiting professor at the Universities of Columbia, Michigan, Berkeley, and the Brooklyn Law School; and a visiting scholar at the National Institute of Justice and the American Bar Foundation.