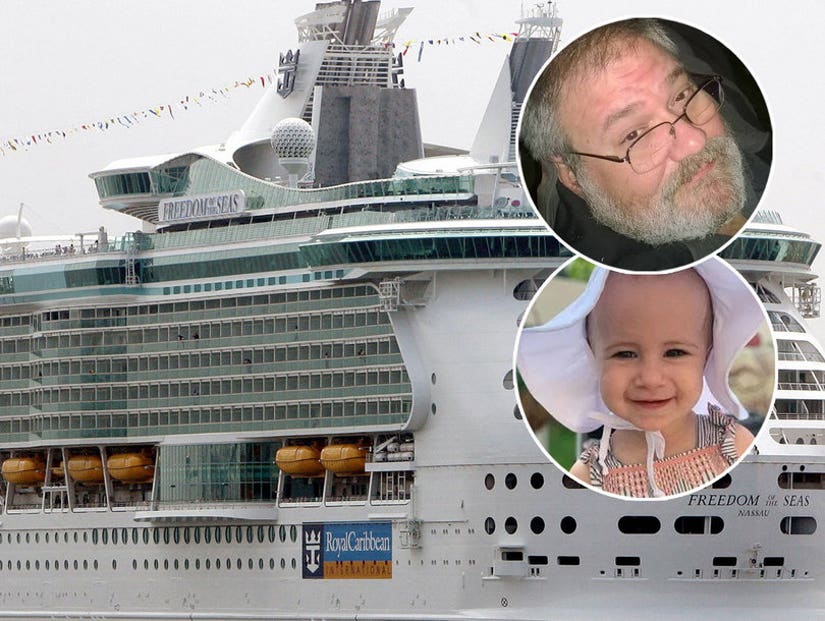 Getty / Facebook
18-month-old Chloe Wiegand was killed in July when she fell from an 11th floor window.
The grandfather of a toddler who fell to her death from the 11th floor of a cruise ship has been charged with negligent homicide.
A judge in Puerto Rico ordered the arrest of Salvatore Anello on Monday, three months after Chloe Wiegand was killed when she fell 150ft from a window on the Royal Caribbean's Freedom Of The Seas.
Police had claimed at the time he was holding the 18-month-old child near the window when he accidentally dropped her; however the family blame the cruise ship for having a fully open window in a children's play area.
Anello was being held on $80,000 but has since been released; he is due in court on November 20.
The family claim Chloe's granddad had lifted her up to bang on the glass as she liked to do at her brother's hockey games — but the glass was not there.
In an interview with ABC news, their lawyer Michael Winkleman said the charges against Anello was "pouring salt on the open wounds of this grieving family."
"Clearly, this was a tragic accident and the family's singular goal remains for something like this to never happen again," he said. "Had the cruise lines simply followed proper safety guidelines for windows, this accident likely would never have happened."
"Why are you going to charge him with a misdemeanor when you know he's already been through such a terrible trauma? Everybody on earth agrees this was an accident, everybody knows there was no intent involved."
He added: "Really for them, this is really about Chloe. It's not about anything else other than Chloe -- it's all about raising awareness so that a tragedy like this doesn't happen again."
Royal Caribbean said on Monday: "This was a tragic incident, and out of respect for the family's privacy, we refer you to authorities for further comment."
After the tragic incident on July 7, Winkleman questioned why one panel of glass was missing in a wall full of them.
"Essentially her grandfather lifts her up and puts her on a railing and where he thinks that there is glass there because it's clear, but it turns out there was no glass there," he said at the time. "She goes to bang on the glass like she would have at one of those hockey rinks, and the next thing you know, she's gone."
"Why in the world would you leave a window open in an entire glass wall full of windows in a kid's area?"