"She seems to have a very realistic attitude about how this isn't gonna work," says the Bravo boss.
Andy Cohen willingly had the table flipped on him during Wednesday's "Watch What Happens Live" when he gave guest Michael Rapaport the opportunity to ask him anything he wanted to know about the Bravo boss' bombshell interview with Teresa and Joe Giudice.
With 45 seconds on the clock, a delighted Rapaport first asked Cohen what shocked him the most about what the troubled couple said on "Joe and Teresa: Unlocked."
"What shocked me the most was their honesty about their lack of attraction for each other and the seeming deadness of their relationship," he replied.
Rapaport then pressed Cohen about what he thought was going to happen to their relationship.
"I never count their love out. They were so into each other for so long. She was standing by him with every rumor she heard," Andy said. "But I do have to say, she just seemed over it. She was talking about it in the past tense. She seems to have a very realistic attitude about how this isn't gonna work."
Smiling, he added, "I still can't get over [that] I have done two post-prison interviews with these two, and they wore orange to each interview! I will never get over it for as long as I live. You cannot write this."
"You know, I felt sad," she explained, "but I thought Joe looked good, so I said [to Teresa], 'When you get to Italy, toss him once, see how you feel. Toss him once for old time's sake!'"
Margaret also had some words for co-star and former friend Danielle Staub, who earlier in the day was seen hanging out with ex-husband Marty Caffrey.
"I think they're freaks," Margaret told Andy about their seemingly rekindled relationship. "Listen, she gets a restraining order against him, accuses him of abuse, they're married for eight weeks, trashes his family all over town, engaged to some other nutbar, and now they're back together? They're both freaks. They deserve each other."
(TooFab recently spoke with Margaret about Danielle and Marty in greater depth, which you can read here.)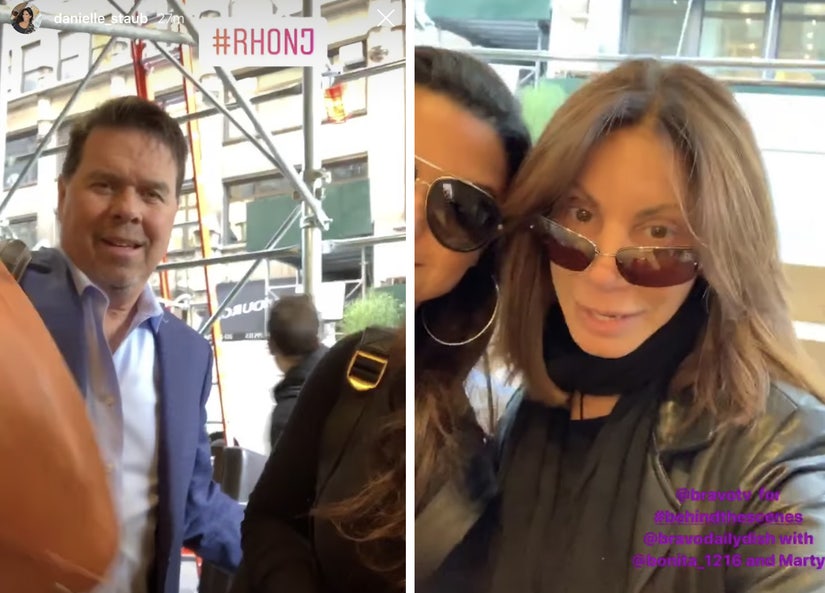 Instagram
And it would appear amends were never made because when Andy asked Michael how he felt about Kenya's return to the series for Season 12, he said, "Love it. Glad she's back. Glad that she was talking trash about Porsha's relationship 'cause it seems like the rug gets pulled out from [under] her."
He smiled and added, "Happy to see her back in Atlanta."
"The Real Housewives of New Jersey" airs Wednesdays at 8 p.m. on Bravo.