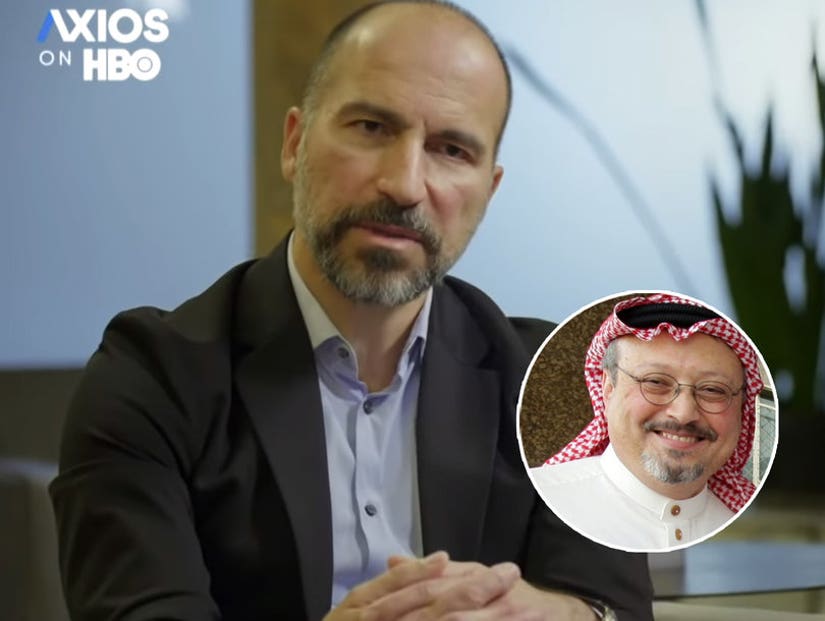 HBO/Getty
Dara Khosrowshahi backtracked on his comments one hour later.
"People make mistakes, it doesn't mean that they can never be forgiven."
So said Uber CEO Dara Khosrowshahi when asked about the Saudi Government's involvement in the murder of US journalist Jamal Khashoggi.
In an interview with Axios, the ride-share boss was asked if he thought it was appropriate the head of the Saudi sovereign wealth fund, Yasir Al Rumayyan, sit on the company's board of directors.
"From your opinion, he represents and works for a government which you believe had a role in the murder of a journalist who was a US resident — should that person be on the board of a US company?" asks journalist Dan Primack.
"I think that that government said that they made a mistake," Khosrowshahi replied.
When Primack pointed out that "somebody is dead", Khosrowshahi likened the assassination and dismemberment to the pedestrian accidentally run over by one of the company's self-driving cars.
"Listen, it's a serious mistake. We've made mistakes too, right? With self-driving. And we stopped driving and we're recovering from that mistake," he said.
"So I think that people make mistakes, it doesn't mean that they can never be forgiven. I think they [the Saudi government] have taken it seriously."
The female pedestrian died in Arizona in March 2018 as she walked a bike across the road and was hit by one of Uber's cars being tested in autonomous mode.
Khashoggi meanwhile, an outspoken critic of the Saudi government, was murdered and cut to pieces with a bone saw at the Saudi consulate in Istanbul in October 2018, after walking in to pick up marriage papers.
An investigation by CIA had concluded Saudi Crown Prince Mohammad bin Salman ordered Khashoggi's assassination. He denied having prior knowledge of the plot, but accepted responsibility because it happened under his watch.
According to Axios, Khosrowshahi called one hour after the interview to express regret for the language he used.
The following day he released a statement: "I said something in the moment that I do not believe. When it comes to Jamal Khashoggi, his murder was reprehensible and should not be forgotten or excused."
The Saudi fund is Uber's fifth-largest shareholder, with a 5.3 percent stake.