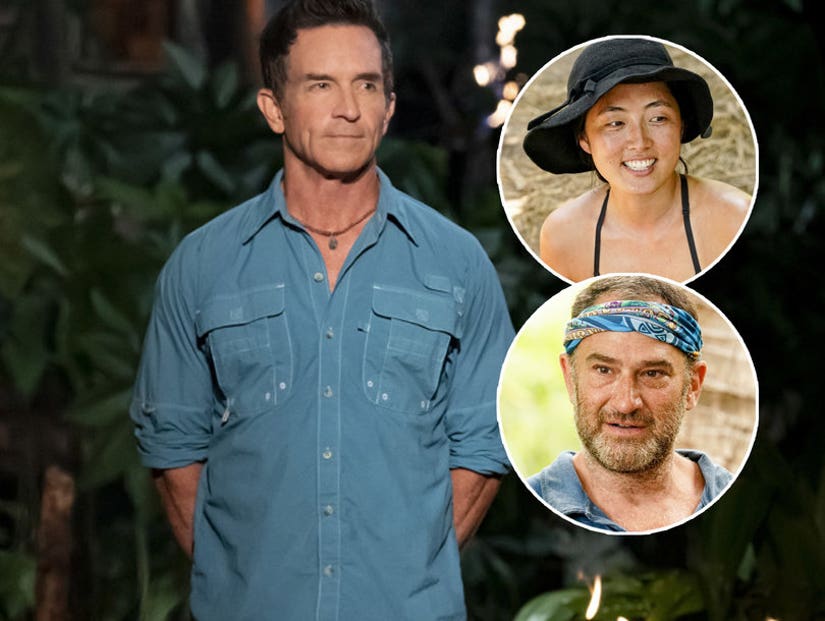 CBS
"You don't have to feel unsafe to feel uncomfortable and making someone uncomfortable is not okay," Probst explained.
The latest installment of the reality show found player Kellee Kim expressing unease with fellow tribemate Dan Spilo's physical contact and violation of her personal space, which prompted production to step in on camera, address the situation to the entire cast and give an official warning to Spilo.
"This situation highlighted another layer of the changing dynamic between men and women: You don't have to feel unsafe to feel uncomfortable and making someone uncomfortable is not okay," Probst said in an interview with EW.
"This is new territory for this important conversation, and my hope was that everybody could share their point of view, in an open forum, about what had gone down and we could get total clarity," he added.
Probst said he became aware of what was happening on the island after a producer asked a visibly upset Kim if she wanted production to intervene during a confessional interview, but Kim said she believed the players could handle it themselves.
"But based on Kellee's interview, the producer immediately shared the story with me and I immediately contacted CBS. The decision was made to meet with all players, both as a group and individually, to remind them of personal boundaries and hear of any concerns,' said Probst.
"When we met privately with Dan, we told him that his actions were making some of the women uncomfortable and reminded him that personal boundaries must be respected at all times. We also informed him this was an official warning," he added.
The situation got much more convoluted as Missy Byrd and Elizabeth Beisel took advantage of the allegations and exaggerated their reactions to their own interactions with Pilo, in hopes of moving ahead in the game. The plan worked as Spilo's ally Janet Carbin decided to vote against him in order to protect the women. When Byrd and Beisel didn't vote against Dan as planned -- and voted out Kellee instead, believing she was targeting Missy -- Carbin was livid and even contemplated quitting the show.
"By the time Janet becomes involved, she is making very big decisions based on a dangerous mixture of truthful and untruthful information. And because no individual player has all the information, rumors now hold as much weight as truth," said Probst. "This is a precise microcosm of what happens in the workplace. We must use this as an opportunity to examine ourselves and how we handle these types of situations."
Probst then continued to break down just how complicated everything was.
"One on hand, it's very clear that Dan's touching was making some of the women uncomfortable, and we saw many of those moments on camera," he told EW. "There is no denying that it happened. But as Missy and Elizabeth embellished their stories about the situation, it put Dan in an unfair light and further complicated everything."
Jeff, who has hosted the show since it began in May 2000, felt the episode was a positive reflection of our society in the midst of the #MeToo movement, but it also forced people to evaluate their moral compasses.
"It's extremely complicated. This situation really tests the concept of justified ethics, something that is at the heart of every 'Survivor' season," he added. "Where does each player draw their line in the sand? What is okay to do or say and what is off limits? And the bigger question: Are there certain situations that are simply off limits, no matter what?"
While Dan addressed the complaints about him during tribal, Kellee couldn't respond to him as she had already been voted out and was part of the jury. Defending the choice to not let her speak, Probst said "we made the decision to hold true to the rule that jury members aren't allowed to comment or ask questions. Our intention was to maintain the integrity of the million-dollar vote that the jury members make on day 39."
Meanwhile, contestant Aaron Meredith took to social media on Thursday to apologize for his actions during the controversial episode.
During the tribal council, he cut Janet off to say, "What's happening now is that the victim role is being assigned by Janet and instead of taking responsibility -- is trying to spin this into something that could potentially affect the life of Dan. If this was truly a general tribe concern I would have been involved, Tommy would have been involved, Dean would have been involved."
As his tribemate Jamal Shipman pointed out at the time, "This is exactly what happens in the real world: When a woman brings up a charge and people want to negate whether or not it is legitimate, they say, 'Well if it was such a big issue, they would have brought it up.'"
After Aaron had some time to reflect on his actions since the production ended, he said on Twitter, "I made a mistake and I'm completely, completely owning it up, taking full responsibility for my actions, for the words that I said and I am truly sorry. I am sorry to my castmates, I am sorry to those people who have been personally affected by sexual assault and if I triggered anything with what I said I truly am sorry."
Kellee reacted to the public apology on Twitter herself, writing, "What an apology! Just I'm sorry, I'm aware, and I take responsibility. So grateful for this. Apology accepted."
No doubt the topic will be discussed in further detail during the reunion at the finale.